Waking up in a warm space, rays of sun beaming through the windows, breakfast cooking downstairs…now THIS is a sweet way to live on the road. Some much-welcomed downtime for the next few days to get rest, get some laundry done, visit with friends, and get caught up on some blog work. But first, we get to tear down our gear from the previous evening's show, enjoy a lovely breakfast with our hosts, including breakfast burritos and home made bread!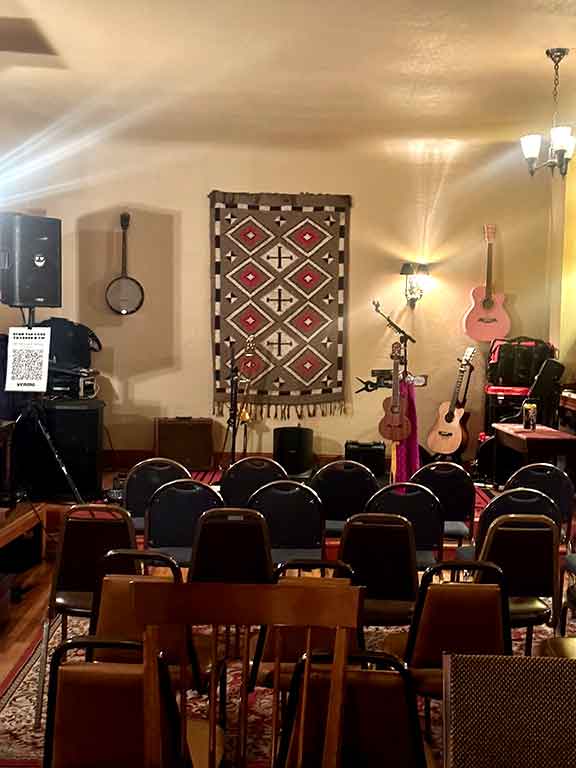 One of the things that always occurs to me while being at the mercy of total strangers is how, at any given time, it could go one way or another as far as a nice experience is concerned. And, I'd say 98% of that is totally contingent upon the way we approach the situation. For instance, if we come in with attitude, reserved and skeptical about the venue, audience, etc, that is exactly what we will receive back. Sometimes, that can change as both parties open up a bit. But what they say about first impressions rings fairly true. When we met our hosts the day before, we came in with energy, smiles and warmth. That was reciprocated over and over again through our visit, and a friendship was formed. It is really so much more simple than it can be made out to be; the "treat others as you'd enjoy being treated" philosophy. And, don't get me wrong, there are times when I don't feel like "showing up". I'd rather remain aloof, quiet, alone. But then that is exactly what I get back. And nothing is gained, and I've missed an opportunity to make a new friend. If I don't like someone, it is usually because I have presented my own self as unlikeable.
Anyway, Monday was make-over Monday ay Gretchen's place. Gretch had expressed the desire for a new "do", and those who know me know that is my FAVORITE gift to give! So, she gave me a massage and, in turn, I did her hair. Oh my goodness…it turned out so great. And, more importantly, she FELT great!
Here's a before and after. (Of COURSE I had to pop some lavender in there!) 
Well, it probably wouldn't be a blog about Gretchen's place without a lovely little hangover story to accompany it. But, this time it WASN'T ME!!! It was my poor Jared. But, I wasn't totally innocent. I DID drink enough to feel absolutely invincible enough to do this…
I HAD to cuddle this little angel. "Smokey" is 23 years old and may not be around next time we come through. My nose may be allergic, but my heart is definitely NOT!!!
Even with the immediate washing of hands and face, I still woke up with a bubble gum eye. But the snuggles were worth it.
Originally, our plan was to help Gretchen and her ranch crew do some "mudding" on the walls at the "Mothership" house. However, it started SNOWING this morning and you can't mud in temps below 50º, so, my Tuesday morning was spent pretty quietly, doing laundry, showering, etc. It was all probably for the best, as Jared slept til almost 1:00, and, let's be honest, slopping mud in the cold MT morning really did not sound fun! So, Jared got good sleep, and then felt ok enough to go out to meet our other Montana friends, Brooke and Joe, for drinks at the Stave and Hoop in downtown Missoula later that evening. Lucky for us, it was amateur comedy night… wait. Did I say "lucky"? Oh dear. Well, at least it made for some "Type 2 fun" and we have a great story to tell and memory to accompany it. We did get a solid two hours of visiting and dinner before the awkwardness began… so that was awesome! Since we knew a work/travel day was coming, it was an early bed time at our last night at the Big Creek Ranch. 
Refreshed and ready to get moving we, of course, avoided it at all costs. We started a new crossword with our breakfast and proceeded to tear through 90% of it before pulling ourselves away to get on with our morning. I think we just subconsciously (or consciously for that matter) just didn't want to leave! Once we get on the road, we'll be great, but sitting in the warmth of Gretchen's place, puppy nipping at our feet, kittens purring in their beds, and Gretchen smiling and hugging us goodbye, made it especially difficult. It always helps knowing we'll be back in the summer. Thank you, Gretchen and Lily, for giving us a home away from home. We truly hope to return the favor when you come visit us in Tacoma.
We'll be traveling for the next 2 days to get to South Dakota and our friends down there. I look forward to sitting down to let you all know how the drive was. Thank you again for your comments, shares, and general support while we are away from you all. It means the world and helps us feel constantly connected. Much love to our friends, fans and family.
---