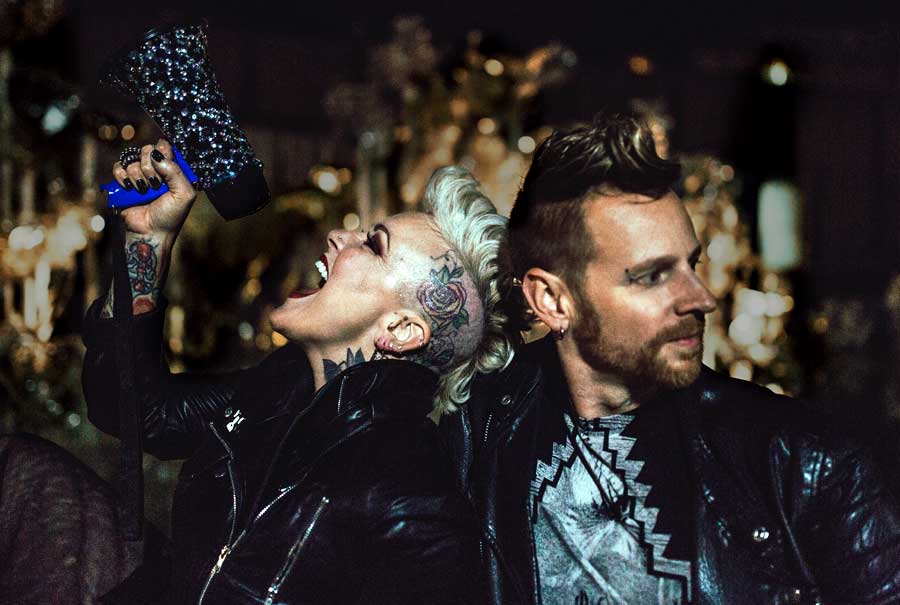 Glam-Folk . . .
Husband and wife members Jessi and Jared Fredeen tear up stages and crowds nationwide with their unique upbeat, roller coaster style shows, firing off gypsy-punk rock songs alongside everything from intimate tear-jerkers to anthemic foot-stompers, peppering their sets with compelling stories behind their music. Champagne Sunday is one of the rare original acts that performs with stadium-level energy, regardless of whether it's for a festival crowd, a club, a group of coffee shop patrons, or house concert attendees. Together, Jessi and Jared have been able to create a sound that's totally unique, fun, emotional, and captivating, with a show that packs the power of an entire orchestra. This act has a ton of showmanship, heart, and talent that makes for a powerful experience.
Rich musical artistry and seamless delivery set Champagne Sunday miles ahead of the crowd of musical talents clambering for an online presence. Reminding us that we are each ultimately in charge of our own reality, this talented duo is clearly in an absolute state of joy when they perform––the perfect example of following your bliss, staying present and appreciating each moment. This is what true musicianship looks and feels like when passion is front and center.
On their most recent releases, Scour (2021) and Balance (2022), the duo worked with producers Shawn Simmons (The Head and the Heart, Lemolo, Kithkin) and Javier Garavito (Youryoungbody, The Last Book Club) and drummer Sean Lane (Pedro the Lion, Ann Wilson of "Heart") to push their sound beyond into new emotional territories. (Read a review from "Rock & Roll Globe")
Part of the broad appeal of Champagne Sunday is their tendency to avoid topics like religion and politics, but instead speak with broad-stroke and genuine messages of love and humanity. As such, Champagne Sunday continues to amass a far-reaching, broad, and ever-expanding fan base that even includes the Governor and first lady of the state of Washington, Jay and Trudi Inslee, who have personally attended shows. 
They're lovable. They're fun. They're edgy. They're unique. They're not to be missed.