Oh my goodness, we slept in until 10:30 this morning and IT. WAS. GLORIOUS!! Today's agenda features a massage, ear-candling, a work out, and a shower!!! Then we drive to Missoula to play a show in an old, repurposed church! It is a blessed life!
So… this is me, post massage.
Very happy, very relaxed Jessi.
Here I am, cramming a candle tube into Jared's ear, only to be greeted by a crackling draw of ear wax. Jared's ears were surprisingly clean though, and produced just a bit of gunk… mine have yet to be done. A full-report to follow.
I won't post a shower picture or a workout picture. Although, Jared told me that he needed something heavy to hold while he was doing squats, (don't be dirty, dear readers!) so he grabbed a gas can and some bottles of vinegar since he only has his resistance bands and no weights. Where there's a will, there's definitely a way! I do wish I'd gotten a shot of that.
So, a few months ago, we got a text from Gretchen saying she'd just seen a band in Missoula playing at a place called the Longstaff House, a small, repurposed church, turned 50+ seat listening space, with couches AND A BED in the venue for traveling musicians! She said, "You MUST play here!" Well, after hounding and bribing the owner of the space, we finally got invited to play. What an experience! The hosts, John and his partner, Terry, were absolutely wonderful. They actually live in the downstairs space under the performance area. John is a wood worker of grand proportions, and actually GREW all the trees used to refurbish the interior of the space. Each piece of wood, upstairs and downstairs, told a story through its patterns and colors. It was really inspiring, had amazing acoustics, and felt like it had found it's true purpose.
They invite the musicians to share a home-cooked meal (they made us stir-fry and rice) before they play, then take a donation at the door to send the artists away with some funds. John is a life-long musician in a couple bluegrass bands, so he really understands the life and the ins and outs, which makes the whole process much easier. As with a lot of our venues and fans, there's always a bit of understandable uncertainty when it comes to putting us in front of fans that typically like the folk, bluegrass, Americana genres, because we don't LOOK like the typical artists in those genres. And we don't really act like them either. But I really appreciate people like John and Terry, who did listen to our music and decided that something fresh like Champagne Sunday, may just do their audiences some good. And good it did!
Wow. I mean, these were LISTENERS!! You could have heard a pin drop after every story and song. Each note was scrutinized and every word digested. We got to play tunes that don't stand a chance of being really heard in some of our other venues. And since this was the third gig in a row, we were grateful to get to showcase some of our other material. Especially for Gretchen, who came to all three gigs!!! (She wins the "Mind Trophy")  She got this shot from the back, and it's a little grainy, but it was the only one we got of us on stage, so I'll share. We were playing "The Game".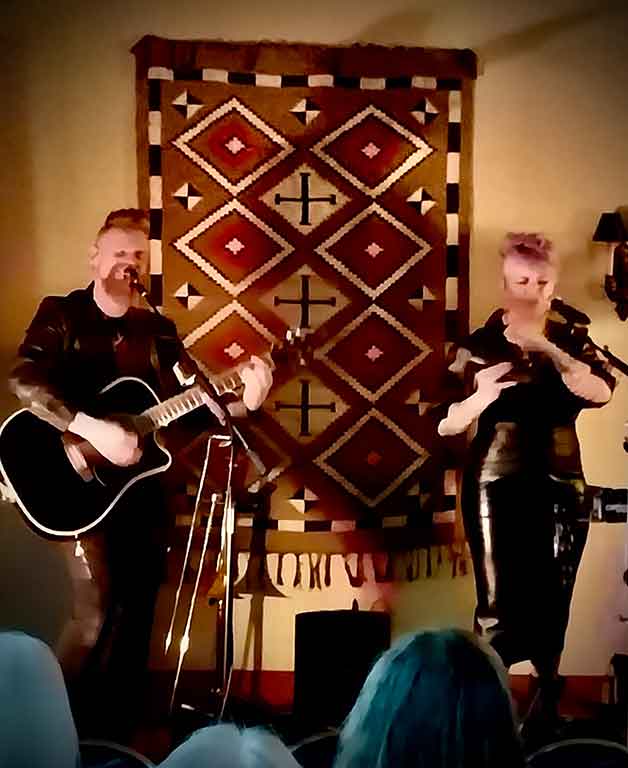 There was also a piano on this stage (lucky us) that was amplified and so we put a mic at it for the show. We had a pretty free-form set list, so we were unsure of the tune we may play on it, but we wanted to be ready. Oh boy… when the time came, Jared sat down and played the most beautiful version of "Ventura Sky" I've ever heard, again solidifying the absolute 100%, non-negotiable fact, that I indeed am the luckiest woman on the planet. To get to even be near him sometimes just rocks my foundation. (Jared here: I love you.) I believe Gretchen got a video of the whole thing…but I'm not sure. I just know that, in that moment, every person felt more connected with a higher power than had probably ever been experienced in that church since its conception.
We finished our show with the quiet and sweetly sad, "Top Of The World", because we were both missing our boy so. An uncharacteristic move for us, as we always try to send audiences off with a bang. But more than that, we want our fans to leave with a sense of who we are, not who we pretend to be. And, dang it, we really have been feeling the lack of Rudy's presence with us (and it's only been a week), so that's what we did. I believe that it is so important to be honest with our audiences, even if that means putting the big entertainment, feel-good pieces aside to honor our own hearts. Sometimes it pays off for both parties. This was one of those times. The audience rose to their feet clapping as we finished. It felt grand to be seen and heard for who we are…
Our evening concluded with some deep conversation between us and our hosts. So much in common and so much to talk about. Finally, even though we probably could have talked for hours, John announced his departure was near. Terry agreed and got up to say good night. She closed by asking us if we'd like bacon with our breakfast in the morning. Did we just become BEST FRIENDS?!?!? Hahahaha! Can't wait to come back and bring Rudy to meet our new friends. An absolutely beautiful experience. 
---