After taking entirely too long to pack up, say good-bye to Gretchen, get some blog work and internet stuff done, we FINALLY popped on the road by 2:30! I was ENORMOUSLY wrong (yes, Jared. Copy and paste that sentence to your "save file" so you can remind me of the ONE time it happened!) about our drive time. (Jared here: Done and done!) I kept thinking we were in for a ten or so hour drive. Not so. Even though South Dakota was a bit over ten hours away, Yankton, SD was an additional five or more hours… So, tack on that additional drive time and you're looking at a sixteen-hour travel time. We got it in our heads that we wanted to try for half that first day. So, half we did! Almost exactly! With a few potty breaks and stops for gas, and snacks, we trudged on through one of the longest states, good ol' Montana.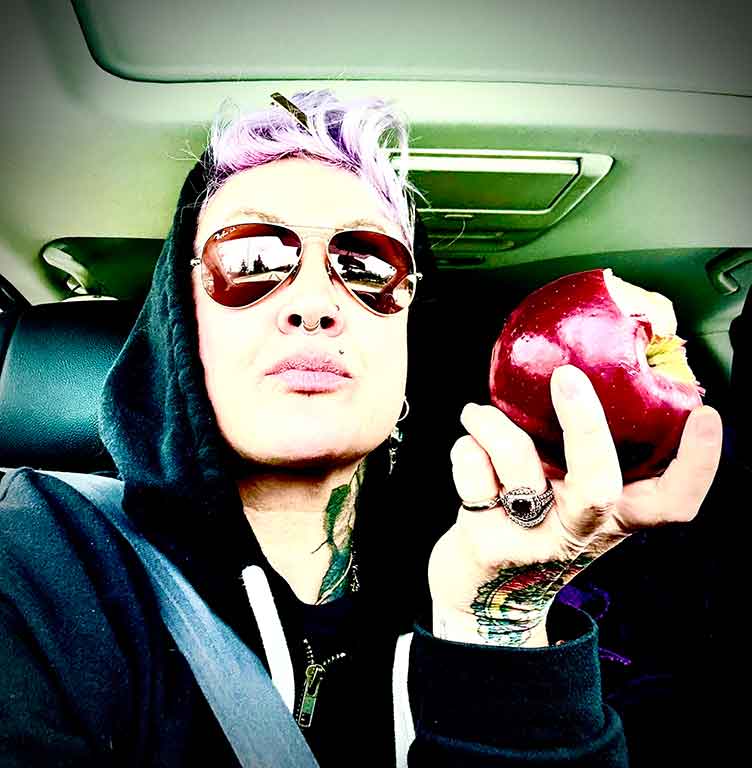 Finally, by 8:30, hunger was real, and a break was much needed. We rolled into a restaurant in Billings, MT, called 406 Kitchen and Taproom. I chose that place online, because it said it was open until midnight, not 9:00, like most other places. Well, at 8:45 we walk in and they greet us by saying, "Kitchen closes in 15 minutes, so if you want to order food, please do it now!" Oh man…we just became "those people". You know the type. The wait-til-the-last-minute-to-go-out-and-make-the-kitchen-staff-stay-open-and-use-a-bunch-of-shit-they've-already-cleaned-making-them-want-to-spit-in-your-food -or-at-the-very-least-do-a-crappy-job-with-your-order…type of people. After spending much of our youth in the service industry, we are super sympathetic to the plight of the food service worker. ESPECIALLY if there's a sign on the front door that says, "Kitchen and bus crew needed. Inquire within." So they're probably grossly understaffed, and now these douchebags roll in wanting to eat. Ugh. However, we immediately apologized, ordered two salads quickly, and the server was super cool and assured us it was not a problem. We had a couple of the best grilled chicken buffalo salads EVER. I never think it hurts to be kind and understanding, even if it IS someone's job to serve you. We had a great experience and would recommend the place to anyone passing through.
We had another couple hours of energy, which we drained the life out of on the drive, rolled into a rest stop around midnight, and crashed HARD! (Jared here: We slept. Everyone's okay. Just wanted to clarify for our more worry-prone fans.) It always amazes me how sitting for eight hours can just deplete one's very essence. 
We awoke in a chilly wind around 7:00am, knowing we had a good eight hours ahead of us. After about forty-five minutes of mentally preparing to sit in the truck for ANOTHER eight hours today, we finally got moving with one solitary thought driving us…COFFEE!! Quick look on Google dashed our immediate dreams, showing us that coffee wasn't obtainable for another hour and a half. Well, no one else was gonna drive us there, so we just got moving. We popped in a podcast that has been entertaining us for some of the drive, called SmartLess. It's an inside look to actors, musicians, athletes, and other celebrities, hosted my the trio of Jason Bateman, Will Arnet, and Sean Hayes. It's all things funny, serious, contemplative, but mostly, it really helps fill time and sparks all kinds of conversations between Jared and I as we drive through the ever-changing and crazily deceptive weather scape the US provides for us at this time of year.  
I mean, someone please explain to me how in the world we go from this… (which I think would be a cool album cover)
To this…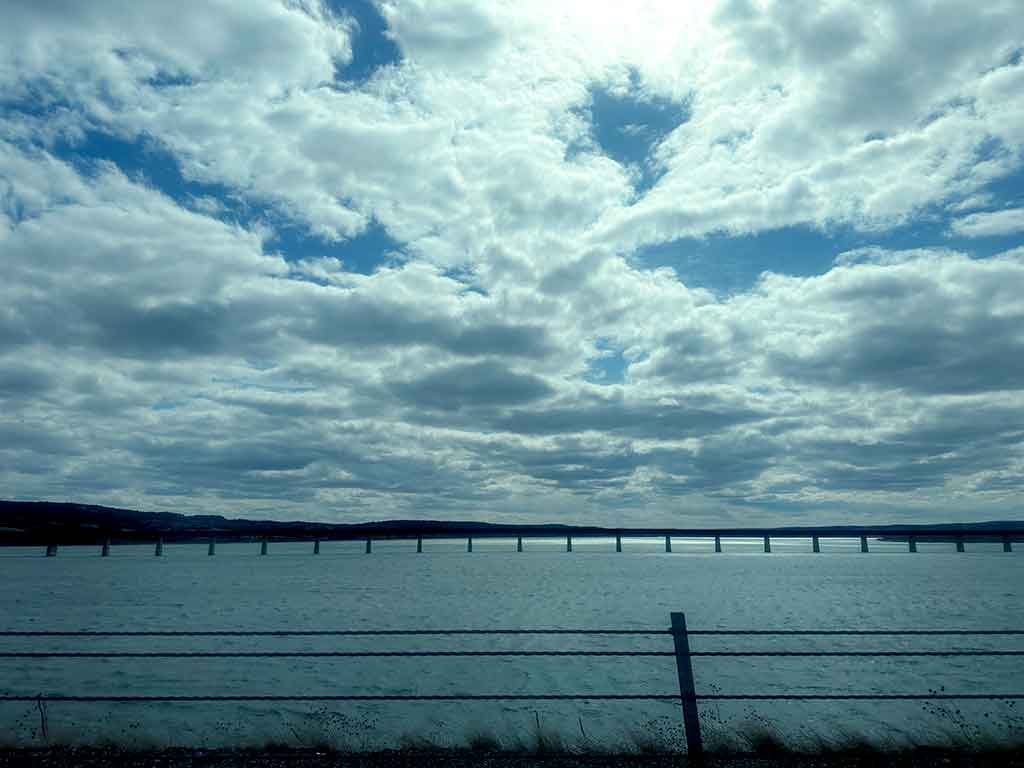 And then this…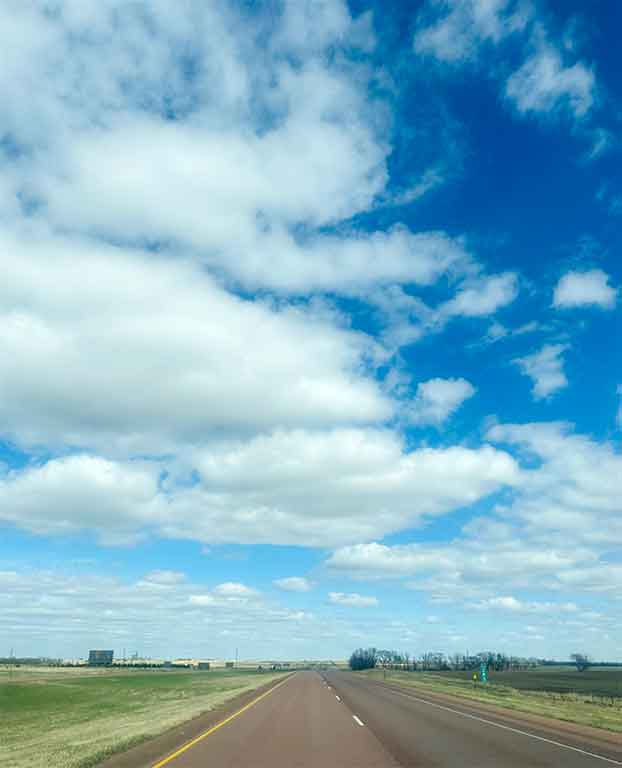 And then this???
Come ON!!!!
But, we FINALLY found coffee in Belle Fourche, SD. And, as caffeine-starved as we were, it was totally worth the wait. The Leaky Pot Cafe was another Google find that just happened to come up as one of the first spots available on our route. So, naturally, we took it, with expectations low. Is there coffee? That's about all we needed. But we got so much more. We were greeted by a lovely couple with smiles and warmth. I'm guessing they lived upstairs in this cool space in which they had devoted to creating something beautiful in their community. We can't wait to visit during our Summer tour and see it it all it's glory. There was space carved out in the front for a little creek that ran under a small footbridge leading to the front door. There was space for tables and chairs outside, and ,weather permitting (which it most certainly was NOT today), I'm sure this quaint little spot was an oasis for early morning java seekers.
It was such a surprise, we took a nice thirty minutes to share some avocado toast, a blueberry scone, and two lavender/honey lattes…and crossword, duh.
A perfect start to the day!
Seven hours later…
Landing safely in Yankton, SD around 6:15pm, we were asked to join our hosts, Heather and Nate, for dinner at a local pizza joint called Charlie's. There was a spinach/alfredo pie there called The Betty White. For those of you who know my sweet husband's proclivity to the Golden Girls, you can imagine how happy he was to eat Betty White for dinner. 
Nate and Heather then drove us to the camp site in the Lewis and Clark Recreational Park where they had rented a space for us and parked their 5th wheel trailer there, turned the heater on, stocked us with bottled water and dropped us off to decompress and wind down. We got to have a much needed FaceTime chat with our boy and our pups.
Look at those faces! Rudy looks serious only because he was doing his damnedest to get Clementine to be still. She looks so Chonkers here!!!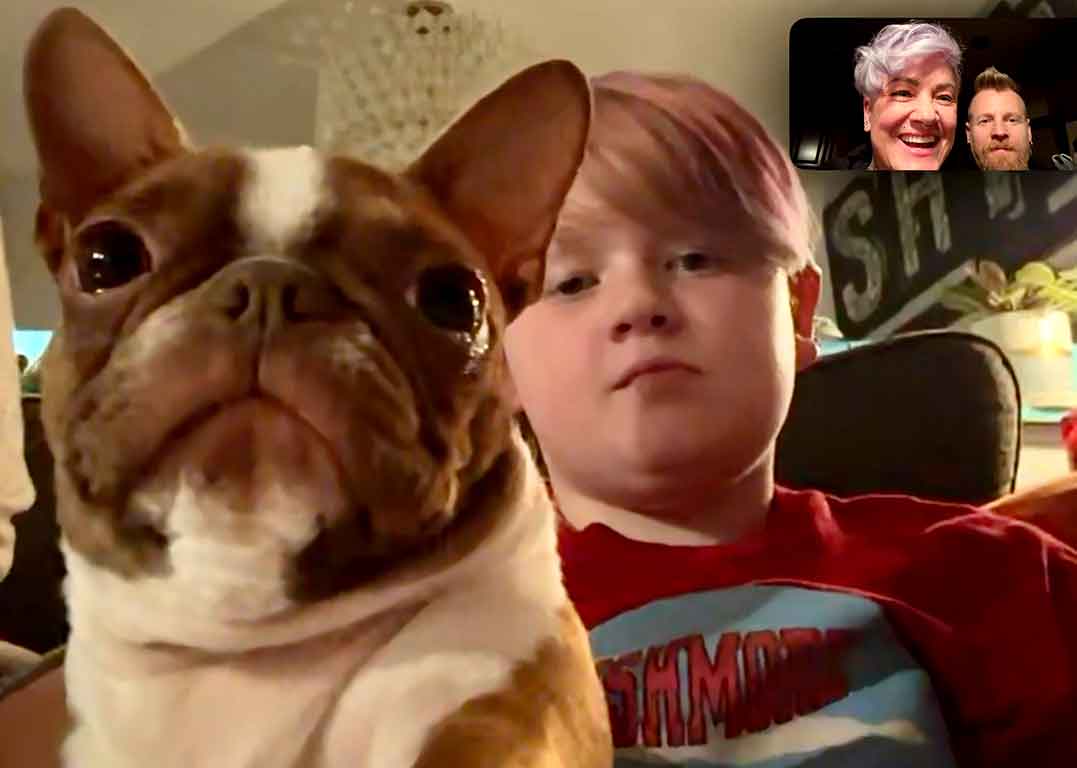 Looking forward to two shows here in Yankton and getting to visit fans, we crashed hard, with happy hearts and gratefulness all around!
---