We love Keystone. Although it definitely is quite touristy, there really are fun things to do there. So, we did a bit of it! It was very hot, so we limited our outside time. But it was still a great day!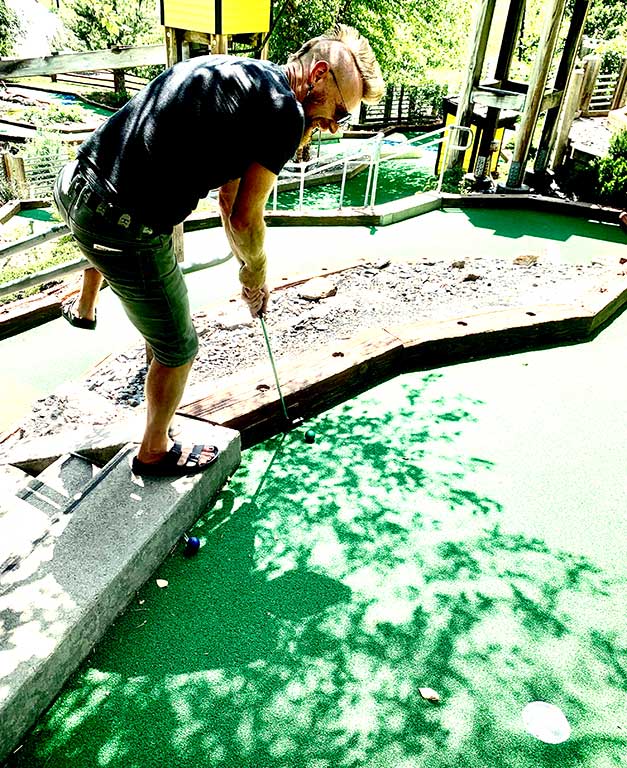 So, we kept score for fun and taught Rudy the importance of good sportsmanship, not bashing your club in when missing, taking your time at shots, and most importantly, laughing a lot and having a blast. That being said, at 45 years old, I won my FIRST game of mini-golf… so there. Neener neener! 😂
Impromptu photo shoot in the bathrooms at Grapes and Grinds. They have the BEST wallpaper! 
We had lunch in Rapid City at the Firehouse Brewing Company.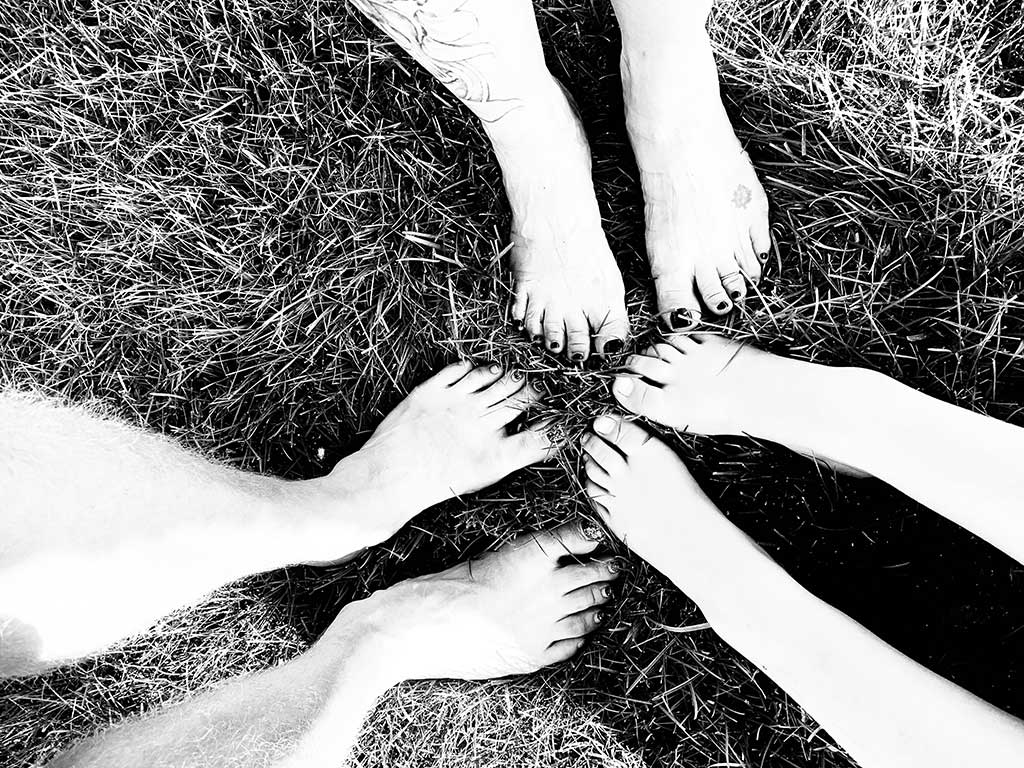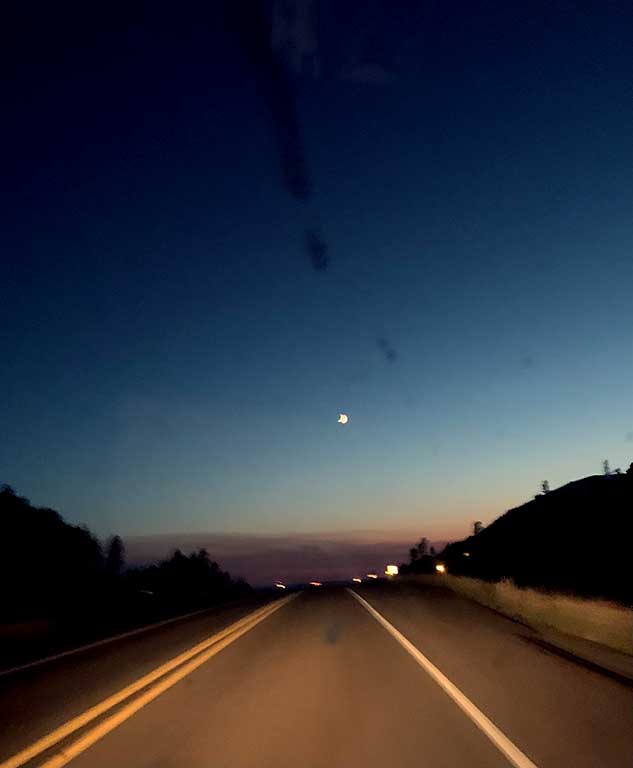 Our search for morning coffee led us to Yellowstone Coffee and Canvass. Not entirely sure what that meant, we stopped in. Oh my gosh, how fun! There were ceramics and canvasses to paint while we had our coffee and breakfast! We opted for a small 8″x10″ and split it into three sections to share. We learned how to make mistakes become fun and what to do when dad spilled on the painting. All turned out lovely and now we have something joyful to remember this morning. 
Welp…. After owning the damn thing since 2006, it was probably time to experience getting a flat. The weirdest part was that we ran into a palm reader two weeks ago and he told Jared to buy some "Fix-A-Flat"… Jared said he probably went out and stabbed up our tire just to solidify his credibility!😂😂😂 Super nice man named Travis from Pomp's Tire Service in Butte came and fixed it right up within an hour (and he'd actually heard of Champagne Sunday!), after 6 or 7 other places just outright said, "We can't help you!" Whew! 
Sunset over Missoula looked a bit nicer tonight, knowing we had safely made it into town without any more incidents. 
Good morning on our third day of rest! The illusive "Huckleberry smoothie" would now be ours!! We've seen ads for this and heard talk of it for the past four years and have never stopped for them, for one reason or another (usually, we miss the exit, sometimes it's closed). Well, today is the day! And let me tell you… meh. None of us really liked it. It was like sugary, tasteless, blueberry, milk. Such a huge disappointment. But we laughed and talked about the build up of something to the point of not liking it as much as if it had been spontaneous. Either way, we finally got to check it off the list. 
Since the first tire blew on the trailer, we thought it smart to get the other one replaced before we ended up not as lucky a second time. So, we headed to the nearest Les Schwab for another tire. I passed the time by throwing over 50 pieces of complimentary popcorn into Rudy's open gullet before finally making one, and we visited a little thrift store in town. 
Next, because of several reasons, my ukulele needed replacing. After calling every music store within an hour of where we were, I FINALLY found only ONE uke in Missoula at Deadeye Guitars. A beefy little tenor uke was just what the Dr. ordered! Because it's my biggest by far, Rudy named it "Bazooka-lele". Perhaps the best uke name I've had. I'll call her Buzz.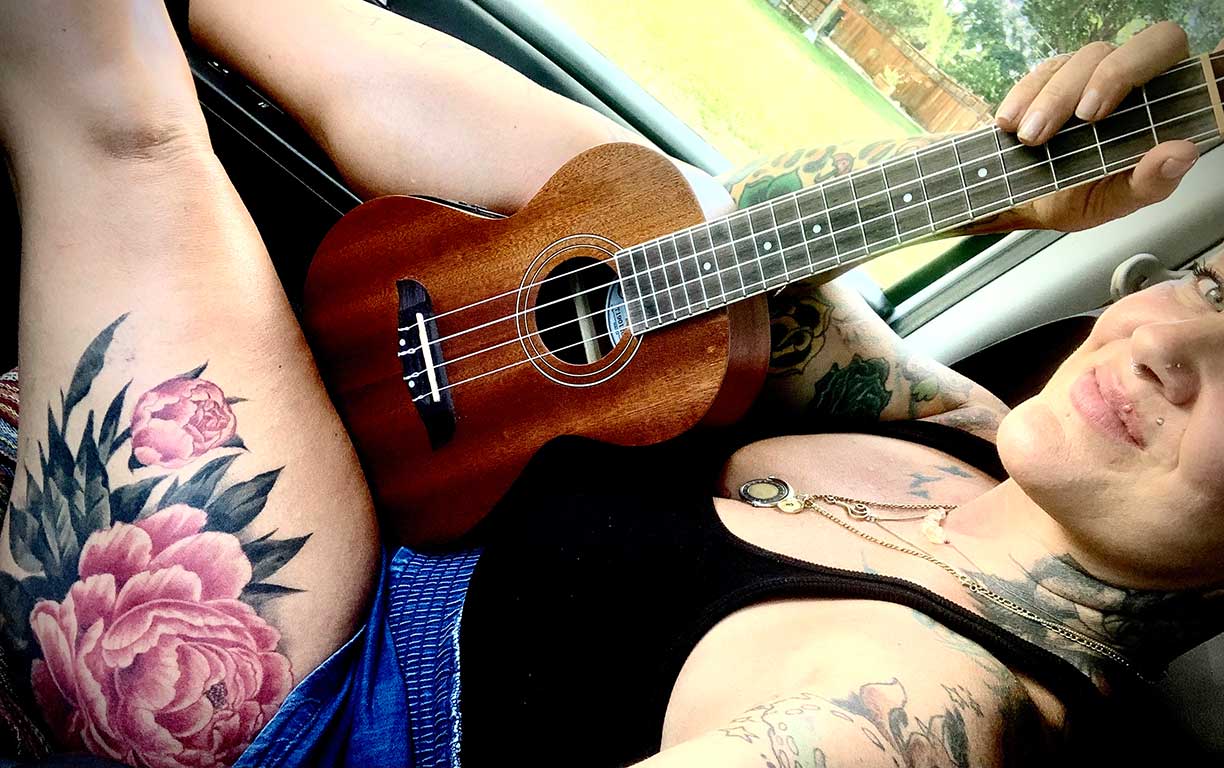 She ended up with a mandolin case from "Greg Boyd's House of Fine Instruments", as well as a genuine elk leather strap in mustard yellow. The gentleman there even put an extra strap button on her for me! I must say, it was a grand day!!
Well rested, new-tired, new uked, and mediocre smoothies behind us, I'd say we are ready to tackle the next six gigs in a row! We'll be home in Tacoma on Monday. Please no one contact us for a few days!😂😂😂
---