Well, we finally heard it. I thought, maybe this tour would be different. Maybe, we had broken the curse. I probably jinxed us in yesterday's blog by going on about our amazing shows and warm fuzzies. Whatever the reason . . .
"It's never this dead here. You should have been here last weekend. It was packed."
Two years ago at this very location, same sentiment. But, it was the state fair. Now it's the Olympics. Three years ago it was an anomaly. No one can explain it. No one understands it. Everyone apologizes for it. But, the truth is, sometimes there are just those nights when people don't come. We did have some fans come out to support for the first hour or so. Then, on our first break around 8:00, (we were scheduled to play til 11:00) the manager came up and said, "If it stays like this, let's call it at 9:00."😂
Well, it stayed like that. Buuuut, what I haven't been keeping you all up on is our health, which hasn't even been relevant until this story. Colds come and go and there's no reason to call attention to them unless they play a part in the narrative. So, the truth is, we picked up a 4th member of the band, a cold, while we were at the amusement park. Not surprising, and certainly NOT amusing. I knew we were totally screwed when some teenage boy picked his nose right in front of us and then put his booger-digger on the very same railing that Rudy was grabbing. No amount of hand washing and sanitizing can erase the germs contracted at a theme park. So, once Rudy got sick, Jared and I knew we weren't far behind. I think poor Jared really took the brunt of it, as he usually does, because his poor nose is red and raw and the only part of him begging to not be blown anymore…😂
Anyway, all that to say, when the GM, Luke, told us to call it two hours before we were scheduled to quit, we were actually so relieved! Plus, they still gave us full pay and we still sold a ton of merch! Plus, and this is my favorite part, the staff all sat with us afterwards and we all chatted while we drank our beers. Rudy regaled them all with his goofy stories, challenged them to try games he likes, and discussed all kinds of similar interests with five doting adults.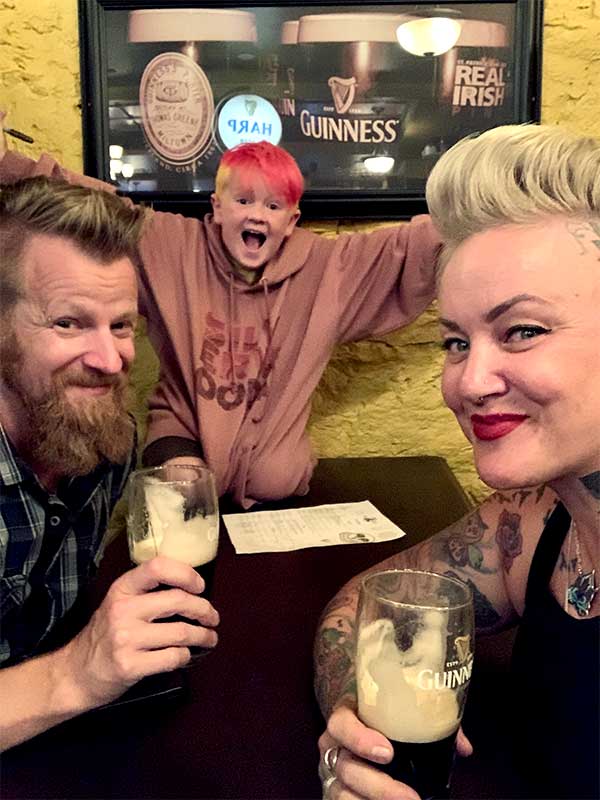 When we left, Rudy gave everyone hugs, we exchanged stickers, and the GM promised to make sure that next year, they would try to book us when nothing else was going on in Great Falls!
---