Even with a dirty windshield, the beauty of the giant Colorado sky cannot be denied. And we needed it this particular morning, as the sorrow threatened to creep in with every "one more hug" that transpired between Marianne and me. I hate goodbyes, and probably because we are closer than we've been in years, it gets harder and harder each time to say them. We did get in a ton of laughs, memories revisited, and quiet reflections. Enough to sustain us until the next trip. We'll just hang onto that til then.❤️
We only had about six and a half hours to drive to get to Durango, where we would play two shows, culminating in the "rescue" of Rudy from camp!! Not that he's in any danger, it just sounds more exciting!! We opted to take the scenic route, as we'd already put in plenty of freeway miles, and the greenery, boulder walls, plunging valleys, and blue sky, freckled with pure white clouds did wonders for our spirits. We finally finished a crossword book we've been working on for almost a year, and had the time to listen to two new albums we'd been wanting to check out. It was peaceful, fun, and overall a really enjoyable seven-hour drive.
Not wanting to wait until 8:00 pm to eat dinner, we started thinking about our options around 4:30. I picked the closest spot on the Google Maps route, and we plugged it into GPS. I didn't know the town, what kind of food, or even what it was called. We just knew that in forty-five minutes, we would arrive at our destination.
We ended up at Carther's Roadhouse, in Del Norte, CO, and we were so pleasantly surprised!
The place was an old motor shop-turned-community-gathering-space. We didn't quite know what to make of the place when we entered.  
This beautiful red, vintage truck greeted us right past the doorway. Not pictured, on the left was another small room with games and some small tables. 
As we walked deeper into the building, we became even more confused AND amused! A buffet was set up, but not full or being used. The kitchen window was open so you could look in and see the line cooks. There was a self-serve soda machine and a popcorn machine next to the kitchen window. We were sat in a small booth, but next to us was, what I can only describe as a "living room", complete with coffee table and tv. Next to the buffet was a football table and in the opposite corners of the expansive dining area were pool tables and a shuffleboard table. The center piece, and perhaps where they had once done oil changes was their beautiful bar. Coincidentally, you could get your own lube job there with the massive selection of libations they had to offer! Also spotted around the space was an old hairdressers' chair, vintage "Coke" signs, a picture of the car shop in its original glory, and then the "back room", which housed the owner and his son's "fleet" of fully retired and functional Model T cars. The waitress happily took us back to tour the space and take pics of the cars. 
Jared and I both have some pretty fond individual memories of older generations in our lives in possession of vintage cars, and the smell of the leather interior, the set up of the stick shifts, turn signals, and bench seats really took us on a visual and olfactory trip. We were both grinning like children as we left. I so appreciate Jared's ample reservoir of curiosity, without which we never would have ventured back there. I never want to put anyone out or be a bother… but he just kindly asks questions and inquires about things in places we go, which usually lead to some pretty cool discoveries and experiences.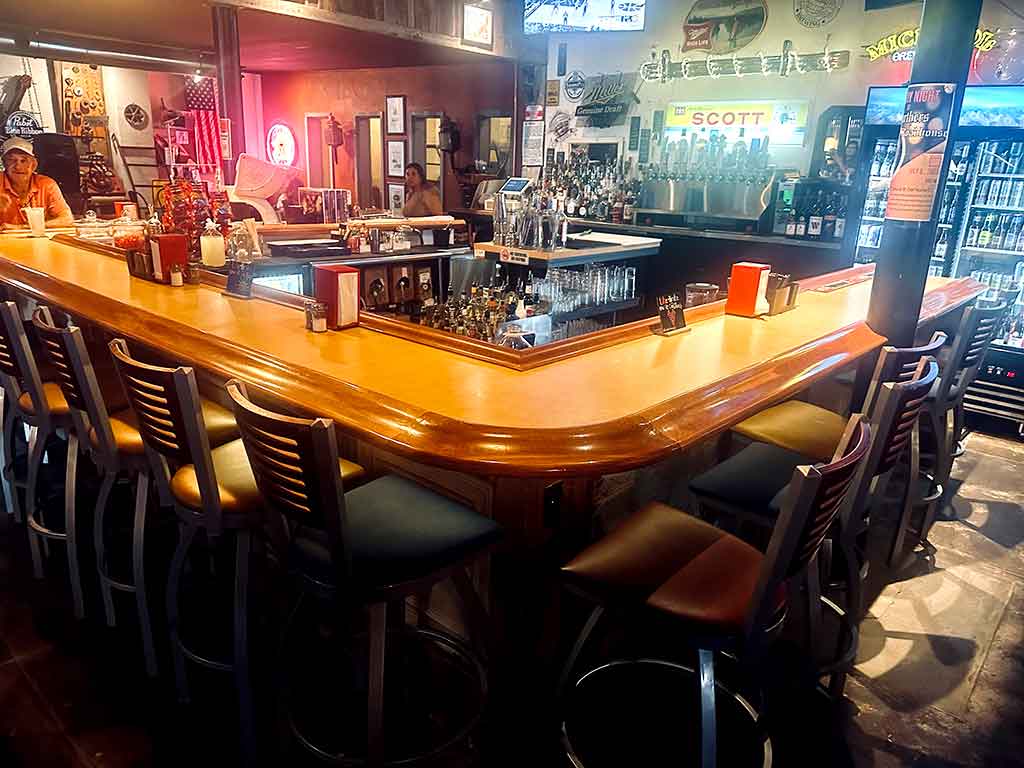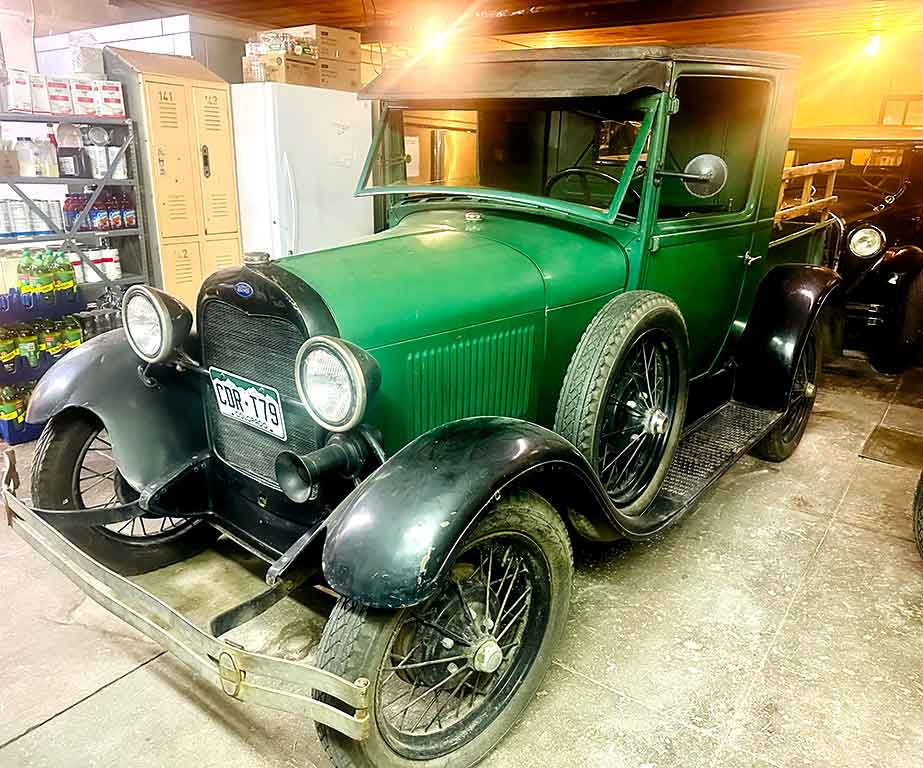 As we were leaving, a couple of young ladies said, "Have you guys checked out the bathrooms?" 
Interestingly enough, neither of us had. So into the potties we went respectively. Those girls were right. A couple of really cool, vintage-inspired bathrooms, complete with fun artwork and amazing wallpaper.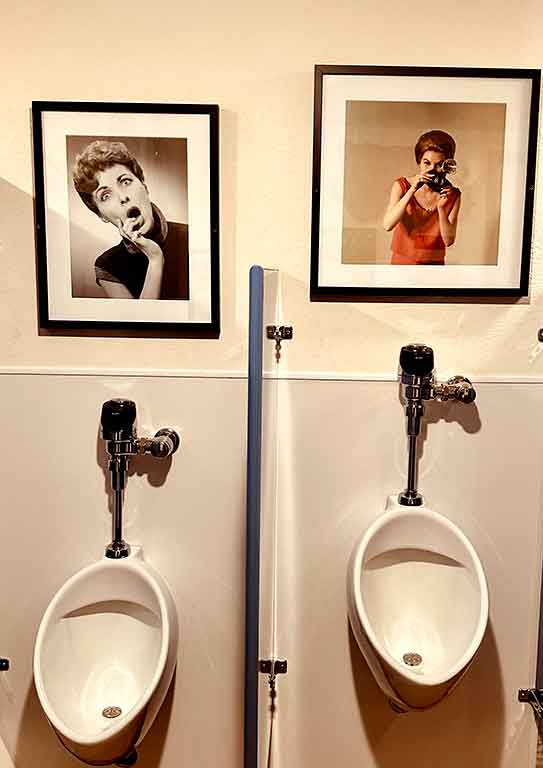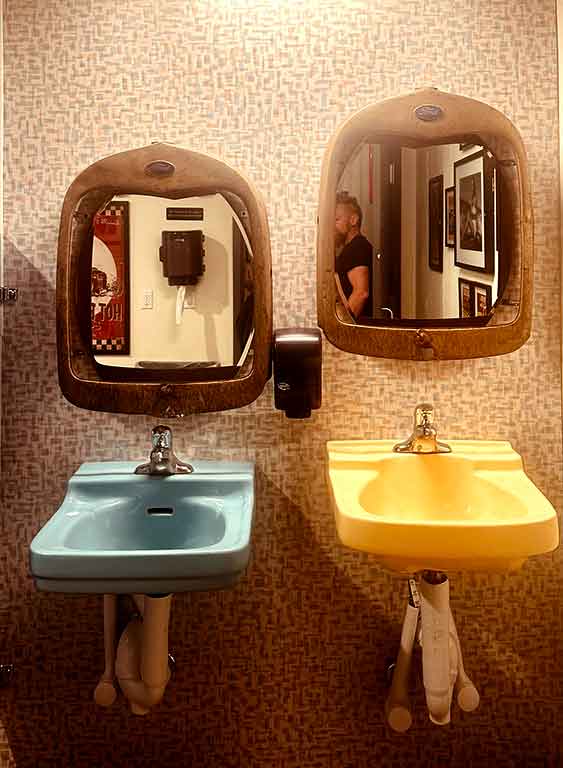 So much love was put into this old place and it was just a fluke that we even found it. Just a reminder to venturer off the beaten path sometimes, let your friendly neighborhood Google offer you a suggestion and dive in, totally blind. You may be completely delighted. Or you may be abducted…either way, Adventure is out there!!!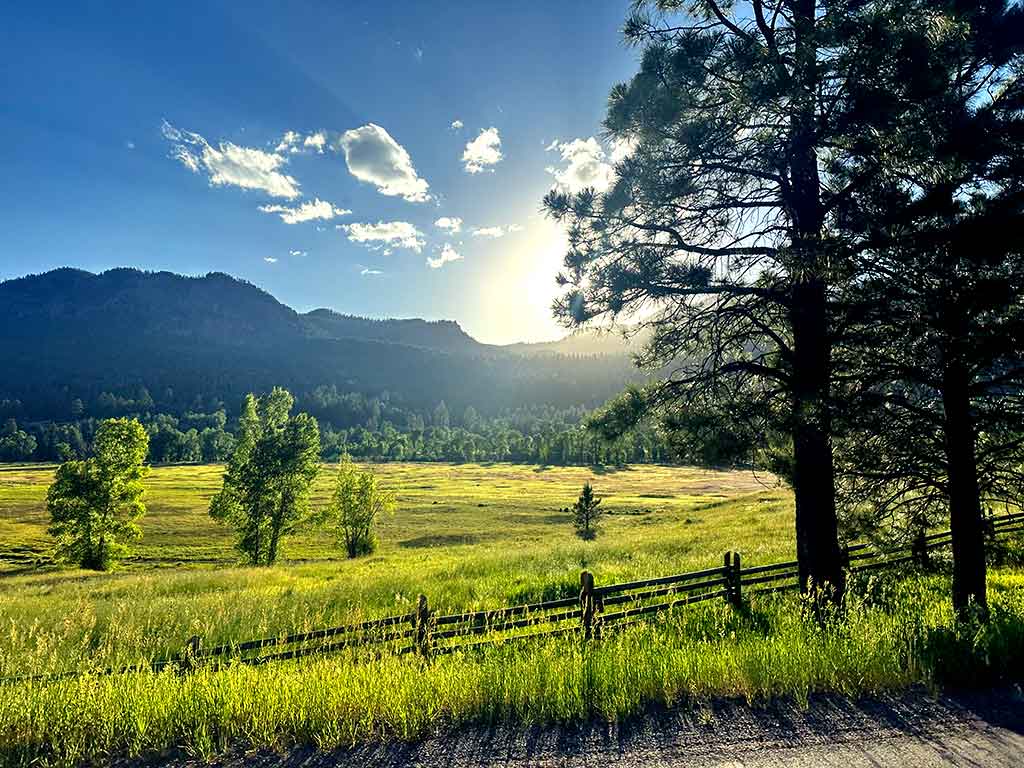 The remainder of the drive was just spent enjoying the view, music, conversation about the cool restaurant, and how we were getting closer each day to seeing our sweet Rudy. We rolled into Durango, CO around 8:30, did a little blog work, and passed out. Just an all around wonderful day!
---