Gearing up for the two nights of shows at The Black Nugget in Carbondale, CO, we figured a day of sunshine and pool time would be just the right amount of relaxation AND fun. The absolute best part of this day was that Jared and I headed to the venue early and got to set up everything hours before the gig!! Super helpful because that is (and EVERY musician will agree) the absolute WORST part of playing shows…especially when it's thousands of degrees outside!
I got my pool partner and we headed out.
1.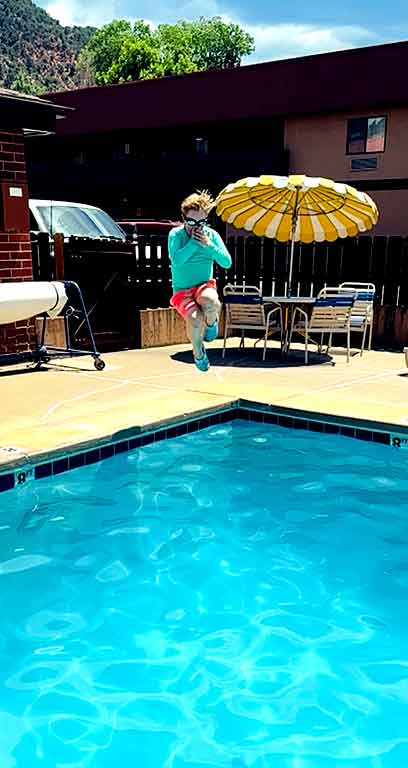 2.
3.
4.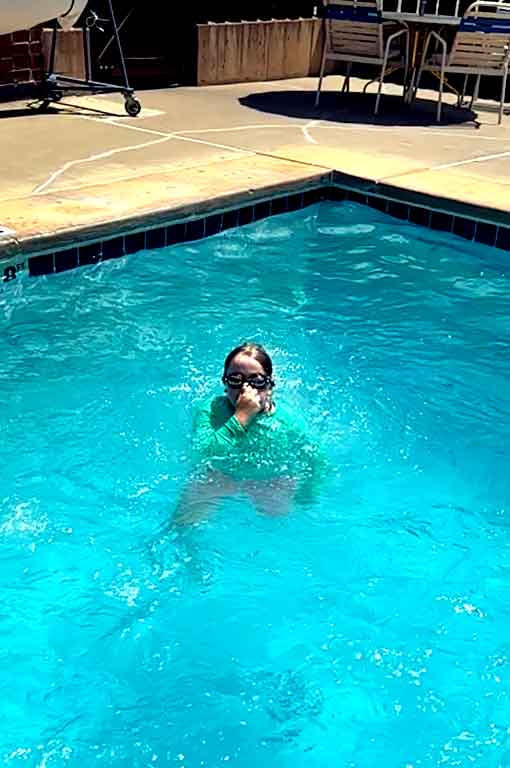 After sufficiently sunnin, and funnin', we had to get ready for the five-hour show ahead of us. We were contracted to play from 9:00 pm – 2:00 am. It's been years since we've played those hours, and we were somewhat concerned about the stamina alone. We knew we could keep them entertained and interested, but we also were acutely aware that we would have to be at the top of our game, physically, AND stay positive the whole time. I will say, there was a bit of nervousness about pleasing the crowd…
Earlier in the day, when we came to load in, there was a guy there loading OUT from the night before. Super nice guy! His name was Zach (from the band Echo Monday) and we got to chatting while he wound cables and packed things away. He said his band was the complete opposite of ours, doing ALL covers, primarily from the 90's grunge/rock era, with some 80's tunes thrown in. They were all guys around our age and played at the Black Nugget every year for a few years now during Mountain Fair weekend. He said the audience would most likely be wasted from an entire day of partying, and since the Nugget was the only bar in town, they'd all come to it when Fair was through at 9:00. He said it was a huge party crowd and they loved dancing and drinking (more) and having a great time.
Now, don't get me wrong, I think Champagne Sunday is plenty fun and can keep a good vibe going all night long, but I also know what it's like when you just want to dance and sing to a bunch of music you're familiar with, and not be challenged to "think" too much or spend the evening "confronting your feelings", which are both things we heavily challenge our audience to do. So the biggest obstacle (for me at least) was how to keep things light and super high-energy and fun, while still pushing the agenda of love and inclusion, self acceptance, and conviction to be better, all through the ALL ORIGINAL music we were bringing to the table…and for FIVE HOURS? So that's what loomed over us going into the evening.
Well, I'm happy and so proud to announce that, once we got going, all that nonsensical worry vanished. First of all, the Nugget went from a handful of people, to two hundred people within minutes. This is actually a picture taken after our third set break (around midnight), proving that they all actually STAYED!! But seriously, it was AWESOME! Because we had to play for so long, we got to pull out some really cool old tunes that we typically leave out of the shows as we grow and keep writing. It was like visiting old friends. And we did them really WELL too!
Our little trooper was given permission to sit in the bar with us for the weekend, which we were super grateful for, since our hotel was twenty-five minutes outside of town, and these nights were going to be loooooong. We just let the owner know that Rudy was our merch guy, fellow band mate, and "manager", and we weren't really lying (if you've been privy to our TikTok vids). Anyway, Rudy really got to experience what it was like to be totally adored. The crowd was screaming for him, chanting his name over and over again, and high-fiving him as he walked to and from the stage. He was treated like the star he is. After the first night, he said to me, "Mom, all I had to do was breathe into the mic and people lost their minds!" If he didn't have the bug before, I'm sure that show solidified it. I told him to not expect it every time. Be grateful when you get the attention, but don't let it go to your head, and ALWAYS remain humble and thankful. Do it because you love it, not for what you GET from it.
But I don't think he heard me over the constant cheering for him. Hahahahaha!
Of course it wouldn't be a full-fledged CS show if I didn't get myself onto the bar! This place was ripe for it too, because the stage was elevated and sat in such a way that it gave direct access to the bar, which was strong enough to hold several Jessi's (which is an awesome AND terrifying though…especially to my husband!) I got to perform a few tunes on this bar, including "Elixir Salesman", "That Girl", and, of course, "Minnie The Moocher". I did go into the actual crowd a couple times, but even with heeled boots on, I got swallowed up pretty quickly. I did, however, still manage to drive a couple of good message points into the audience and cover a ton of ground with stories and songs throughout the night!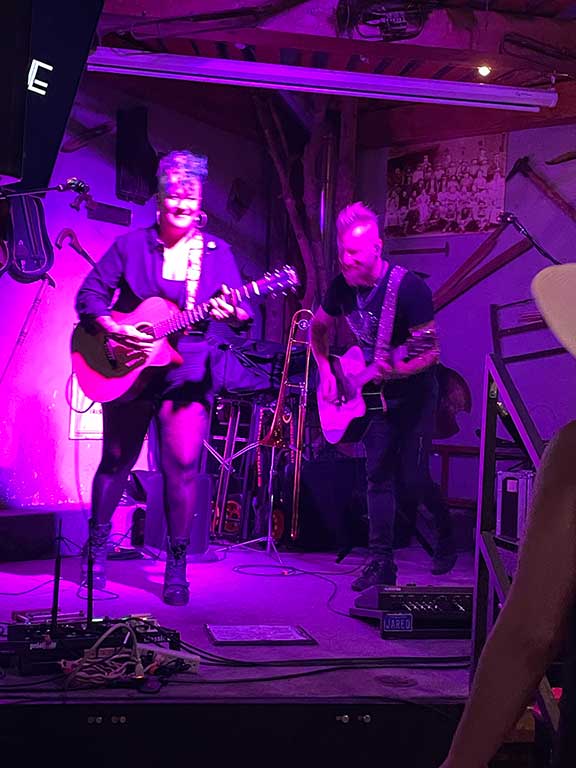 Well, when you get free whiskey for daring feats of strength, you just take it! With three tunes to go after last call, I seized my opportunity to get some free drinks for Jared and I to enjoy when we were through with the show. I just wanted one, but this headstand got us a few, and after the night we'd had, we were definitely ready for them! I'd say that was using my head… (ugh. I'm sorry.)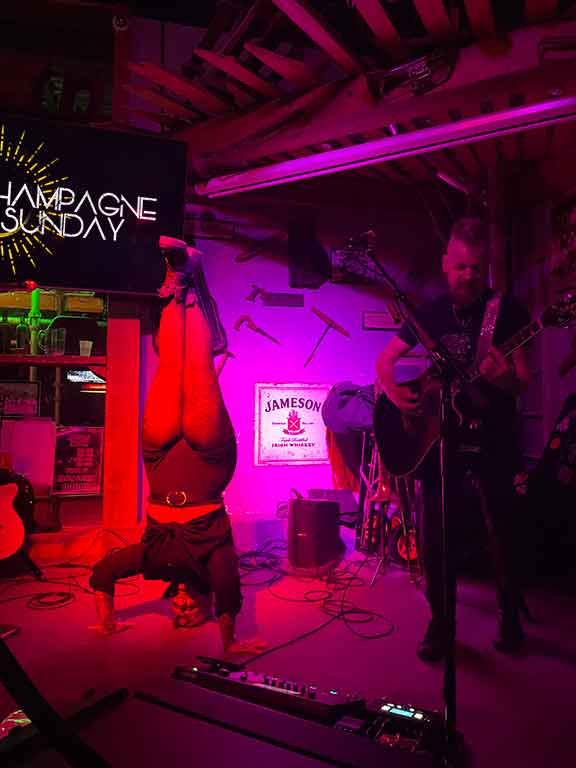 What you don't see in this photo is our sweet boy laying on the stage to the left of Jared. Somewhere around 1:00 in the morning, Rudy said, "I'm so tired guys." We grabbed him a blanket and had him curl up on the stage next to us. Thirteen years ago we did the same thing with our dog. It may not be a traditional life, but Rudy will never be able to say he wasn't included or he wasn't loved.
What a wild night! What a fun town! What a KILLER show! I don't think we could have done this this well even a few years back. We were so proud of ourselves and our material. We have really striven to create songs that can be loved immediately, whether someone knows them or not. But we have also really tried to focus primarily on what unites us, rather that focusing on how different we may be, and it was so well-received and needed. One more night to go, but we are off to a great start, and one show away from the return trip to home!
---