After the previous night of rocking our brains out and staying up til 3:00 or so am, Jared, Rudy, and I woke up STARVING! We looked up breakfast places near us and were excited to find something within walking distance! The "19th Street Diner" fit the bill perfectly, and had exactly what we all needed to start our day! (I'd also like to note that this may very well have been Jared's favorite day of tour, as I was on a bit of self-imposed vocal rest, due to the singing marathon the night before, and another three-hour night ahead. So his day was pretty quiet and much less full of butt jokes…)
(Jared here: Ah, the butt jokes . . . )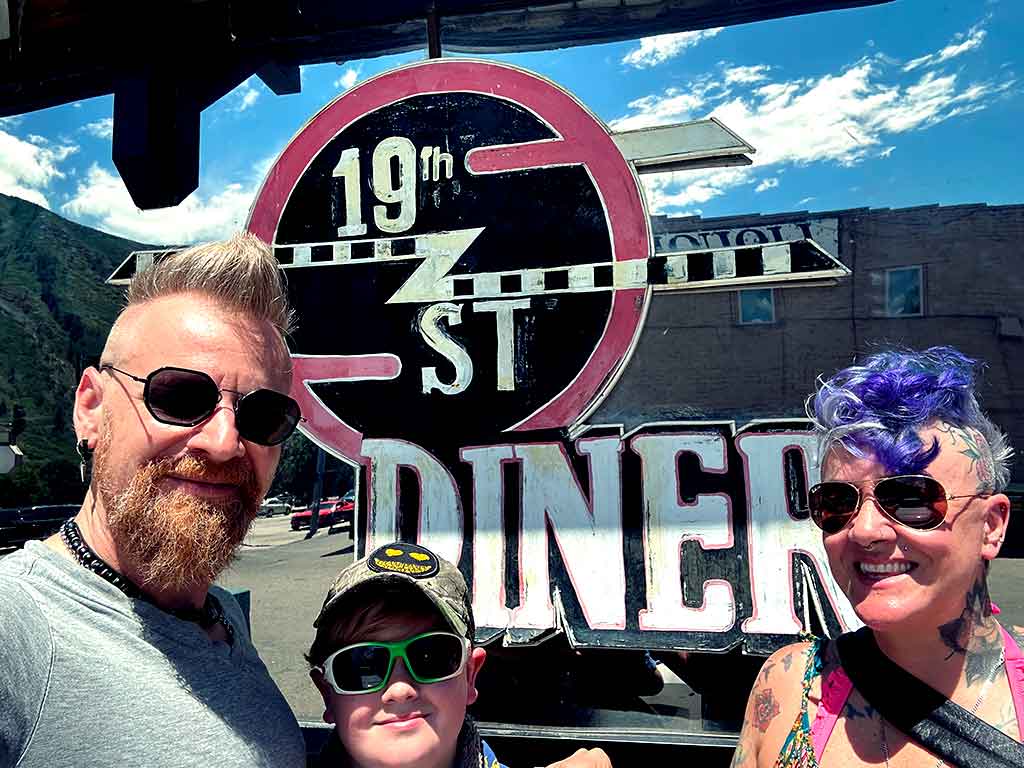 As stupid as it may sound, we really try to keep electronics away from our eating time out at restaurants. Games, headphones, cell phones, etc, help to contribute to the isolation of ourselves, and we are all victims of it. Believe me, we're not always successful, and sometimes we regret it, but most times, it's great, and we all feel better for it. Fun activities and games are invented or played, interesting conversation sparked, and an overall good time is had between the three of us. If Rudy doesn't feel us desiring to get to know him and spend time with him, when we want him to spend time with us later on, it may be a lost cause. It all seems obvious, but it's always good to keep reiterating and reminding ourselves of its importance. So, we draw. We laugh. We play countless games of Tic-Tac-Toe. We make straw wrapper darts. We fling sugar packers. We find ways to stay connected.
This particular morning was an extra long wait time, because it was a Sunday…and the food was DELICIOUS. After the kids menu activities were completed, we began searching for new ways to create fun. Rudy dumped the cup of crayons out and began to line them up, tallest to shortest. Now, please understand, by no means do I feel like this is riveting blog fodder. Even writing it, I'm yawning. But I want to remember this, not only because I like the way the crayons all look lined up, but because I never want to forget how some of the simplest things can be fulfilling, and can become something for all to focus on and help to produce something beautiful, even if it is only temporary, and especially if it is totally ordinary and almost "walk past-able".
So, once we'd eaten and rested a good long time by the pool and such, it was time to head back to The Black Nugget for part two of the CS residency there. It was an EXHAUSTED town by this point. What the festival itself didn't claim from the people with the music from several live bands, crafts, eating, drinking, and various other influences, the heat came in to pick up from there and completely sack everyone. Luckily, by 7:30-8:00, things began to cool off, and people were ready to dance again. However, it took a bit of coaxing, and they certainly were NOT going to show up on time.
So, we dedicated the first set of our show to this darling young lady who danced and cheered for us for the first probably thirty solid minutes, almost solo. We played hard and honest, not caring that there weren't the masses crowded in like sardines. We were damn happy to be playing for this new fan and the few others who began to trickle in. We thought that this was going to be the night for us. Then, by 9:00, and almost as if by magic, the whole place was full again. We didn't grab any photos, as we were busy playing, but there were a couple of cool stories I brought home with me.
First of all was the ice cream on stage. Rudy was brought a soft serve ice cream cone by our new DJ friend, April. She was among the hundreds of completely drained townsfolk due to her all-day diligence and devotion to the festival, including a cake/pie judging competition (how sad for her!). But she still wanted to come by and catch some Champagne Sunday before the crowds got there. With her she brought a cool, tasty treat for Rudy. Well, he was thrilled and began licking away at the creamy vanilla treat…right before he was supposed to be on stage with us! To hell with it, bring the ice cream up here and let's do this!! Probably the first time anyone has stood on the stage with an ice cream in one hand and a microphone in the other to perform. He sang his little heart out while enjoying his dessert! I just kept laughing (and almost cried a couple times because of how damn darling he looked). He hit every note and never missed a cue…even between licks.
Here he is taking advantage of a break in singing.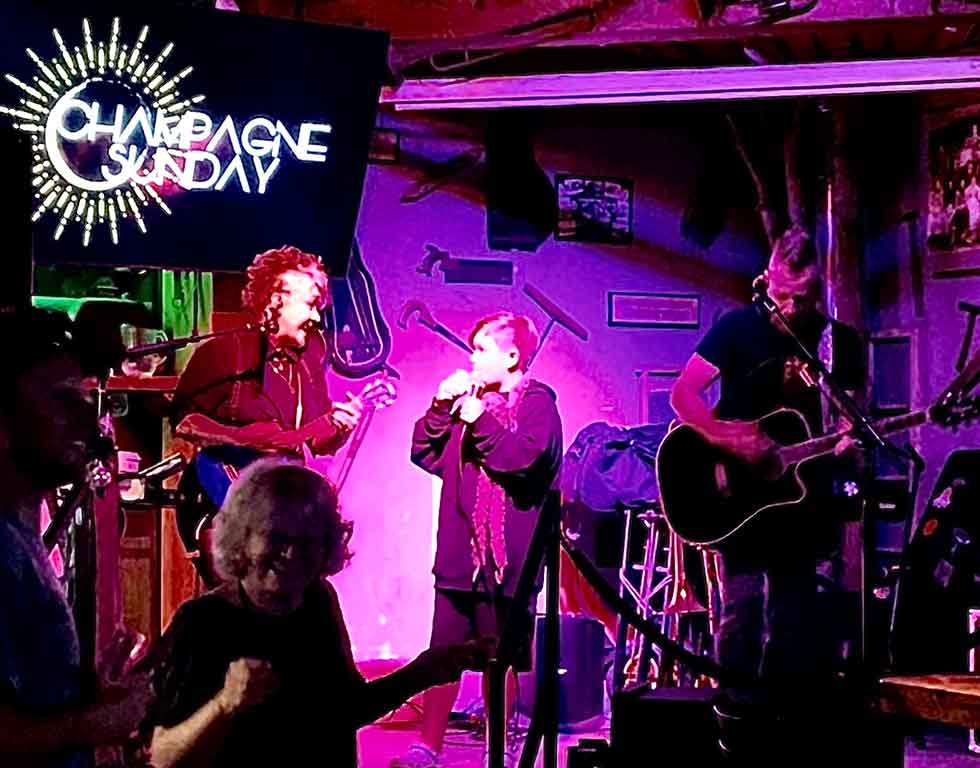 Hitting the big note with mom and dad! He got so excited, he forgot to actually sing INTO the mic!
The show was truly another huge success. Although some definite crazies were out. One guy came up to us after we'd finished some fun tune and said in a VERY "influenced" voice, "Maaaaan. I can play drums with you. You need drums. Just let me get up there and bang out some djembe or hand drums or something, man…" Jared replied as kindly as possible, "No thank you. You don't know these songs. Thanks though." The "super confident" man responded, "That's no problem. I can play to anything…" I finally just told him we were good, but thanks anyway. Dejected, he shook his dred-locked head and stumbled back from the stage. I bet he's great at job interviews… We finished strong with "Minnie The Moocher", but while we were singing, and I was (obviously) on the bar top, some guy walked ONTO the stage and began having a full conversation with Jared. He wanted to buy us shots and talk about Jared's guitar!!! Like "DUDE! We're actually STILL PLAYING HERE!!!" I caught Jared's eye and we both shrugged. It's been a minute since we've had to swim against the stream of sloshed salmon… but they were all out tonight!
There were a few really lovely moments and take-aways from the night, though. One, was the fact that the whole front section of the bar that was near the stage was REALLY into the show. Laughing, crying, listening, dancing, and truly enjoying themselves. I'd say the attendance was just a bit less than the previous evening and, although perhaps slightly more intoxicated, paying attention much closer, so it was easier to connect with them. Because of that, when I went into the audience to do "That Girl", something wonderful happened that I hadn't seen before.
I started the story part much like I always do now, by telling strangers I love them. I do it in a funny way, pointing out the importance of the words, regardless of the awkwardness that may accompany them when spoken to complete strangers. I get laughs and some genuine surprise, but more and more, people are responding in kind with their own, "I love you" right back. But this audience took it even further. As I navigated my way through the crowd, giving hugs and "I love you's" out, I turned back around to face the stage and saw SOMETHING WONDERFUL HAPPENING…they were all hugging each OTHER and repeating "I love you" to one another!! It was like watching the physical manifestation of a really joyful and positive virus, beginning with one person and just spreading until everyone was infected with love.  I realize that may be a metaphor in poor taste with COVID having wiped out many humans in the recent past, but maybe a nice image of something good spreading is what we can all use to keep the healing going. It was moving to witness, and a testament to how much we need that connection, how quickly love can catch on, and, I'll just be honest, how alcohol can play a part in lowering inhibitions just enough to let in a little light…and then forget it all the next morning. But come on, progress isn't alway clean and perfect.
Anyway, our friends, Nate and Marianne had taken Rudy back to their hotel room for snacks and video games, mostly so he didn't have to end up sleeping on a stage around a bunch of drunkards, but also cuz he's super fun to party with! When we finally got torn down and back to the hotel, a Mario Party game (a board-game-style video game on  the Nintendo Switch) was in full swing, and Marianne Brown GLADLY gave up her character for Jared to join in the fun!
I cheered them on along the "sidelines" with my after-show beverage, and was VERY satisfied!!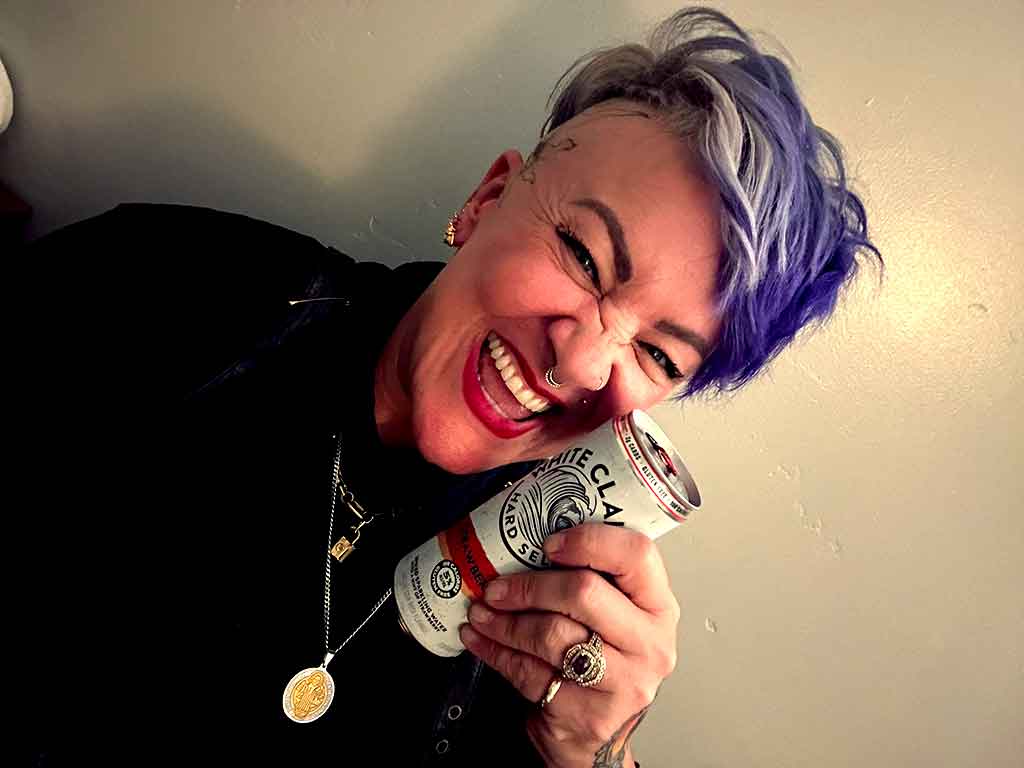 We have one play day scheduled to spend with Nate and Marianne in Carbondale before we head home, and I will share our adventures with you soon. But we have quite a bit of decompressing and reflecting to do as well, now that we are completely through with our musical obligations. It's always interesting to see what shakes out of my brain as we make the trek home, as quickly (but safely) as possible. Thanks for following along thus far. It's been a wild and incredible summer!
---