OUR BOY IS COMING HERE TONIGHT!!!!!!
Now to remain busy and super-occupied until we pick him up at 12:30 tonight!
Let's do what we do best and go out to play some music. We, of course, had to hit up the Bowery Vault again. I also think we will be there the next two Thursdays as well. This place is magic, I tell you.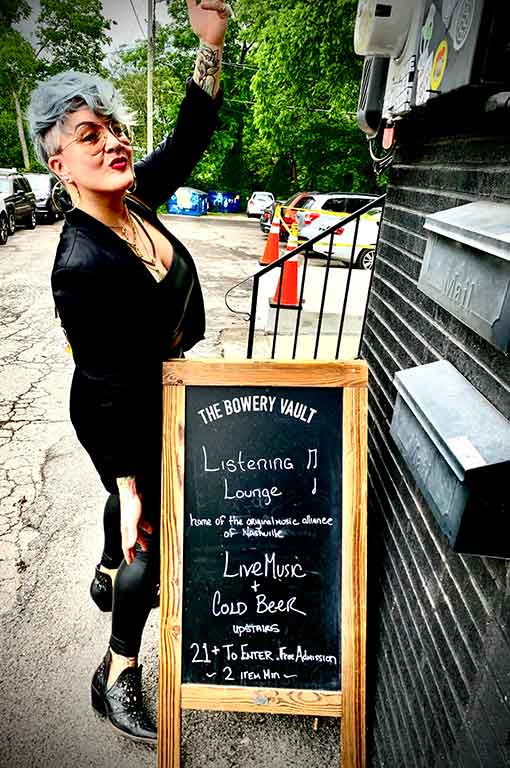 Another little hidden gem of magic that Jared and I discovered, thanks to the bartender at the Bowery Vault, was this Italian joint, available for window order to take out in a brown paper sack only, Nicoletto's. I was recommended to try the gnocchi with bolognese sauce. I have a very special relationship with gnocchi, as it can be both tremendous, and tremendously bad, depending upon the two seconds of over-cooking or under-cooking, or the sauce choice. This dish fell into the first category, so much so that I was actually a little angry when I was through eating it. Angry that there wasn't more. Angry that it was so good and so NOT available in Tacoma. And angry at myself for eating the whole thing, feeling guilty, finding out there was a "child's portion" available, then angry because, even had I known, there's no way in hell I would have ordered it. Who am I kidding? Hahahaha! All this to say, it was wildly delicious. Sorry I didn't save you any…
I really tried to grab some shots from the video we took of our set at the Vault, but someone's head was in the way the whole time. Plus, you already know what we look like on stage. 
This night was unique because of the host, Jennifer Vasquez, and her way of setting the tone of the evening. She had, only two days prior, lost a dear friend and producer in New York. Taken too soon and super unexpectedly; she was clearly effected. She shared some cool things about him before starting her tune. But, before she opened the floor to the rest of the acts, she asked that each of us speak of someone we've lost who has impacted us in some way. She reminded us that, by speaking of the loved ones lost, we brought them into the space with us, and gave them validation again. I loved this. Jared and I shared about our friend, Steve, who struggled with addiction to alcohol and cigarettes, and even though he had been sober for almost a year, the intense toll of his lifestyle took his life. He and Jared were deeply connected through a shared love of music, music history, and more music. Unfortunately, Steve could never tame his demons, and ultimately, they won. This led into our tune, "Tame It". We also shared "Heavy Love" with our guests. Both were really wonderful versions. I think we gained 7 or more followers just from these two songs alone. 
One of the most touching moments of the night was from a woman named Meg Gehman. She sang a beautiful tribute song about her deceased brother. It was called "The Tree". The song itself was beautiful. Meg had already played one tune, and it was obvious that she is a seasoned singer/songwriter. Her voice is deep and mature, raspy and powerful; her stories are truly lived, and you can feel the layers in her metaphors and lyrics. So when she got into the second half of "The Tree" and began to break, it was a surprise. It never felt manipulative or phony. She was back in her song, losing her brother all over again. She was vulnerable and weakened with each note she tried to get out. I'm not sure how many of you guys have tried to sing while crying, but it is not easy. Your throat closes up, your nose gets stuffy, your eyes spill out onto your face under the stage lights. And on top of all of that, everyone is looking at you…in complete silence, as you gulp for air and fight to squeak words out into a microphone. This is exactly what Miss Meg was struggling through. Someone finally raised their voice to break the tension, "You got this, Meg!" We all quietly encouraged her as she let her very heart fall out right there in front of everyone. 
As we all sat there, watching Meg relive her most intimate sorrow publicly, I couldn't help but feel radically connected to my fellow artists. What we do isn't always pretty. It's not always good or well-received. It's rarely perfect and it's messy as all hell just trying to get a point across that even one person can relate to. But here we all were, bound together by shared human emotion because Meg let herself be naked up there. In that song, she was all of us and we were all with her. This is the life-changing power of music. Yet another confirmation that we are in the exact right spot. Thank you for your transparency, Meg. We're all the better for it.
---