An early morning, quick, afternoon gig, and on the move again.
Since we were in bed before 9:00 the night before, we were all up and excited about our gig in the Missoula "Out To Lunch" music series. The weather was holding at a not-too-hot temp of about 85º, and we were provided with a beautiful, covered stage, sound system, and sound crew to run the business end of things. For several years we have walked along the bridge above the park or floated the river below the park, and wondered how we could play the park someday. Well, all of our time and effort put in, making trips to, playing gigs in, and gaining fans in Montana paid off, and we were asked to play the Summer music series this year.  
I do apologize for no clips of us actually playing. I had a friend write and ask for more "reels" of us actually playing. I said, "We've only just started working with Rudy on selling merchandise. I suppose having him do some recording is next!" Here is a shot that one of our sweet fans, Tina Svaren, grabbed of us on stage.
After the gig, we had to get on the road almost immediately. But not without a stop to our absolutely favorite ice cream shop, "Big Dipper Ice Cream". We have a few stickers from them on the trailer, but we always have to grab a new one when were in town!
Ok…. So this pertains to nothing in particular, but I thought it worth the aside. The wonders of what we find in travel will never cease to amaze me. The things we see and experience that we never would if we just stayed in our own little bubble at home. With all the beauty we witness while on the road, it's no wonder there is so much incredible art in our world. Legendary, provocative, and amateur artists have adorned our walls, museums, churches, and homes for centuries. People travel all over the world to give their eyes the opportunity to take in and digest the artistic commentary on the civilizations around them. We take such pride in displaying the majestic duplications of scenes and the human image, smeared and stroked in oil on canvas, etched in wood, carved carefully in marble, collaged in paper and glue, dripped in watercolor, suspended in resin, dotted, splashed, molded, and burned. Huge interpretations of the very hue of a color or a beach scene reproduced on one tiny grain of rice. Art is incredible and more important than we could ever put into words. Whether for beauty, conviction, politics, joy, sorrow, or literally ANY reason at all, art is an untethered expression of the very intimate corners of the human soul. Books have been written on it, lectures spoken, lifetimes dedicated to its history and new, innovative forms of it continue to pop up and amaze even the greatest sceptic and deepest art purist. Why?  They say "Art imitates life". We want to see our beauty reflected in the art we love. We want to have a visual representation of our history, our discoveries, our inventiveness and ingenuity, our troubles and social commentaries. We want to see who we WANT to be in our art, or who we hope to never become. It's absolutely endless, wild, necessary and 100% a part of the human experience. 
So, when there is so much to put out there, bad or good, it stumps me to my very core to see this displayed in a bathroom. Nothing looks to have been removed. Why would someone just display this? At the end of my visit, I decided I had given entirely way too much thought to this "piece" and perhaps "art" in general. But so that I can find peace and purpose in all things, I am calling this "The Empty Bowel", as it is how one should leave the restroom, empty, clean, and uninteresting.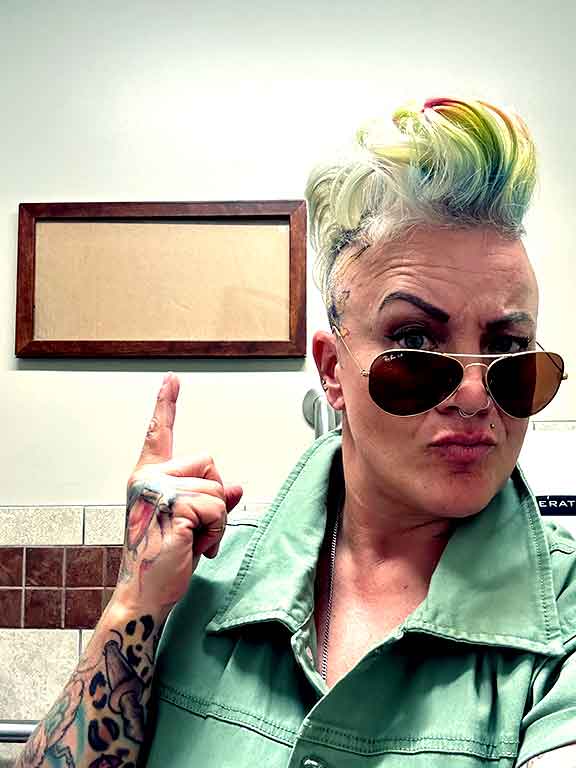 For no other reason than he is cute and stills says, "Absolutely, mom!" when I ask him to jump out for a photo.
Although I got no photographic evidence to document her presence, our dear Gretchen came to see us at the gig in Missoula! And, in true Gretchen fashion, showed up with home made goat cheese, rhubarb crumble, and a dozen eggs to take home with us. If they don't hatch in the incubating heat of Colorado, we'll enjoy those bad boys when we get home. Until then, some $1.50 cutlery for the crumble and some crackers for the cheese will accompany our grocery sandwiches and this incredible view at the rest stop dinner spot, located off the 15 Hwy, just south of Butte, MT.
Shortly after this photo was taken, as I was sitting and admiring the view and the beautiful and tented love that my son and husband share, they both pulled their pants down and mooned me . . . (Not pictured are their twin bun sets and shit-eating grins at the juvenile prank. Oh, I TOOK the picture, I'm just not sharing!)
Tomorrow is just a drive, drive, and more drive day. Thanks for following along, cheering us on, and loving us from afar. You are truly our fuel!
---