Saying Goodbye:
Over the week we were at the farm, Rudy had built quite a LEGO village out of Jared and his brother Jason's old 30-year-old bucket of legos. "Rudyland" came with a bar (serving juice only) . . .
and a bathtub, complete with a lazy Susan apparatus for the guys to stand on after their tub-time and spin around to get dry. One guy had a trash can on top of a tall pole with his "Pepsi" inside (cuz he wanted to keep it hidden)
and there was a shirtless man dangling over the edge from the second story. I asked why he was falling off. "Because he's not wearing a shirt, of course." There were several security guards to protect the grounds from bad guys, naturally, and then several little islands or vehicles with bad guys on them, just waiting for their perfect opportunity to infiltrate the fortress. Never gonna happen. You see what they do to guys with no shirts!
Anyway, when we got ready to leave, we instructed Rudy to take the thing apart and put it away. Well, we may as well have asked him to saw off his own leg and leave it behind. A tantrum the likes of which I have not seen since he was three, ensued. Complete with kicking and yelling and storming off. I am 100% certain it had less to do with the Legos, and more to do with the fact that we were leaving a place where so many things had happened over such a short amount of time that were monumental to him. He was not only leaving Legos behind, he was leaving freedom, cousins, berry soup, driving the golf cart by himself, training wheels, grandma and grandpa, his great grandpa Tommy, the Model T, the river, Kevin-With-The-Big-Beard, lightning bugs, and mud in the toes. Rudy was leaving summer camp, essentially. We got it. It was a very real good bye for him. . .and us. I packed us some sandwiches for the road, grandma loaded us up with treats and food, and we hugged our goodbyes out through teary eyes and abundant thank you's. The "Village" was already super special to Jared and me, but now it will forever be special to Rudy as well.
A somber 3 minutes down the road, someone farted, we all laughed and all was well in the Fredeen SUV, Abe!
The Show:
So, a few weeks before we left for the SHiNE Tour, our friend and fan, Margaret Connor, had asked if we'd want to play a house concert at "my sister's house" in East Aurora, NY. Of course!!! We love house concerts. Margaret is so New York in her accent and demeanor, I couldn't wait to meet her sister and play for all of her friends. Margaret has always been so warm and friendly, immediately chatty and open. We thought we were walking into just more of that. As we rolled into the driveway of the house where we were gonna play, it occurred to us we didn't know the name of our host. I quickly checked all my correspondence with Margaret about the gig. She NEVER told me her sister's name. Well, "My sister" she shall be called. And we did for the remainder of the weekend!
To properly explain this show, I must first describe, what I like to call, "The East Coast warm welcome". Which is to say, there isn't one. I mean this in the nicest way possible. It literally is like this. "Hey. That's where you're staying. Here's your stage. Don't stand on that. Here's a cover. Some people cancelled. Some more people cancelled. It's too hot. It may rain. Eat something. Start when you want. Play 'til whenever. Eat something. There's the kitchen, get what you want. There's your room. Do what you need." It's welcoming…but not really warm. I just kind of laughed until it came to the show part. That same attitude was there in the crowd. It was like, "Ok. We're here. What are you gonna show us?" The whole first 30 min, all of "my sister's" friends just sat, staring at us, not really giving us much to go on. Did they like us? Who knew? Were they having a good time? Not sure. But, we kept on. 
By the first set break, we felt like we had began to bust through the east coast skepticism. I mean, no one was leaving. They were applauding at the ends of the songs. We smiled and tried to feel them out. Stone walls, they gave us nothin. Alright, we got this. I made one comment that broke the whole damn thing open and then it was a party. I said, "I don't know if there's a sound restriction in the neighborhood. What time are we playing til?" Someone yelled, "11:00!!!" Someone else shouted, "Who cares? All the neighbors are here! Play all night!!" Man, it was like putting on an old pair of jeans! We fit! Now let's crush this! We played til the rain threatened to shut us down, then we partied til the mosquitos threatened to eat us alive.
"My sister"'s garden and outdoor play area was something out of a fairy land, and at night all the twinkly lights came on, candles were lit, we FINALLY ATE SOMETHING, and someone even brought a growler of some hard lemon liquor to share. We felt like we made it to the inner circle of the "east coast warm welcome". We got to chatting about it and it came down to the concept that it does take awhile to win 'em over, but once you're in, you're family. And that was made clear as we were told stories about people's kids, snowstorms, the "I used to be in a band" tales, secrets spilled and friendly betrayals made. I love watching old friends throw each other under the bus. You get the feeling that you're witnessing a lifetime of ups and downs, held close by an unbreakable bond. It's awesome. But we were exhausted. As we headed off to bed, we heard laughter and exclamations dissipate into the warm firefly-filled sky, and we sank into sleep, accepted, "welcomed" AND asked back, and thrilled with our new relationships with our east coast fans. Just the beginning, I think.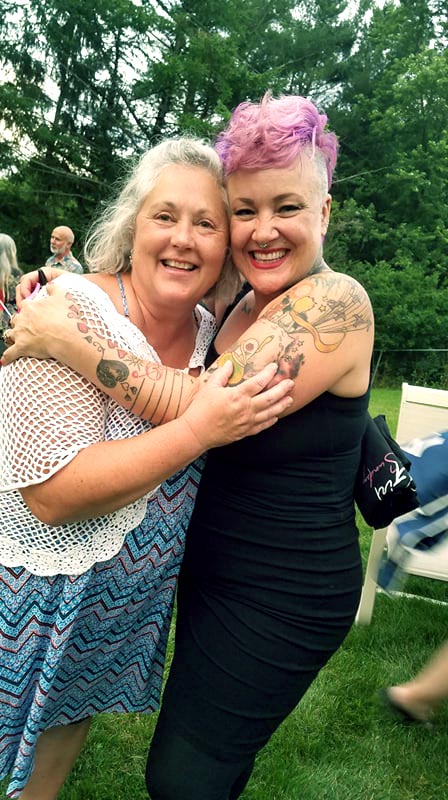 ---