Back at it!
With several hours to wait until show time, and not much knowledge of what to do in Rapid City, we took our time getting up, walked around a bit (it was super muggy and hot though), then finally found a bit of coolness and some lunch inside the Firehouse Brewery.
A really cool mural/street art!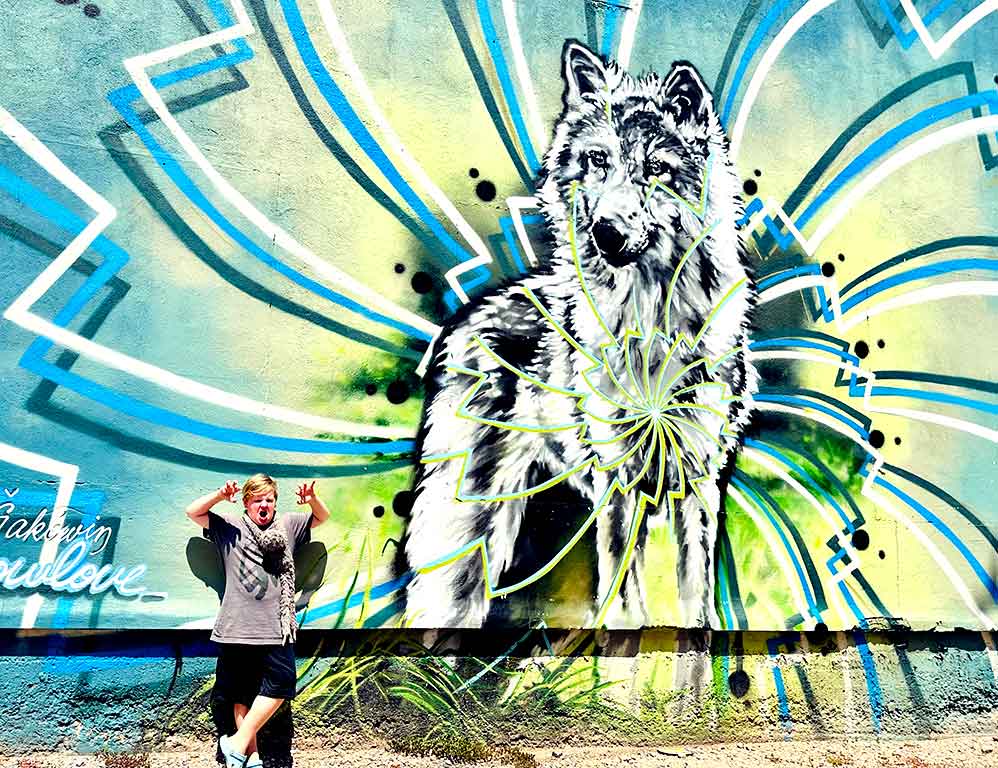 Rudy has been extra adventurous on this trip, trying new foods and upgrading his pallet. Here is a very satisfied boy, devouring his first Reuben sandwich. Not pictured were the poke nachos, complete with Sriracha and wasabi sauces, that he helped us eat and LOVED!
After lunch, we decided to meander over to the venue we were supposed to play that night. Although they weren't open, the bar manager was there and let us in to set up and take our time while they were closed. I LOVE when that happens. I honestly hate setting up in show clothes, getting all sweaty and having to lift, lug and bend over in whatever fancy outfits we've donned. When we can take our time, it is so great! There was a perfect place for our merch (which has been doing so well, we had to have MORE shipped to our Keystone venue so we'd have enough. I thank Yankton for being single handedly responsible for that…)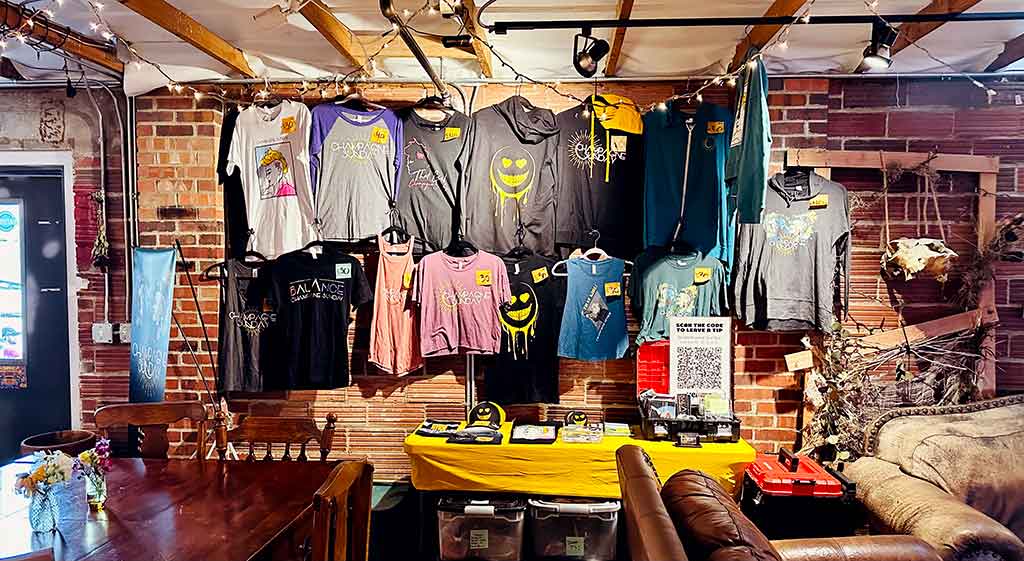 Of COURSE Rudy gravitated towards the piano. Our load-in was a grunty ballet set to the musical landscape of the Super Mario Bros theme song played over, and over, and over, and over…….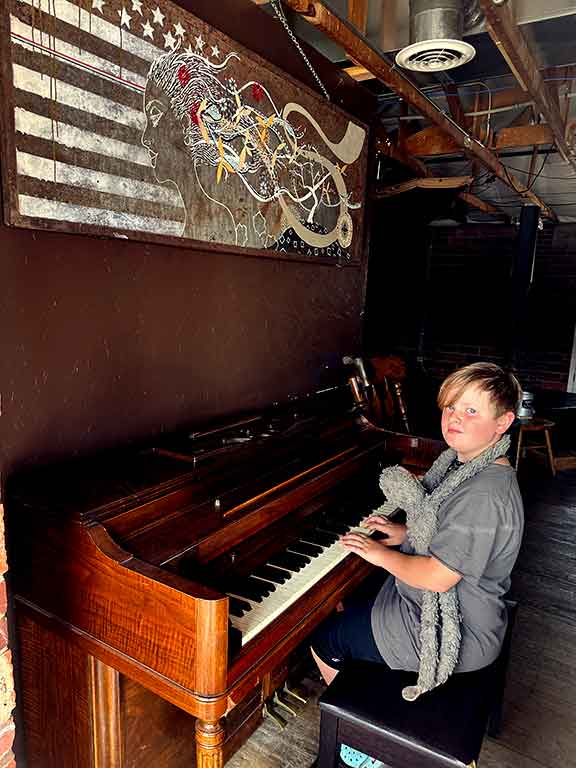 My husband in his best rock pose. I love to note how his mohawk and his beard are like parenthesis around his face, as if to suggest his face is actually an aside in a really cool monologue and the orator wants to make sure the listener doesn't miss the critical piece of information that may change the whole context of the story if it isn't acknowledged. 
The "Aby's" logo, pictured in red behind my giant mouth, actually has a very similar sun in it to the Champagne Sunday logo! Kindred spirits!
The gig at Aby's was important because we haven't broken into the Rapid City market yet. The goal when we do these tours is to branch out a bit more each year, creating bigger circles and gaining a larger audience. Since we've never played in the town of Rapid City, we didn't have any connection there, or built-in fan base to come see us…until Nate and Heather decided to make the five-hour drive to join us. Apparently, Nate has helped the bar owner with a bunch of construction work over the years, and they have been friends for awhile. So they decided to come support us and visit friends. They also invited some more people out to see us. 
Even though they were super kind to support us, we didn't want to rest on that. We needed to do our best to try and reach an audience that didn't know us. It was a challenge, because there were a few things stacked against us.
First off, the bands have been playing outside on their provided outdoor space for the summer gigs. Unfortunately, that part of SD had been hit with a string of summer storms, decreasing the outdoor attendance, and patrons were leery to come out in case it rained. Second, almost all of the staff had left for a music festival, leaving only a couple people behind to run the place. Both were wonderful people, Robin, the bar manager, and Kegan, a bartender, but neither were the ones who booked us, and neither ran sound. They wanted to put us outside because they finally had great weather, but they didn't know how to do it. Third was the fact that there was no food. There were food trucks, but they weren't open, and there was a full kitchen, but no one to cook in it. People were having to go elsewhere if they got hungry, or order something in. Not too big of a deal, but it almost always knocks attendance down. And then lastly, no one knows who we are or what we're about. So we automatically have a strike against us just because of unfamiliarity. That was on US to amend, and so we got to it.
Before the show began, we did meet a gentleman who came to sit in the front as we were getting on stage. He looked like he was also a musician, long hair, all-black suit, chunky jewelry. We said, "Wow! A front row guest!" He said, "I'm Tom Rasch, I've been following you guys for over a year on FB, and this is the first opportunity I've had to come see you! I have a family band and I'm a comic book artist. I love your music, but I mostly love your love story." This was crazy! We never did get how he found us on FB, or how/why the algorithm put us in his line of sight, but that was a pretty cool way to get started!
Throughout the night, Jared and I felt like we played really well, connecting with the few people who chose to engage with us. One gentleman wandered in before our second set. After the show he was buying merch, and he said, "I walked up and down the strip here, trying to find something that grabbed me and there was NOTHING. Then I heard your voice from the street and I HAD to come in and see what was going on. I am SO glad I did! You guys are incredible!" Another couple sat in a back table for the whole show. They approached me afterwards, gushing about the message and the joy, and how different we were from anyone else they'd ever seen. I will tell you honestly, as many times as we've heard this over the years, it never gets old. It helps me to know that we are staying consistent and still reaching people, even if it is in small handfuls. 
There was a table near the front full of darling, young hipsters, clad in their thrift store treasures, leaning into one another, giggling, whispering, eyes looking down when they felt "seen". They stayed for the whole show. At set break, one of the guys approached Jared and began to talk shop. Gear this and that, music stuff, Nashville, etc. Turns out, as one may have guessed, two them are in a band. Jared picked up on this and related to it immediately, as he was "that kid" twenty-some years ago. The kids were bright-eyed and hopeful about their own musical futures, and they were still sweet enough to be complimentary of our sound, image, performance, and genre. They clung together and smiled awkwardly, politely said "thank you" when we wished them luck in their own musical journey.
(Jared here: The band was called "Diaphane". As usually happens between musicians, we didn't talk much about music. Rather a lot of behind-the-scenes stuff: marketing, gear, touring, how much we are annoyed by social media, etc. I really love that when musicians meet, they tend to look beyond genre and other such labels and divisions, and see the person under it all, trying to navigate it all without a map and usually against the tide of popular opinion.)
This table served as an important reminder to us as it jarred a memory of something Jared and I saw online once. It was a small picture of a tiny vine reaching toward the support beam of a trellis. There were a few inches of sunlight between the vine and the beam, indicating that a bit further reach had to be made before the goal was achieved. The caption read something like, "When you feel like there is so much further to go before you reach your goal…" Then the picture expanded to show the full scape of the vine that had crawled across the complete length of an 8' lattice work wall, and the caption concluded, "Remember how far you've already come."
This may seem so cliche or overemphasized, but its relevance to our position right now can not be overstated enough. It is an imperative reminder, like seeing the young kids in the band, to reiterate just exactly how far we've come from where we started. Just the longevity of Champagne Sunday is impressive, let alone the drive that is still there, the music we are still writing, the people we are still connecting with, and the distances we are still going to do so. I mentioned to Jared last night that, although all of that is indeed true, we haven't done it alone. We've had so much love and support. People have helped us absolutely beyond the call of "duty", and we'd be nowhere without them. What he replied with really hit home. He said, "Yes, people can help our foot into the stirrup, but WE have to ride the horse". (Jared here: Forgive the horse analogy. This area makes me feel all "cowboy-y". Don't be surprised if I come home wearing spurs on my Converse shoes and talking like Sam Elliot.) I get that because there have been several people over the years that we have tried to help, assist, aid, or encourage, but if they don't take up the reins and make the horse move, they're never gonna get ANYWHERE! 
It really did make me proud of what we've accomplished. To some, it may not seem like much, to others it may look like a behemoth of progress, but whatever it is in the grand scheme of this life, it is all ours, and we are proud. (But still, a sincere "thank you" to everyone who has helped…)
---