After saying our goodbyes to Erik, Jared and I had happy feet and needed to get moving. We were meeting our friends, Brooke and Joe (Mom and Dad to the "Montana Brothers") for dinner that night, but wanted to get some stuff done in Missoula during the day. 
Last summer when we were here, we went to "Rockin Rudy's", an eclectic novelty store, but I realized we never got a shirt for our boy from probably the ONLY place he shares a name with. Or, at least the COOLEST! So, we had to go and do some gift shopping.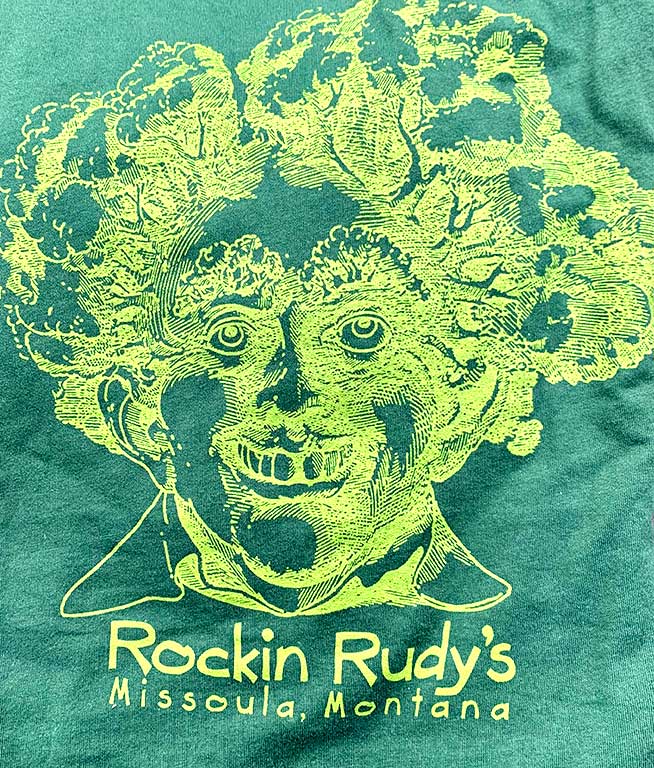 We went crazy and found all kinds of things for our number one guy. And, while we were there, he called and walked us through his day of losing his tooth at school! He sent me this picture and said, "Mom, it wasn't the big one. It was the other one." just to clear it up if I was confused. 😂
Anyway, since coming here a few times over the years now, we have an ok idea of where things are, or at at least where they MIGHT be, so we decide to walk a bit and find lunch. It was very cold, but not snowing (yet…are you sensing a theme for this last week of weather?!?). We ended up in a really cool little taco place called Gild. I love that they gave us this for our food marker!! 
The tacos were unbelievable. We shared a fish, a pork, and a chicken taco. There were 5 varieties of homemade hot sauce ranging in flavor and spice level. The guacamole was as homemade as it gets and the Caesar salad was cold, crisp and fresh. I drank a Kolsch and Jared had a "Redemption Red" ale. We toasted to our last real "date" alone while on tour and enjoyed our afternoon people-watching, chatting with strangers, and eating delicious food. 
We were finally at time where we needed to head to Brooke and Joe's place. When we walked in, it was like coming home. Our stuff dropped in "our" room, we perched at their kitchen island to watch the Easter egg decorating madness ensue. We really feel like such a part of this beautiful family. It's comfortable and genuine, and we laugh the whole time. I'm telling you, they are the real deal. We sat down to visit after the mess was cleaned up and their whole family sat on the couch to talk to us. They really like being together. It's something special that we don't often see in other families. I asked them if I could just take a few pictures because I was overwhelmed with how darling they all were, sitting all squished up with dogs and feet everywhere and all smiles. 
With the boys taken care of for the night, the grown ups got to go out to play! We decided on dinner at "Porte Rouge", a new restaurant in downtown Missoula. All the French cuisine without the pretension. It was beautifully decorated inside with deep woods, bright turquoise booths, floral wallpaper, navy fireplace hearth, red and black wine bar and some "questionable avocado" paintings on the walls that were blue and grey. They were actually oysters. But until the end, Joe thought they were just grey, rotten avocados and he wondered why that would be an appetizing advertisement. 😂 We ate snails and drank wine and I tried the duck confit, which was the most decadent thing I've maybe ever had. I'm glad it was small, because it was intense with flavor and richness. 
We passed on dessert at Porte Rouge and opted instead for cocktails back at our new favorite Missoula spot, Stave and Hoop. The drinks were strong and the mustaches flowed like wine. Wait. The mustaches were strong and the drinks flowed like..wait. There were mustaches. And jazz. And we drank. And drank. More jazz. More mustaches. Then we went home, drank peach crown Royal and I held the only cat I'm not allergic to and I want one. *
*Jared here: No.
We love these guys. Especially since they partied with us til 2:00 a.m., knowing full well they had to leave at 8:30 for a two-hour drive to get their boys to a rugby game. Wow! This will always be one stop in Montana we never skip. Although rudy was deeply missed and his absence heavily felt, we enjoy each visit more than the last. So much love. 
---