This is literally the BEST way to ever wake up. The cat was there too, but mostly to laugh at how foolish we all looked. Also, this is a VERY difficult bed to want to leave when covered with puppy scritches and licks.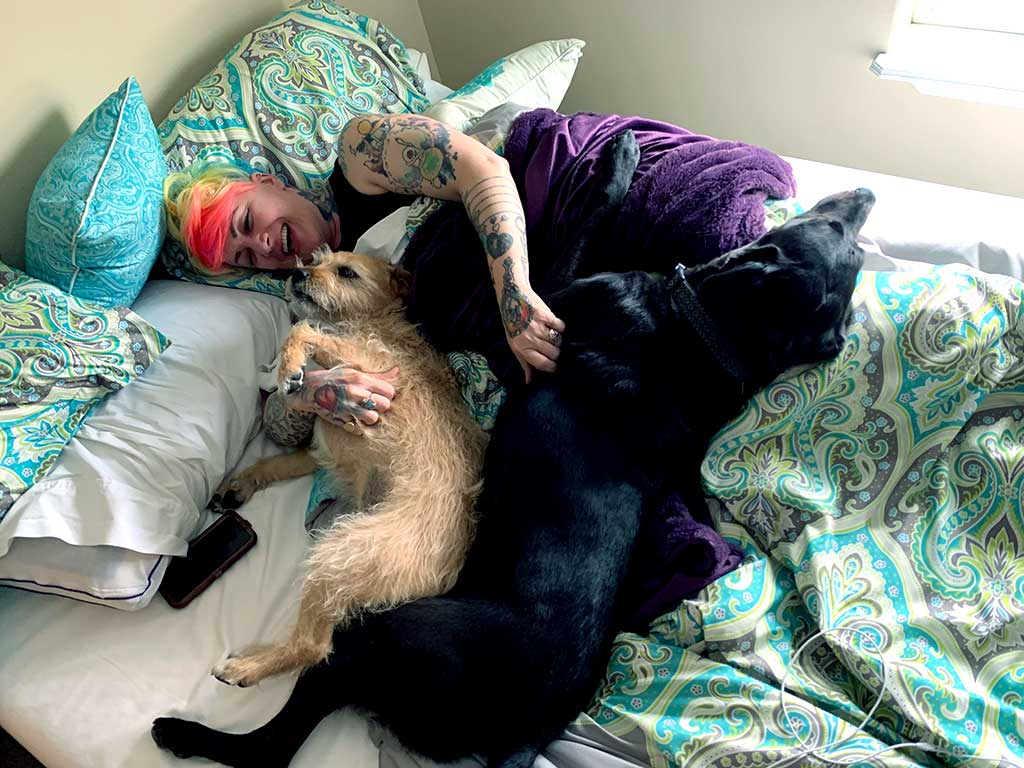 But, alas, we HAD to get up and do life. Laundry was first on the agenda. Next, coffee and fresh eggs (from Gretchen's happy chickens!). Then personal grooming and maintenance. Sad to have gotten in so little time with the family, we bid goodbye to their house (they were all playing rugby in the freezing cold 2 hours north), and headed to the venue to set up. 
A fond farewell. 
The Glam Gods shone down on me from above as we set up in front of the stain glass window in this funky and lovey venue.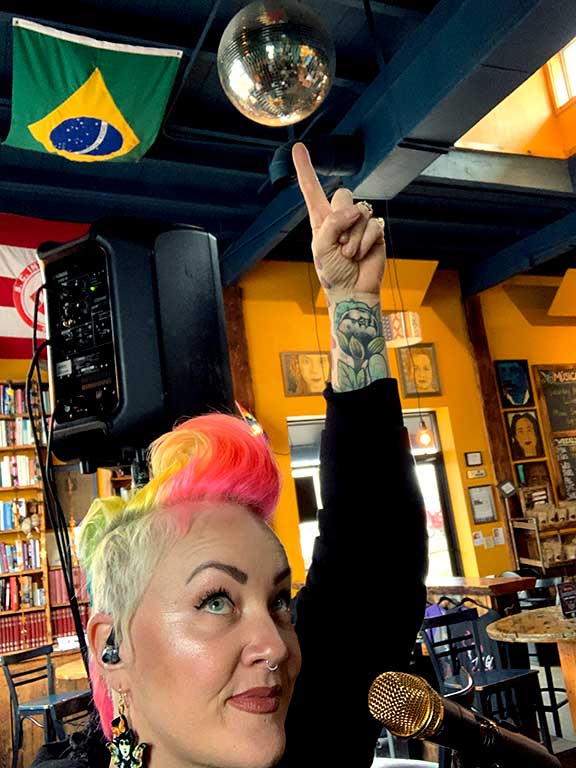 Although it was our fourth time playing Imagination Brewing Co., this was our first time playing inside. It was so much fun! 
Since we got to spend so much time in the town leading up to the gig, we did a lot to self promote by passing our business cards out every time we went somewhere, attending the open mics to promote the gig, and generally talking about Imagination everywhere we went. We also had friends telling friends they needed to come see CS Saturday night. It's hard to say exactly WHAT worked to get people there, but I'm guessing it ALL did, because we had a packed house!!
The night was electric from the get-go. We played all our best tunes and were really locked into each other as well as the audience. We were following a pretty typical trajectory by keeping things upbeat, powerful, and thought-provoking. At our first break, as we were selling merchandise, a few original songs were requested by different people. One of which was "Top Of The World". We almost ALWAYS play a request if it's an original, but that particular one can be tricky. 
Being a tear-jerker and a VERY slow tune, "Top Of The World" is an extremely delicate tune to figure out just where to place it in a show. Too early, and it's lost on the crowd, too late could derail the show if it's not a "Goldilocks" circumstance. But, the porridge felt "juuust right", so we played it right before the very last tune. 
You may recall my description of the Montana audiences thus far on our trip from a blog or so back. Typically one ear in, one tuned to their immediate conversation. Upbeat people with a desire for matched musical enthusiasm and entertainment. Such was our history with them, so this was a bold and risky move so close to sealing the deal. But, as I've so often written, I LOVE being surprised. 
We launched into a much briefer intro to the tune than I typically give (yes, I'm working on it, OK!!!) and gave the audience just enough time to catch a breath and hold on as the two entertainers who had been making them laugh, cheer, sing and dance, suddenly stepped back in time, morphing into two brand new parents, gazing down at the tiny life they created and vowing to meet him physically, emotionally, and mentally wherever he landed in this big world of ours. We were suddenly the mouthpiece of moms and dads, grandparents, favorite aunties and cool uncles, anyone who has pledged devotion to a babe. If we hadn't already, this peak moment of absolute reverence solidified our place in their hearts, as we absolutely poured ours out somewhere in a space between a ukulele, accordion, and a stained glass window. Not a person moved. It was holy. 
The silence that followed the tune is what every creative lives their whole career dreaming of. Equal to — if not even more powerful than — that of a thunderous applause, the silence of true admiration is an honor to be on the receiving end of. Every tear shed, sniffle made, hand clenched in hand, remained perfectly still as we let the last word of our song hang in the air. And then, like a tidal wave, the applause came. People leaping up to clap and shake their heads. The sense that we all just were part of something authentic was so palpable that we knew we had to capitalize on it! Humbly we thanked our listeners and without pause brought everyone back to joy and the immediate present, reminding them that life is just the magic moments we make of it. From one to the next and we got to be in this one with them. "Leather Life" closed our show, as per usual, and as we wrapped up, we were chanted on, "One more song! One more song!" For this place of honor, we gave them "Heavy Love", having left it out of the show only by accident. What a happy accident! They went crazy. Another standing ovation. Jared and I looked at each other and in less than half a second, both laughed from the bottom of our souls while sharing an unspoken gratitude at the surreal-ness of this life we GET to travel through. 
I will leave the rest of the night to the next day's blog. Whatever you are doing right now, just take a breath and be fully in whatever moment you are in. We are there with you. You've shared all the stories with us. This was the last show. Thank you for reading, responding, texting, emailing, and cheering us on from the sidelines as we brought "Balance" out into the world. We'll see you tomorrow. Tonight…we're singing with our friends. 
We love you.
Champagne Sunday 
---