Sweet beginnings, stinky middles, and a calm evening 
With the "Great Purse Debacle" behind us, we all slept HARD, but Jared was still up crazy early and had us on the road by 7:15. Rudy and I woke up a couple hours in and we were all ready to stretch our legs and find some breakfast. If we aren't in a hurry, we always prefer to head inside to local coffee shops to get a feel for the town and the way it moves. This morning was perfect for that. Jared made terrific progress, and we were at a point where we'd be in Yankton, SD by 2:00 pm, ready to do laundry and get settled in. So we could take a little bit to pop inside.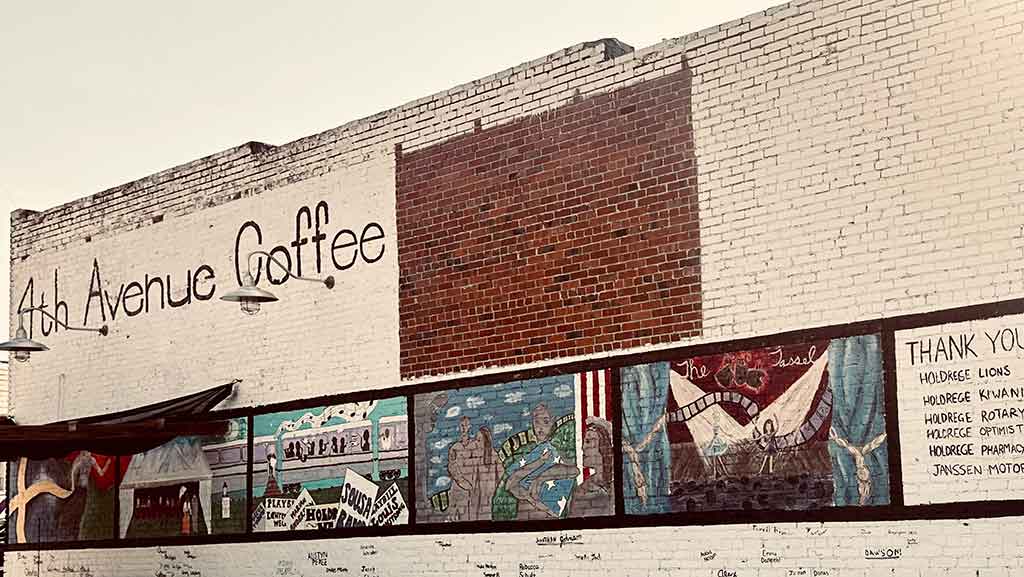 A cute and comfortable place, 4th Avenue Coffee in Holdrege, Nebraska offered everything we needed for our basic coffee/breakfast. We enjoyed quick service and a quaint, homey atmosphere. Rudy got an orange smoothie, and Jared and I ordered 2 lemon/blueberry muffins for the road. I hate whoever made those muffins. I hate them with a deep passionate hatred, because the ability for us to get to Holdrege, Nebraska in the mornings for coffee and THOSE muffins, is impossible. So I hate them for making the BEST blueberry muffin we've ever had. Jared almost ate the wrapper…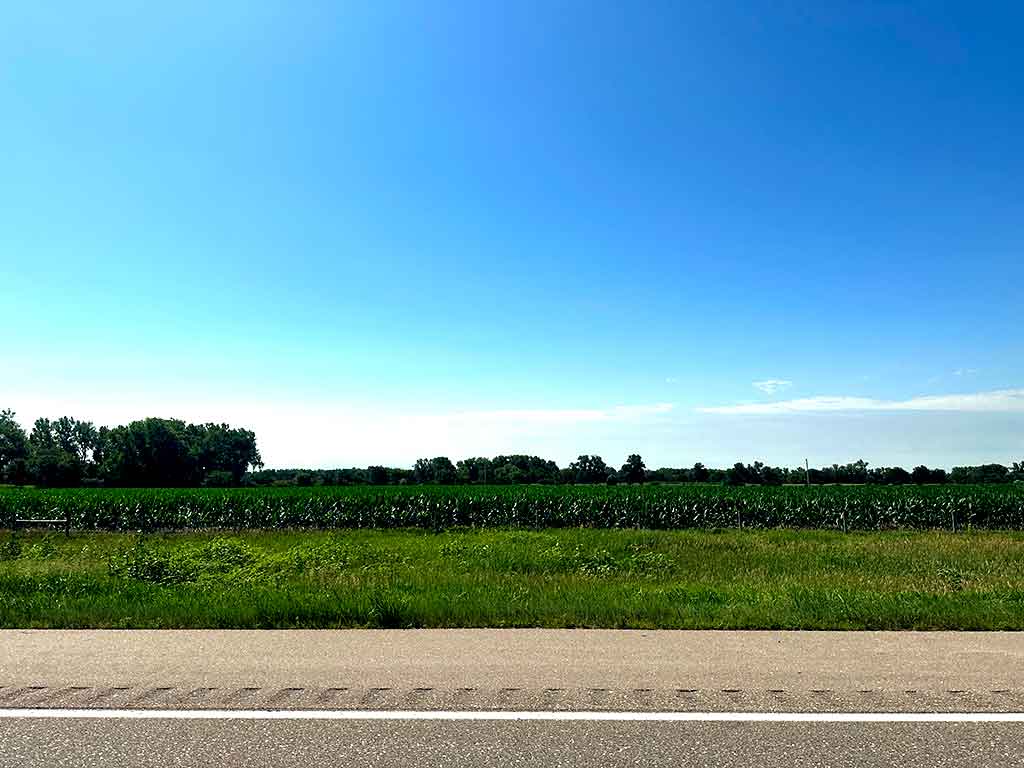 When we got to our spot in the Louis and Clark Recreational Area, it was a perfectly sunny and gorgeous day on the Missouri River. We had a ton of basic clean up to do, including a grip ton of laundry. So we pinky-promised to come home after dinner and get in a walk before the sun went to sleep. When we opened the RV door to the 5th-wheel trailer our friends Nate and Heather had set up for us, we walked in to a huge surprise for Rudy! With his birthday right around the corner, they had adorned the table with treats, toys, and presents for him to enjoy while here. He was too ecstatic and overwhelmed…he just kept saying, "I can't believe how nice this was of them. They are so kind! They didn't have to do ANY of this!"
This crazy boy's luck continued when we went to do laundry. He used the ONLY quarters I would dedicate to the cause, on a claw machine that no one ever wins, and WON a damn toy!!! We all watched in suspense, afraid that even one breath may shake the claw the wrong way, while Rudy guided it to the ugliest bear I've ever seen, as it was his best and most probable option, and dropped the three-pronged hand down. We all took a collective breath as the metal fingers lazily gripped the protruding rear end of the bear and lifted it precariously to the drop-zone. The apparatus released the toy, and it tumbled toward freedom, latching one time onto the ledge, and almost choosing to stay with its rejected, stuffed brothers, but at the last minute, plummeted down into the dark abyss of a new, bright future. We all screamed and cheered right there in the middle of the laundromat, and you'd have thought we'd witnessed an olympic feat.
The "Man" and his spoils.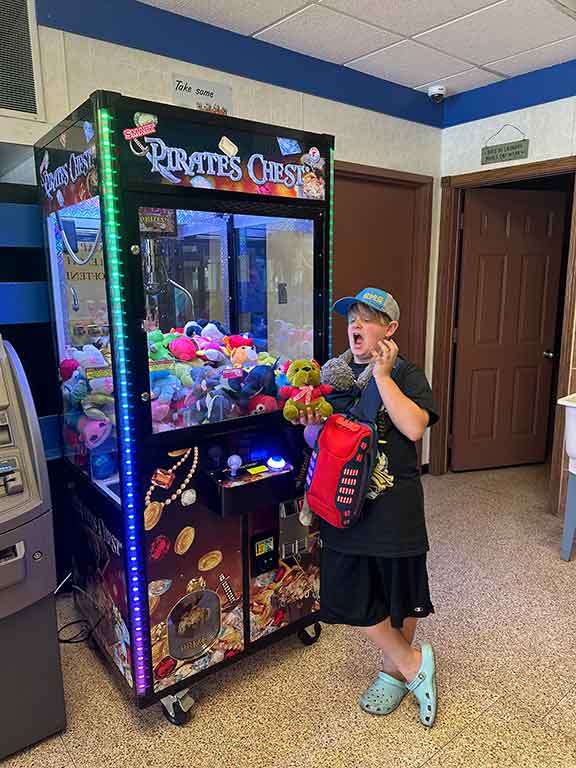 After laundry and some grocery shopping, we all had earned ourselves an unbelievable dinner at El Tapatio, a Mexican restaurant in town. Jared and I ate there on our spring tour and got margaritas in dog bowls! No dog bowl margaritas this time, but an amazing meal and some wild fun with tortillas. 
Good and full, we headed back to our campsite to take in some of the beauty by the Missouri River, meet our "neighbors", Arlene and Benji, have a Transformer transforming challenge, catch some frogs, high-five fireflies, and finally pass out. With the first of four shows approaching the next day, we needed sleep! And since Jared had been up since 6:30am, he was BEAT!! Love being in Yankton and really looking forward to our time here! If you are ever looking for a beautiful place to get away, please come stay a bit at the Lewis and Clark Recreational Area, and treat yourself to the views, serenity, and warm weather. It is really worth it. 
---