As Nay, Dr Phun, Jared, and I, sauntered down Main Street, Durango, from our prime spot at the Durango Lodge, we had our sights set on a breakfast house a couple blocks up. The sun was shining and warmer than normal for the "morning"…probably closer to noon, people were milling along the busy street, shopping, looking, laughing, there was a slight breeze, and you could almost hear music in the air. It was a storybook morning. Wait a minute. We COULD hear music in the air!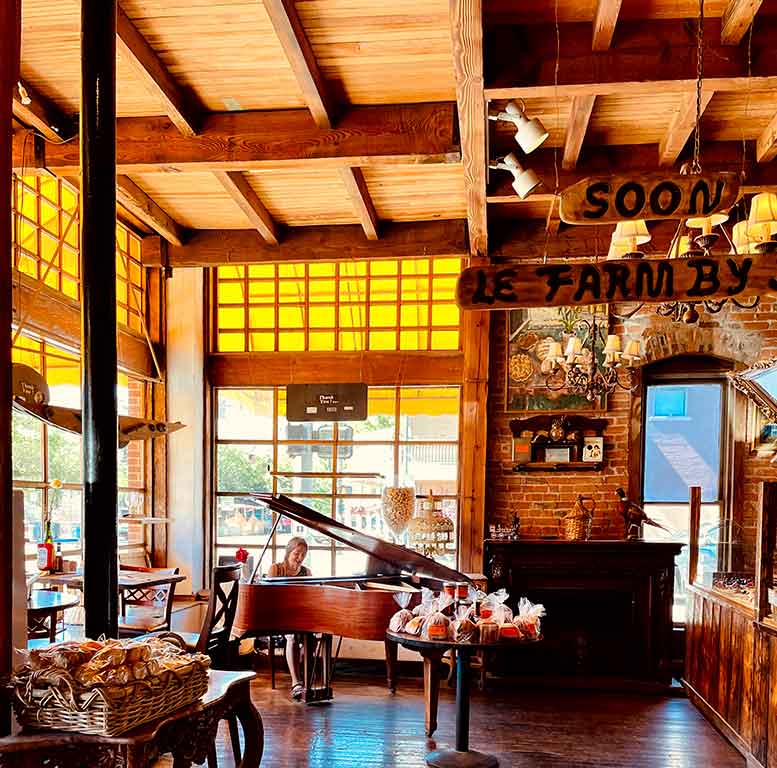 In the corner of an extremely unassuming building from the front, sat a lovely lady, playing her heart out on a perfectly out of tune piano. I say this as a woman with a heart full of sentiment and a sucker for nostalgia, as opposed to a professional musician, ready to critique any other attempting the "craft". This woman made me feel like I was at Disneyland, in one of their well-curated "lands", built to give the guest the travel-back-in-time, full-immersive experience, complete with all the sensory titillation you can handle. We were in an early Wild West saloon. We were in a bakery in France. We were in a cabin in the Alps. The piano plunked and pranced under the woman's slender fingers. Her current enthusiasm for, what I can only assume she's been doing forever and thoroughly enjoys, was rivaled only by her four-year-old self, whose feet barely touched the pedals and whose grin wrapped behind her ears like the hooked ends of old fashioned spectacles. She was a delight. And though she alone could have suspended us in time to enjoy her melodies for the morning, there was even more to hold the four of us there. 
There were some fresh-cut baguette cubes piled up on a plate by the glass case of doughy displays. Next to them was a "Please Enjoy" sign and a small pot of a homemade balsamic. I don't mind if I do…oh my gosh! The head baker, donned in an authentic toque and apron, politely, but quickly inquired if we were "joining them for breakfast"? Wait! They're not just a bakery?!?! There's also a BAR inside! Ok. We're done. Not one more step to go anywhere else, except the conveniently vacant table for four, for breakfast at Jean-Pierre's.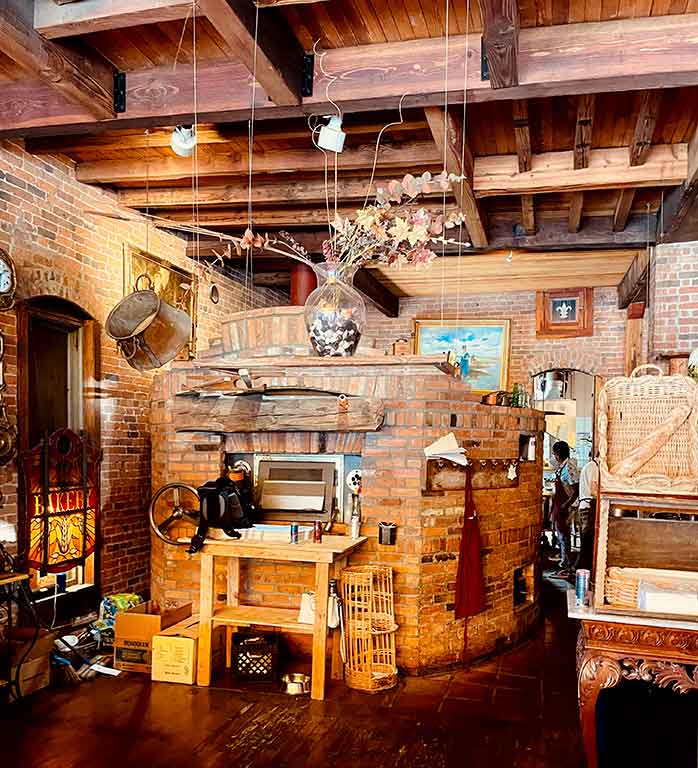 I don't need to go into too much detail about what each of us got and such, because I don't want to make anyone too jealous, or drool-y. But we swayed to the music, played "Name That Tune", drank HUGE mimosas, licked our fingers clean, and finally waddled out with heavy lids and swirly minds, bewitched by the tastes and sounds of times past and savory morsels recreated. Wow…that sun is bright!😳
We did a little shopping afterwards, Jared got a nice nap in, and before we knew it, it was time to start getting ready and heading over to Durango Craft Spirits for our Saturday show!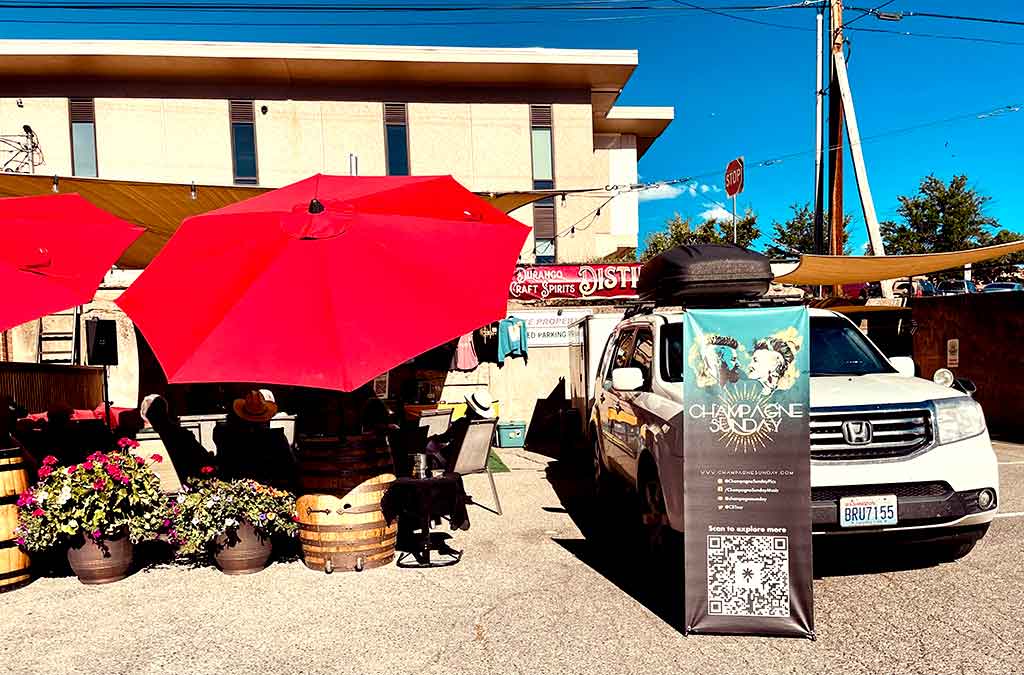 Nestled in a sweet little corner right off Main Street, and across the street from where we played the night before, Durango Craft Spirits set up beautiful, big, red umbrellas, some chairs inside and out, and with open arms, gave Champagne Sunday a welcome, warmer than the hot Colorado sun. 
With cooling cloths wrapped around our necks, we gave a really intimate show, full of laughter, crowd participation, tears, cheers, a standing ovation, and a rowdy encore! There was plenty of sass and sarcasm, sprinkled throughout sincerity and soul, and we left (maybe) more satisfied than our fans. The owner, Michael, put his arms around me after the show, smooched my cheek, and assured us that Champagne Sunday will always have a home at DCS. 💖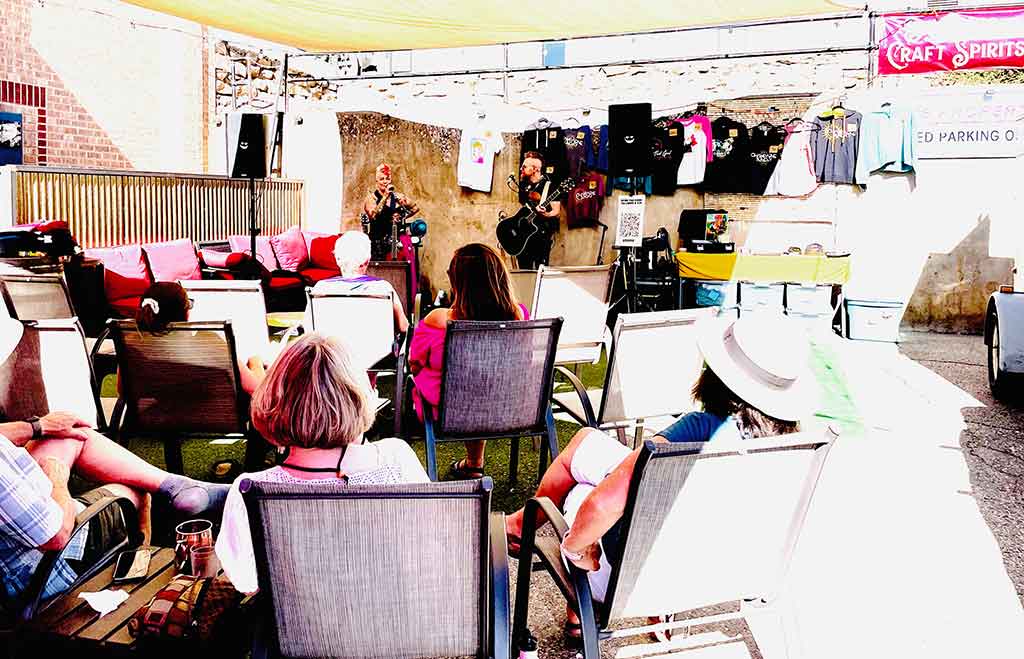 Getting the crowd "Dressed Up"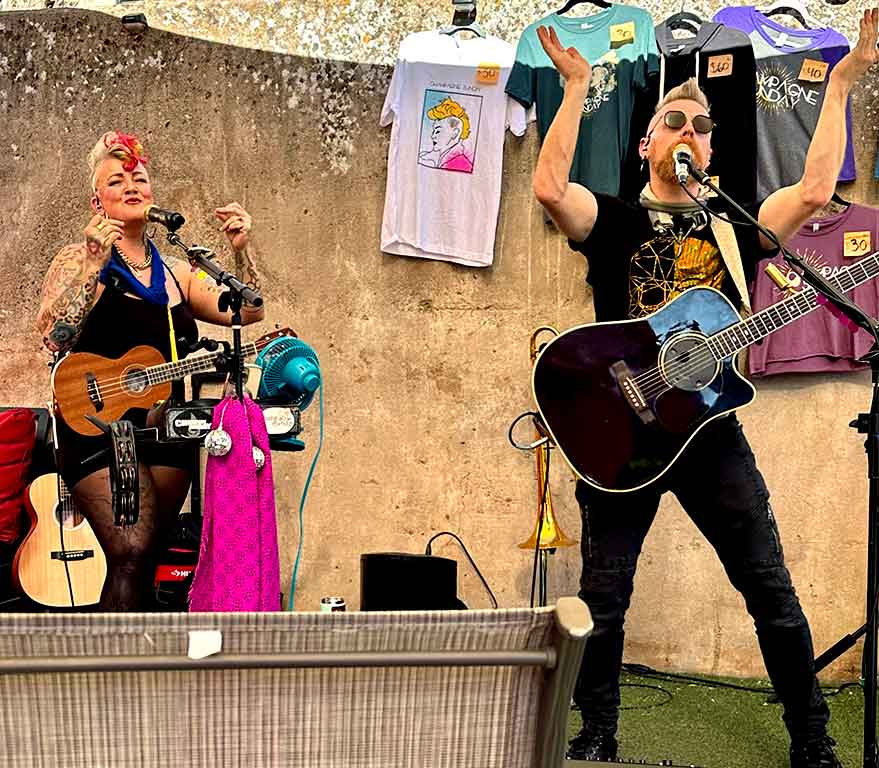 Look at Jared questioning all his major life choices as he watches me…😂 (Jared here: Not ALL of them.)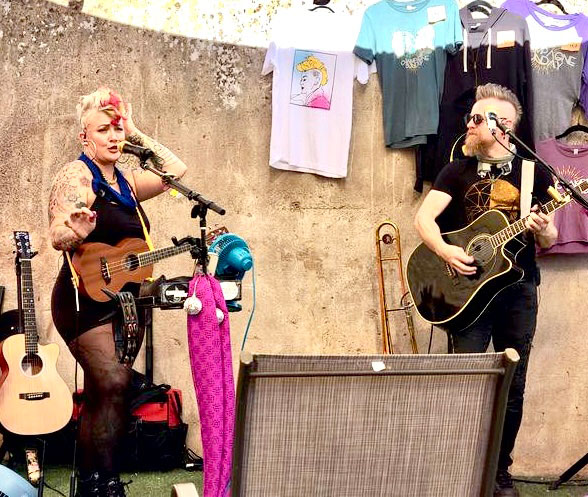 After the show, we were READY to eat! We had made reservations at the town's premiere eatery, at the recommendation of SEVERAL people (with way more disposable income than us, apparently!). But we thought we'd try it once and see what the fuss was about. 
The "Ore House" (yep. All the jokes) was a space that had maybe between twelve and fifteen tables in it and served high end meats, etc. We ate them. We appetized and got the sides and sauces. We drank and desserted. We lobstered and beefed (Jared here: *Snicker, snicker*). We "paired" and tasted. It was decadent and indulgent, and something you really only need do once. It certainly bookended our day from a gluttonous beginning, to a gluttonous end, and we all reveled in it. Even as I write this entire blog, I am almost ashamed of the lengths to which we went to gorge ourselves in the name of celebration or vacation, but I wouldn't trade it for anything. 
The experiences were really the treat. Being catered to so lavishly and ridiculously was nice, but almost comical to me. At one point, they laid down our steak knives prior to our meat arriving. These knives looked as though they were built to carve the very faces into Mt. Rushmore, and perhaps had. They had such a heft to them, I wondered if the servers would come assist my arm to use one. The irony with the medieval cutlery was that it was literally the WORST cutting tool any of us had ever used. So much so that Phil even requested another, assuming his just had't been sharpened. Wrong. The next was just as bad and we ended up sort of tearing our meat apart, or bludgeoning it into separation, so we could create bite-sized chunks. (Jared here: Seriously, we could just as easily have cut our steaks using an unsharpened No. 2 pencil.) Hilarious. And so very telling about the tools of the wealthy. They look so impressive and daunting, but in reality, they are useless and laughable. 
But, there was a levity to it all.
At the end, our server came out and shared this picture of one of her cooks in the back being a goofball.
I took pride in the fact that she recognized that we were "one of them" and could appreciate such antics. Maybe it was our hair. Perhaps it was our crass sense of humor. Maybe my dancing on the way to the restroom gave it away. Whatever it was, I'm ok experiencing that side of humanity every now and then. But for the most part, I'm glad to be a knife that actually works. 
Ok. So maybe we didn't belong in there after all. I asked Jared to stand for an "artsy" shadow picture with me. Right before I snapped the shot, I looked at the shadow image and died laughing at my "dear, sweet husband". What. A. Perv. 😂😂😂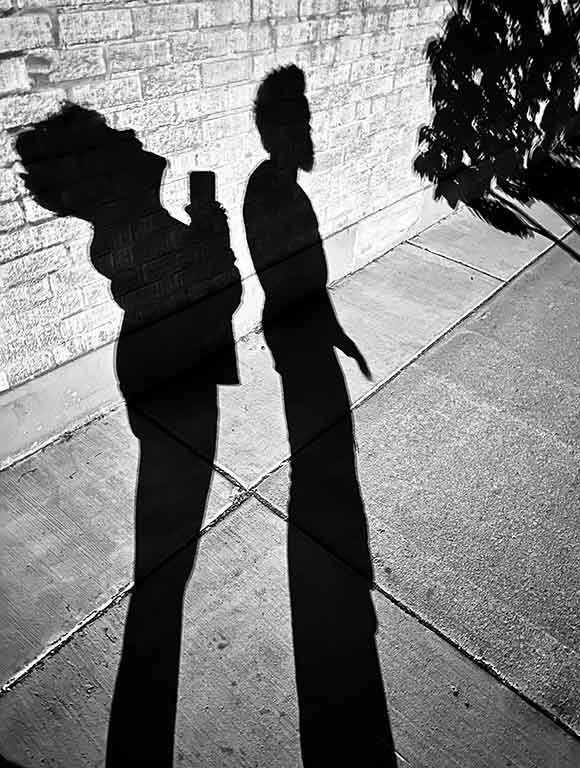 (For anyone concerned…it's his HAND. The real thing would have been way bigger😂🤪) (Jared here: I love you.)
---