Much needed R&R, Grandma FINALLY got to feed us, and Jessi finds out that Kim can 2-step. 
Duff's Garage in Portland took us all to our Southern roots, and we brought the average age down to around 50. 
Oh Duff's. Such a transitional time for you. Recently moved from a high traffic area in the heart of Portland, to a more quaint space. Nestled somewhere between a high school football field, and the Bates Motel–oh wait, I'm sorry, I mean the  "States" Motel, where the "St" neon was blinking and on its last leg, sits the new Duff's Garage. Downstream from a rain gutter that sometimes serves as a road, and barricaded by tiny lakes that some may call potholes, sits the Redneck palace that is the highly anticipated, Duff's. Covered in posters of old country lady legends like Patsy and Loretta, the sound of Roy Orbison fills the air, battling for real estate with the heavy cloud of pot smoke, being inhaled and exhaled by 60+year old country hippies (whatever that means), we see the surprisingly lovely stage, occupied by the Thursday night regular band. A 7-piece country act that is covering Merle Haggard, but finishes with "Venus" by Banana Rama. The song on the juke box before we start is "Mama Said", by the Shirelles. Couldn't have been more accurate.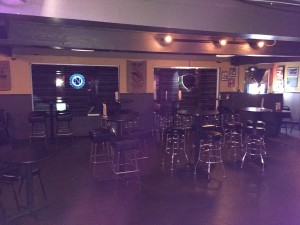 Hard to figure out why a manager/owner/booker would book a band on tour and not try to promote their show. You know, to actually make money. Alas though, that was the case at Duff's Garage. Although Kim diligently kept posting about it, and we sent posters that were up, albeit somewhat hidden, there's only so much that can be done by unknown touring acts. If Jared and I hadn't been there, Kim would have played to one guy at the bar and the bartender. If Kim hadn't been there, Jared and I would have played to a wall. When all 3 of us were on stage, we just played at each other. Sure makes the first night and our $7 look mighty good. Oh well, everyone has some bad days at work. At least ours come with two free drink tickets!
Goodnight. 
---