Driving:
More driving. So much driving. Did I mention we drove? We're all good, but a little cranky and I'm sure heat exhausted. We did make a stop in Chamberlain, SD and saw some absolutely stunning monuments and did some grass yoga. I think we were just all really tired from the "horse chorus of 42nd Street" and the scattered non-sleep of the night before.
An Old Friend:
It's not very often that we know people in a lot of these little towns or places we play, but when we got booked in South Dakota, I reached out to the one friend I knew lived there to see if he was near our gigs and wanted to catch up. Turns out that where he is, Sioux Falls, is a bit over and hour from where our show was that night, so we agreed to meet for lunch!
There are so many things that are wonderful about seeing a childhood friend displaced from the original place they resides in your memories. It physically mashes past and present, child and adult, old and new. There's a sense of 'where we came from' coupled with 'where we are' that felt really validating and calm. It was so fun to share our successes and failures with each other, some stories from the past, but mostly just getting to know each other as the adults we've become. It really was great!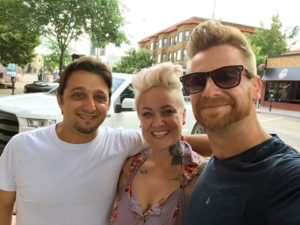 We hugged and hoped to see each other at the show, but we were playing a bit over an hour away, and we weren't expecting him to come out. Just really grateful for the time we did get to spend.
More Driving…and the Show:
We pulled into Yankton, SD to 96° and the town's Crazy Days Tractor Parade. Jared went into the venue to see what our set up looked like. They wanted us in a corner, with barely any air, squished between a bunch of elderly people who had volume issues with us just walking in. Luckily, the owner realized the issue and immediately put us out on their back deck, a huge sprawling patio, with lights tables and right across from the river. We were so happy for the change, we didn't even mind the temperature or the mosquitos. AND…my friend, Jeff and his girlfriend, Ally, made it out!
The show was wonderful and we made a ton of new fans, and got asked to play again on the way back. I had one of the best salads of my life, and two couples sat and chatted with us after the show while we packed up. We probably took more time than we should have, knowing we had to grab 4 hours of sleep before we started the 13 hour trek to Nashville, but it was so nice to be loved and taken care of, that it was hard to get motivated to leave.
---