Rudy's song selection: "The Chain" (Fleetwood Mac), "Chain Gang" (Sam Cook), "Indiana Jones Theme" (John Williams), "My Generation" (The Who), "Spinning Wheel" (Blood, Sweat & Tears), "Semi-Charmed Life" (Third Eye Blind), "99 Red Balloons" (Nena).
The Ambush Gig:
Our plan for the day was to get into Keystone, SD and find a spot we knew that, according to their online schedule, had live music in the past, and ambush the place with a free live concert. We had 2 full days to kill, so why not entertain folks and try to make some extra cash? On our way in, we caught sight of a flashing engine light, which triggered Jared's PTSD from the RV days. The rest of our afternoon was sort of clouded by the feeling that we needed to get to an oil change center ASAP. However, Operation: "Ambush Gig" pending, we headed into Keystone and up to the Grapes and Grinds Cafe. We introduced ourselves, stated our goal and waited for the manager. Unbeknownst to us, he had been contacted and was checking out our music on line to see if he'd want us, then came out and welcomed us fully! We said we'd play either night, and we all settled on Wednesday night so he could promote the gig (imagine that), and then we got him a poster, and made an appointment for an oil change!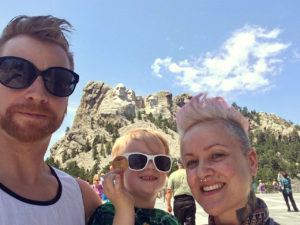 The Monument:
Since I was a kid, I've been sort of fascinated with Mt. Rushmore. Not so much the presidential part or the patriotic part (which it turns out, that wasn't even the intent originally), but more for my fascination for the artist/adventurer who decided carving giant faces on a death-defying mountainside was a great idea. Plus, growing up where I did, South Dakota seemed like another planet. I mean, the concept of going to New York, across the whole country, seemed closer and more probable than ending up in SD. The remoteness of Montana, Wyoming, and now South Dakota were so vast and all-consuming, that I will probably save the description and the contemplation for an entirely separate blog.
We left the winery and plodded up the mountain to see the monument. I was a neck-craner, a lookie-loo, a tourist de jour, and I didn't care. We rounded a hillside and I saw Washington!!! Then, there he was: President Lincoln! "Man, Rudy!!! Look at those guys on the mountain!!" Even he was excited.
Once inside the park, we took the pictures, got the souvenir coin, and listened to the park ranger's 30-min speech on "The mistakes made while carving the monument, vs the mistakes the presidents themselves made as men." Such an awesome and real depiction of all of it and we left abundantly informed and excited to have seen and been part of our history. Rudy even said, "This is a great adventure day and I'm so glad you brought me here!"
The oil change, lunch and new friends:
We finally found a place open and available to do an oil change for us and it just so happened to be a Ford dealership! Since we have a Lincoln, they offered a free car wash with our oil change, which was soon declined because of our roof rack luggage pod. However, we got an air conditioned spot to rest in that had a game room that another little boy was hanging out in already. Rudy immediately left me and we didn't see him for almost an hour. I brought our cooler and supplies into the waiting room and made our lunch while Jared edited the and uploaded the blog and Rudes socialized.
It's been so cool to watch our already social boy, become even more so. When we get somewhere new he says, "I'm gonna go find some friends!" And, before long, he's leading hoards of children, a la "Lord of the Flies", across playgrounds or down hallways or into sprinklers, all shouting like Neverland children and as dirty as Tom and Huck. It's something to behold and I'm always surprised at the ease with which he executes his friendships!
$39 later and a content, non-worried Jared later, we headed back to our lily pad for the night. The owner of the place we offered to play said we could crash in the parking lot, so we just hung at the coffee/wine shop all night, did free wine tastings and made some stellar new companions who, it turns out, were on their own cross-country meander, but from the opposite coast. Traveling trio, Jes and her littles, Anastazia and Stella, were immediate comrades when we bellied up to the wine tasting station together and joked about why our kids weren't "tasting" with us! We did our samples (absolutely fun and full of character selections like Rhubarb and jalepeño wines, uncharacteristic of a lot of So Cal and WA wineries, who prefer to showcase their mastery of the grape) and then settled on a glass each (Jared chose the Mythical Beast, while I picked the Adventurer!) and some socializing while our kiddos played on the playground, the giant chess set and corn hole game. We found we had loads to chat about, despite the drastic difference in occupations and places of residence, and remarked how kind everyone everywhere had been to us all and what a beautiful country we have. It was a sweet moment of shared respect and love for the opportunities we have and the good that can be found all over.
It really was a perfect way to spend our evening, with other adults and kids, sharing common space, warm summer night air, laughter and new friendships.
Travel/tour/long drives. Clarity of mind. Blankness. White noise of everyday life is removed.
---