Rudy's soundtrack: Dancin' Machine, Making Christmas, Bring It On Home To Me, Iron Man, Mr. Roboto, Beat It, Back In Black, Spoon Man, Dance Magic Dance, I'm Down, Start Wearing Purple…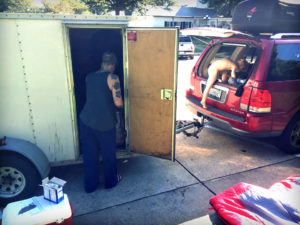 Musings on travel:
A separation begins to really set in. It's like they say, two weeks to start a habit. Or is it two weeks to break a habit? Either way, it's been a bit over two weeks now and our "temporary home" really feels normal. The driving is comfortable. Living out of a cooler and a trailer and the back of a truck are familiar and, at this point, we've all gotten so into the routine that we are pros and it's all fairly easy. The other part is the disconnect between home and road that we start to feel. It's like we could just drive off the edge of the world and never look back. We've started to forget the dates and the days, living from show to show, rest stop to rest stop. We protect the bond we've formed as the trio, even more than when we left, and actually look forward to the warm comfort of our night time routines. Do we miss our home? Yes. Friends? Absolutely. The PacNW music scene? Hell yes! But, it slowly becomes our "was" or our "used to" and it's brought to light how wonderfully adaptable we are as humans. Evolutionarily speaking, it just seems natural to be moving. Chasing down "dinner", staying within our tribe and traveling as a pack, huddling together for warmth, finding ways to provide in each place we get to. We begin to think together. Long periods of silence are broken with a singular thought, random or specific, lighthearted or provocative, and just like that, conversation begins and we discover another layer of love and connection we didn't know was there.
The "whys" come sometimes. The questioning purpose, validity, necessity. The Midwest is an interesting place for pondering. The scenery, like it's inhabitants, is non-obtrusive, but not spectacular either. It politely says, "I'm here. You come through, make what you will of it, leave." It doesn't feel rude, but not particularly inviting either. All three places we played in the area loved us and asked us to come back. Would we have known it during the shows? No. One of our friends who is originally from here is a lot like that. I think he would literally give us everything he owned or find a way to get us whatever we needed or do anything we asked, but it would be hard to tell. The people here would make great spies. They blend in, keep to themselves, are kind, but stand-offish and the whole time you're around them, you're sort of wondering if you've done something wrong. Then they surprise you with extra money or a warm handshake and leave you sort of questioning everything.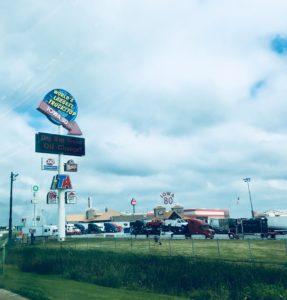 I am proud of what we've accomplished. But, it leaves me really wanting more. Wanting to be out longer, travel further, keep moving and changing together, only to return as time travel future versions of our former selves, with our friends and family glad to have us, but knowing something is different.
The smell of travel is a real thing. The gas stations, fields, restaurant kitchens, dirty shoes, baby wipes, coffee, hot leather seats, cold rainy asphalt, wine, strangers homes, weather, our trailer, laundromats, friends' dogs, cigarette smokers, donut shops, used blankets… when your eyes are weary from miles and miles of patchwork fields and highway lines, you can close your eyes and guide yourself through the country by your nose, calming yourself on the smell of wet grass or waking up with a shot of fresh diesel fumes!
It's an addiction, travel. It gets up under your skin and you know it has to end at some point. You know that "normal" is calling. Healthy, secure, uneventful living. But the itch will never fully go away. I think the thing I like the most about it, the part I'm the most addicted to is the "not waiting". Not waiting for something to happen. We're making it happen. Not waiting for someone new to hear us. We're making new people hear us. Not waiting for the radio waves, record labels, managers, producers, controllers, money-takers, to get our music out there. We're taking our music out there, and there's literally nothing that can stop us. I said to Jared, "What if we just kept driving? Like to NY, then popped on a boat and sailed to Europe." Don't think we won't do it.
---