Beautiful Yankton, South Dakota. You hid your loveliness from us almost the entire time we were here, but decided to grace us with something special our last day. As Jared and I walked along the lake, taking in the morning glory and reflecting on our previous night with our friends and the deep love shown to us by the community, we stopped in our tracks to see a once-in-a-lifetime picture opportunity. We saw a bench under a tree, totally suspended in a ray of sunshine. Knowing the the morning light is fickle and quick-changing, I begged Jared to run back and grab our tripod so I could get us on the bench in this shot. I swear, this picture is not photoshopped or altered.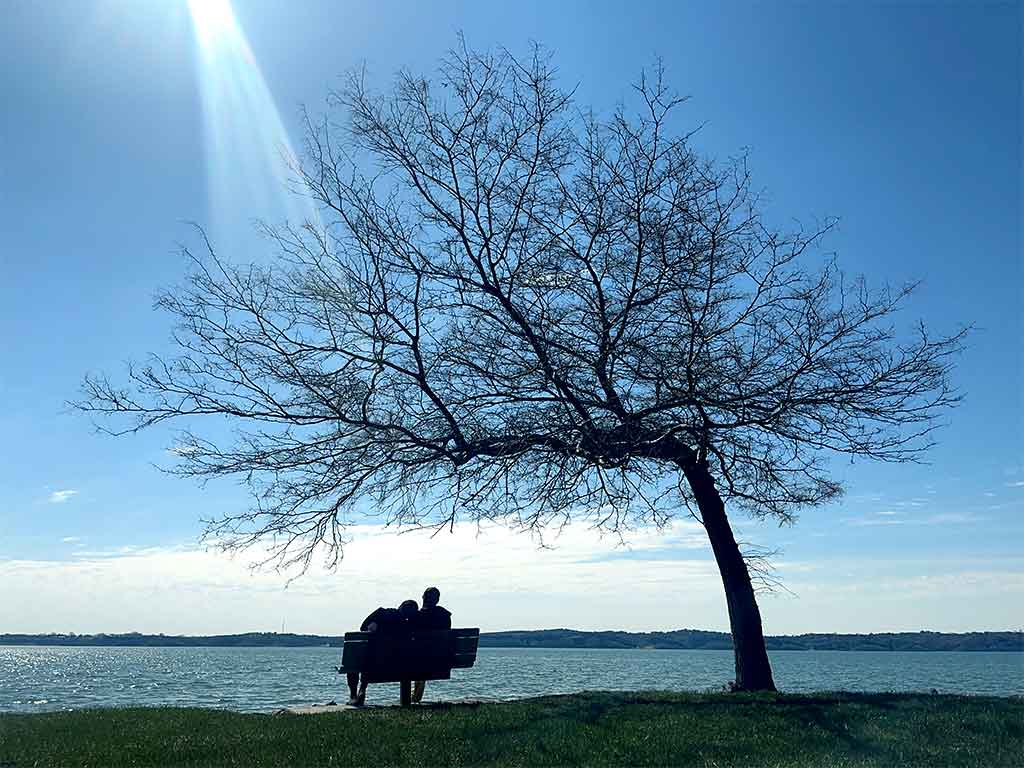 I was so excited to cuddle up next to him, and I could barely imagine how beautiful this image would come out. Everything aligned just right and we were lucky enough to be part of this moment. Minutes later, as I expected, the skies changed and the sun shifted, and, although still beautiful, it was never quite like this again. Obviously, I drew a parallel to our life, and felt confirmed that we are capturing the perfect moment because we are putting ourselves out there at the perfect time. Also, life is never more serene, more tranquil, or more at peace than when I am near my Jared. This picture is a look into the absolute completeness of my soul. (Jared here: Me too, babe. Me too.)
When you begin your journey drinking a margarita from what I can only describe as a fancy dog bowl, you know it's gonna be a great time.
After laundry and some blog work, we cleaned ourselves up, cleaned out the trailer (so generously loaned to us for our housing), and then met Nate and Heather (and their daughter and nephew) at a local Mexican restaurant, El Tapatio, for a good-bye dinner. I tried to not have fun because we had to leave, and I didn't want to be sad…but then Nate ordered me this margarita. We did have a wonderful time but then had to get going. After several hugs and good-byes, we were finally on the road by 7:00 pm. See you again this summer!!!
So Sunday evening, when we were around the fire, I got a text from my brother in Kentucky. He is going through a bit of a rough time and just needed to connect. Well, seeing as how his place in Kentucky is only two and a half hours away from Nashville, we already have a week off anyway before we can move into our rental down there, and it's my BROTHER for crying out loud, Jared and I agreed on coming to him for some good, old-fashioned family love therapy! So, off to Kentucky we headed.
To sum up. Drive. Stop. Pee. Drive. Pee. Eat. Stop for gas. Pee. Sleep.
Over fourteen long hours later, and we landed in Shelbyville, KY to love on my baby brother and celebrate with the worlds smallest ice cream cones!!!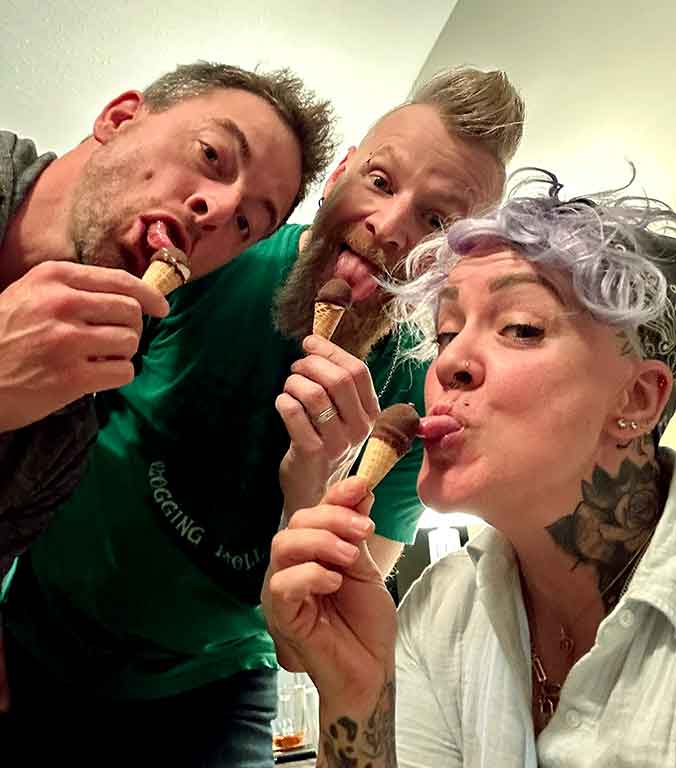 More blogs to come in the following days, but for now, we'll get in some family time and (maybe) some Kentucky bourbon tasting. Oh, who am I kidding?…that's a MUST, not a MAYBE!! 
---