As a parent, there's a moment when your child is doing something over and over again that you are faced with a decision to make. "Do we tell him to stop and move on to something else? Or, do we sit back in utter amazement as he solidifies his spot in history as either the dumbest, or coolest kid ever?" It's a tough call. But, as Rudy jumped onto the Tilt-A-Whirl for the 8th time in a row, with 2 new pals he sweet talked into joining him for this mad test of kid strength, Jared and I dragged a bench into a shady spot, and sat back to revel in the very big accomplishment he was achieving. The culmination of kid-dom. The independence of not needing his parents, the new friends made over a shared insanity, the decision made solely on his own to continue, and the bragging rights of the feat once it was over. Huge summer vacation achievement unlocked!
Rudy was already on quite a high from the night before…
We spent the majority of Sunday at the "nakie park", relaxing, visiting and gearing up to leave. We didn't have too far to drive (maybe an hour), but it's hard to leave when you're being treated so well. By 4:00 we were all cleaned up, packed up, and even "Dressed Up" for our next adventure. It had been recommended to us several times to take Rudy to Silverwood Theme Park in Athol (oh, you bet we've had fun with that name), Idaho. Our friends from the Bees Knees night are regulars at the park, and lent us their refillable (for $1.00) drink cups and all kinds of great advice on how to get the most out of your time at the park. By the time we grabbed dinner and got settled into our campsite (right at the park) it was nearly 7:30. The park closes at 9:00, so we thought we'd head in early and make a plan for the next day.
The park is sort of a mix between Knott's Berry Farm, Six Flags Magic Mountain, a little sprinkle of Disneyland thrown in, with a soundtrack from Toy Story 2 meets Deliverance. It's charming, for a bit. Buuuut, if you're a seven year old, it's magic. And this was to be Rudy's part of our vacation, so I'm so glad he fell in love immediately.
The first thing we stumbled on was the train ride.
Every hour a train goes around the park and does a little show for the passengers, searching for Sasquatch and delivering "supplies" to folks along the way. I do love how much the stuff we tend to roll our eyes at as grown-ups, or "groan-ups" I should say . . . I mean, a LOT of stuff catered to families and kids has a heavy groan factor. But I do love how much joy it still brings Rudes. He was just thrilled.
He jumped and plugged his ears every time the train whistle blew. He spotted baby Sasquatch playing in the forest.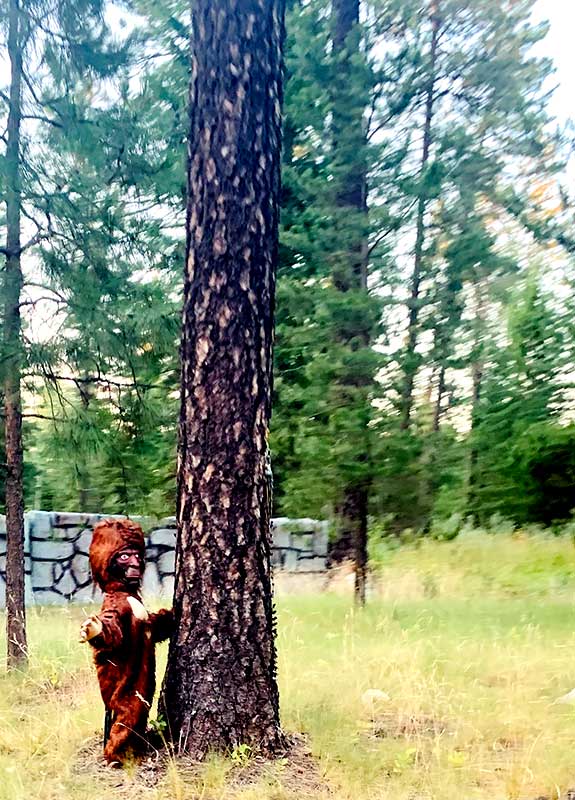 He clapped loudly for the actors and yelled when they needed participation. He loved every second of the ride…so we did as well.
Then we took him into the Country Carnival. I think if I had told him that Christmas was cancelled, but we got to have this place instead, he MAY have been ok with it…for at least a minute or so. He saw all the games and smelled all the sugary treats, then he saw it. The "Spinny Fun Fun Ride"!!! Oh my gosh, he went mad! But Jared gets wicked motion sick and I am almost as bad, so we didn't know how to tell him "no". So we didn't.
We all went on the Spinny Fun Fun Ride. Rudy looked up at a particularly turny part and said, "Oh! My dick!" We all died laughing. It was indeed the longest 2 minutes of my life, and that was the last we saw of Jared. 😂
Rudy then went on again alone. He said it was still amazing, but not AS much fun. But, the carnival games were calling, and that IS something Jared can do! We only had about 30 minutes until the park closed, so we went to play a race game with big Mario prizes. Jared, Rudy, and, yes-even mom stepped up. Rudy at the number seven horse, Jared at the number eight, and me at nine. Out of ten players, the three of us were all in the lead for most of the race, so we knew we were coming home with the win. "Number 8 wins by a ton!!" Jared jumped up and down and Rudy excitedly chose his spoils.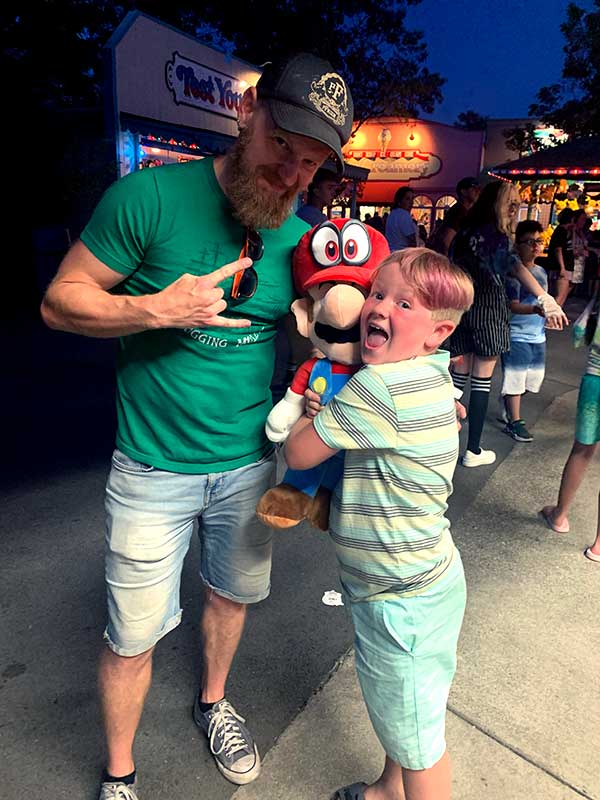 All this was after just an hour at the park… I wonder what tomorrow will do to us.
---