Alright people! No where to go but forward! I've got a lot of cool things to chat about and some not-so-cool, but necessary to the journey. But first, I'd like to address something…
After my last blog (last Friday), we had so many of you reach out to us to offer love, jokes, solidarity, encouragement, positive messages, love emojis, lengthy conversations, and quick hello's…all just to reach out and make sure we were ok and we knew we were loved. It was quite something. And it worked. I certainly wasn't writing that to get attention or stock pile compliments. I honestly just wanted to open the curtain a bit and let you guys understand a little better what we think about in some of those darker times. Every tour has at least one or two blogs kind of like that. I don't love writing them, and I like actually feeling them even less, but there we are, and I am abundantly grateful for the flood of love we receive when we just speak our truth. So, to all of you who made effort to send a little love our way, we felt it, received it, and then used it as some serious fuel to proceed. We are in your debt…
So, the last blog I did was on a Friday. I had so much on my mind, I didn't really get to get into the things that happened Wednesday and Thursday. Wednesday, Jared and I checked out an open mic that we had heard about through some of our friends over at the Bowery Vault. This one was across town at a place called The Springwater. A little hole in the wall joint with magazine covers from the 70's and 80's framed up and crookedly hung on the walls, a stage with a red tinsel curtain backdrop, sticky floors, wobbly tables, and dudes at the bar who probably had hung said magazine covers when they were new. Just to set the scene. A fog of cigarette smoke and weed clung to the corners of this dark bar, quite like the regulars. Sue, the bartender, smiled and offered to get us whatever we wanted to drink, but got serious about "cash only". Someone told us that this bar had been there forever (duh) and that Jesus himself had once sat "right there". Ok, so you get the point as to the vibe of this place. We chatted awhile with the open mic host and signed up for our slot. A lot of people signed up for the open mic that night. One may infer that it was a quality place to play, based on the amount of signees, and the big game that the musicians were talking and posturing about. Also, with the exception of Sue, and someone's wife there to watch, I was the ONLY woman there. I was absolutely the only woman playing that night. I was ok with that, but it just seemed weird, as the other open mics we have attended were full of all kinds of artists, young and old, male and female. Not here though. Just all dudes, mostly older. Some young guys here and there, and we were joined by our new buddy, LH Halliburton! He was unsure of the crowd as well as the quality, stating that the last time he attended was ten years ago, and he said that some of the guys there looked like they hadn't moved since. Nonetheless, we were all at least interested enough to hear what this cast of characters had to offer.
Curiosity soon gave way to tolerance as we suffered through a barrage of what I can best describe as somewhat focused noise making. I think we had been spoiled by some of the other open mics we had experienced in the weeks that had led up to this moment, because, try as we did to politely enjoy each act, even old LH couldn't be convinced to wait around 'til his turn. Enough time wasted prompted him to lean to me and quietly ask, "Are you two thinking about leaving?" Before I could finish my sentence starting with, "I think we are…", he was up, guitar in hand, and out the door. We followed suite. Finally free, breathing fresh air in the parking lot, he said, "I had enough of that." I like the bluntness of an older human who knows the value of his time and can't be bothered with niceties. Hats off to you, LH. Plus, we got to leave as well. 
I am glad there are events like that out there for people who need to workshop or find community. I think it's healthy and great. Everyone patting each other on the back for just getting up there. But the host started the whole open mic like an AA meeting, making us all introduce ourselves and say "a little something about ourselves", which felt super weird. And that's how the whole event kind of felt like; a support group meeting. I'm glad we went, just so we know what it was and not to return.
We did get this cool picture from the host. As creepy as it was to have him up there the whole time taking pictures of us from behind without our permission, we did like how this one turned out. Tell me that ceiling is stable, I dare you…
 Alright! Let's get right into Thursday, shall we?
Back at the Bowery Vault for another open mic. LH was there, and we gave nod to each other and paid our respects for that two hours of time on Wednesday that we will never get back. Shared loss really brings people together. But seriously, the true gem of tonight's open mic was this dude we met named Corey King, who just moved here from Ohio. He was in a band there called the Ohio Weather Band. Please do yourself a favor and look them up. Particularly their songs, "Found Her Hangin" and "Cost Of Living", and tell me you do not get goose bumps. A real sweet guy, too. Our whole night was worth it to see him. Unfortunately, there may have been other talent later on in the night that we missed because we had to head to our songwriter round, hosted by our friend Ben Potter, at Millennium Maxwell House. As the Bowery Vault has easily become one of our top three favorite places here in Nashville, we will attend this Thursday as we say goodbye to Nashville.
As we pulled up to the gig, we were greeted by a smiley Ben, waiting to help one of the other artists with his gear. We chatted briefly about how grateful we were for this opportunity to play, looked forward to getting to spend some time with him when his wife, Barbara Potter, does our photoshoot, and then we headed inside. Well, who was sitting there to greet us with a huge smile and big Baloo bear hug? None other than our friends Randy and Jenny from Utah!! They were in town for a concert and wanted to surprise us with a visit! It was so nice to see them and we immediately felt so loved and happy!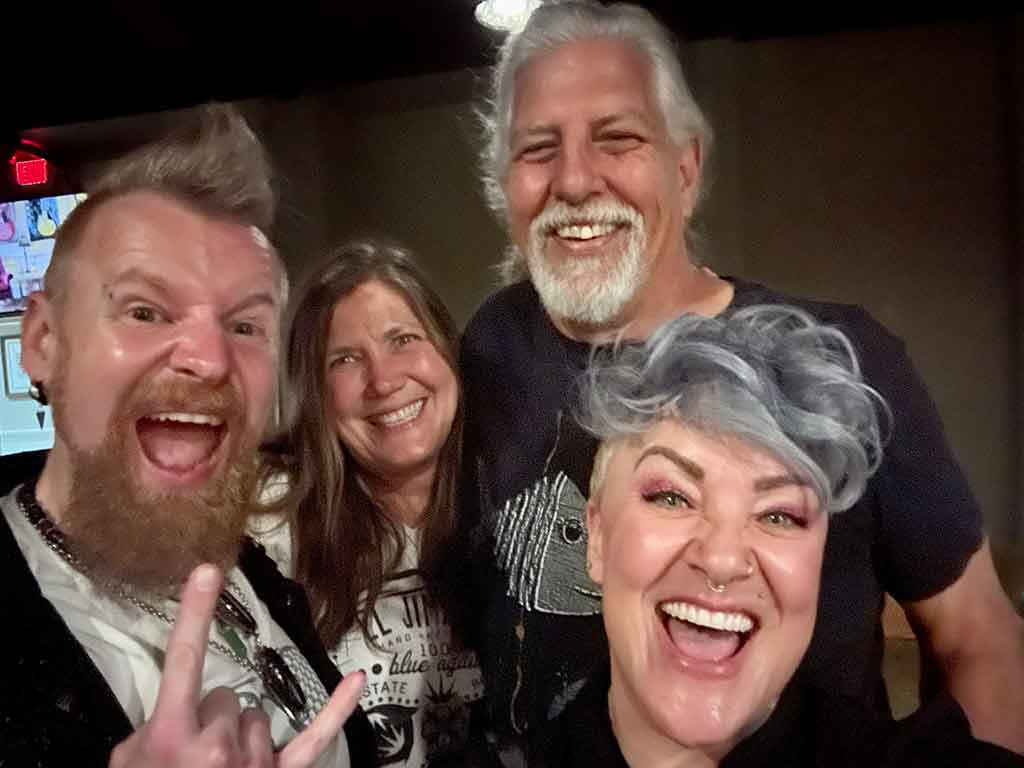 We had a blast at the round that night, and even though we were in the last round to go (we had the 9:00 pm slot), quite a few people stayed to watch and cheer us on. It's nice to look just edgy enough to get people intrigued as to what we're all about, then entertaining enough to keep them around! We had a really great time. Thank you, Ben, for the opportunity. 
So, before we left for Nashville, Bonnie and Phil gifted us with a very cool surprise. Tickets to the Stevie Nicks/Billy Joel concert at Nissan Stadium. Well, Friday night was the night!! That is the actual REAL reason Randy and Jenny were in town. They had UNBELIEVABLE seats. I only tell you this to explain the creeper photo I took of Randy. He said he was wearing his Champagne Sunday hoodie, so I thought, "I wonder if I could find him if I zoomed in with my phone?" Oh my gosh… other than the fact that it looks like a water color painting (which is kind of cool), I was so excited to see this in the third row from the stage!
 This is the shot I got! (The next photo is for perspective)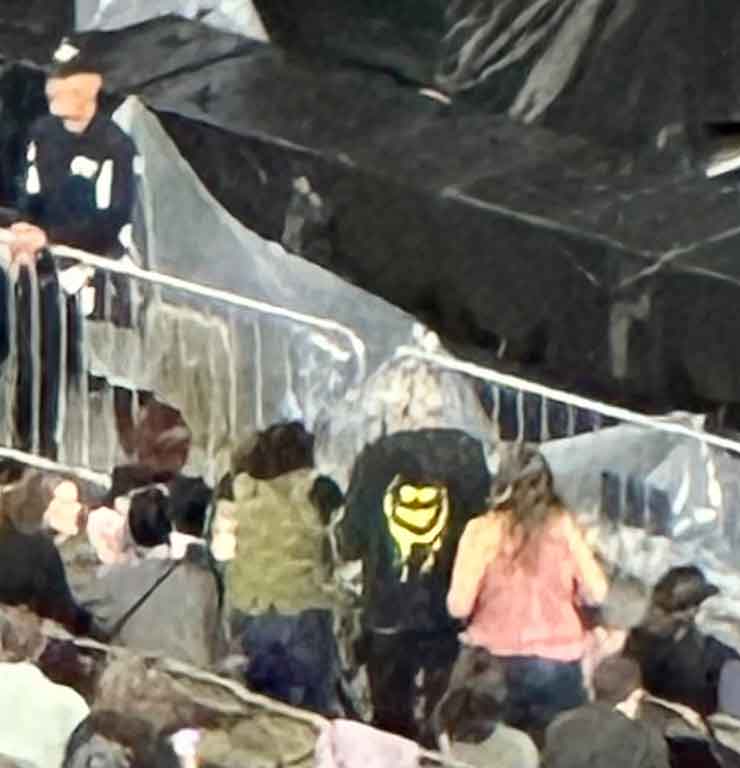 Isn't that WILD?!?!?!?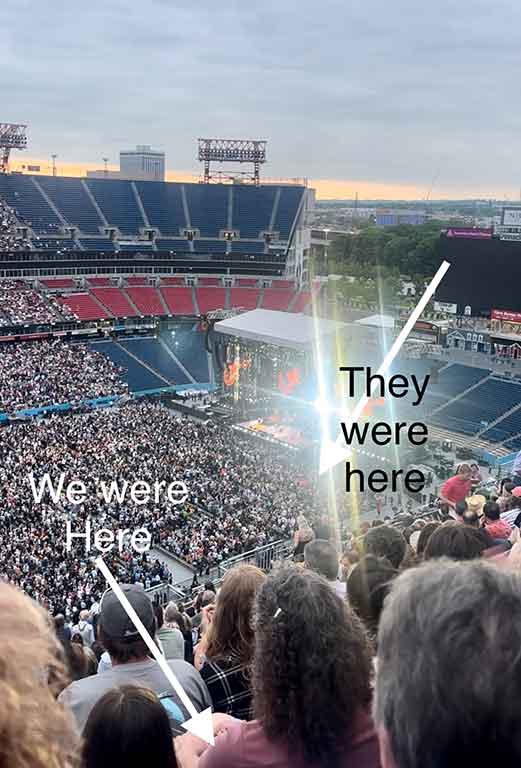 Oh!!!! The concert was wonderful! Neither Jared or I are huge Stevie fans, but she was genuine, told nice stories, and did her hits. The Stevie fans in the audience seemed 100% pleased. WE did get to hear her do "Landslide", which I thought was really lovely. She brought someone on stage to sing it with her. We didn't know who it was. No one around us did, either. We thought maybe it was Christie McVie's daughter or something. Turns out….
It was Sheryl Crow! What in the world? Outrageous. Apparently they have history and are friends. It was actually very sweet and moving.
Then Billy Joel came on stage for his set, and childhood Jared and Jessi stood there, hand in hand, crying, laughing, listening, and completely time-warped by a voice, songs and playing that had an equal hand in both of our musical journeys. We were just delighted. Sitting there, in the warm, heavy Tennessee night air, we hung on every story and note that Billy gave us. He played only one song in the 90+ minute set that we didn't recognize. Every other tune, a huge hit, spanning from '77 through the 90's. His band was unstoppable and truly looked happy to be there. He was gracious and endearing. He gave nods to all his players, introducing them, applauding them, joking with them, and it felt like we were watching a family up there. My only issue was the woman behind us who sang along with EVERYTHING. Typically, I wouldn't have minded. But as this particular woman managed to have a voice that, by contrast, made Roseanne Barr sound like Nora Jones, I did mind. I had to use all of my grace up that night to not become, "That person", turn around with a chloroform rag and ask her, "Does this smell like popcorn?" 
(She's not pictured here. I purposely waited for her to leave, so she wouldn't be in my photo!)
Anyway, Billy was magic. Even his sort of self-realized moment when he finished a beautiful version of "Just The Way You Are", immediately putting a finer point on it when he hit the last chord and said "Then we got divorced." The audience howled. It was a lovely night. Then something absurd happened to Jared as he was waiting for me to come out of the bathroom before our walk home. 
He heard a, "Hey!" And turned to look at the voice. A man was standing there and caught Jared's eye. 
"Did you play at Millennium Maxwell's last night?" the man asked.
"We sure did.", Jared responded. 
"Oh my gosh! It IS them!!!", he yelled to his wife. "My wife saw you guys earlier and thought is was you but couldn't believe we'd see you HERE, with 35,000 other people!"
"Yep. That is crazy!" Jared said.
"Listen, you guys were the BEST part of our night there. We sat there the whole night to listen to music, and you guys came up at the end and just blew us away! We really enjoyed you. Thank you."
Jared just smiled, shook his hand, and said, "Thank YOU. I'm so glad you enjoyed it."
Then he came to me, skipping like a school child and revealed his cool story. Wow…just when you think no one even pays attention or listens, you get spotted amidst 35,000 people and complimented. That certainly says something about being out as much as possible.
I'm sure that nothing else that happened after that was important. We sort of floated home, reminiscing about Stevie, Billy, and our two minutes of recognition. Our walk home was about forty minutes. Only the last ten were a little uncomfortable, but mostly because home was so close. I feel like our last few days here will be similar. We'll just need to stay extra busy to keep distracted. We're in the home stretch.
---