The apartment we're staying in has a washer and dryer, so laundry is priority #1. Coffee at Abe's (where we stopped on our last time through) and then we were ready for some park time. Since it's summer, there is no shortage of kiddos at the park at any given time, so Rudy was pretty well set for the day. Great opportunity to do some writing. And, coincidentally, at the same exact place where we wrote our song, "I Like You". Must be something inspirational about humidity and mosquitoes. Anyway, that took up a nice 3 hour chunk of our day, but now we were hungry and needed to be inside. Rudy had managed to score lunch with a family visiting from about an hour and a half away, so he was content to watch a movie and chill while we dined. After dinner, laundry, park, and songwriting were all done, we were all invited to the bar where, although it was closed, Paul was there and said there was free cold beer (and juice for Rudy) if we wanted. You bet!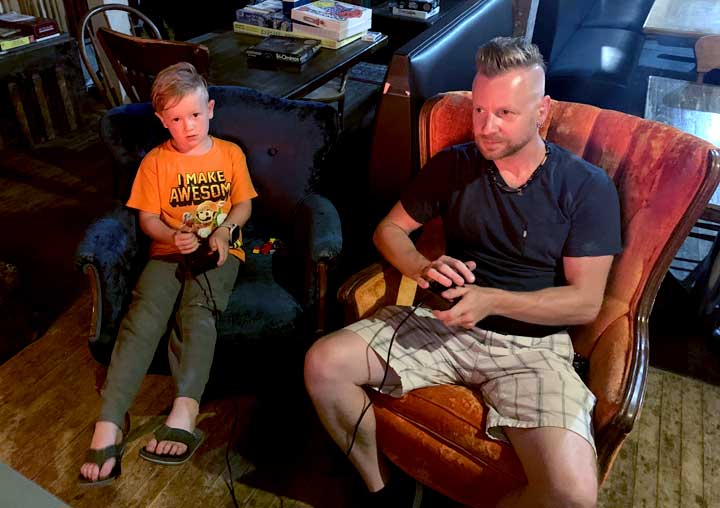 Our night at the bar was really fun and just what we needed. We all got to just kick back and enjoy ourselves. There was an old Atari set up with a ton of games that Jared got all nostalgic about and got to teach Rudy what video games used to be like. Rudy got into a lego building competition with the owner, Paul, and won a bag full of Legos as his prize! Jared and I played a rad game of Jenga, combined with Lincoln logs, that sounds crazy but is super fun, and as beer soon gave way to bourbon, I sank into a blissful state of drunk and grinned from ear to ear for the remainder of the night. (Not so smiley the next day…) 
Thank you, Paul, for opening up your rental apartment to us, for entertaining our son, and for sufficiently loading us up with alcohol. I'd say tonight we truly partied like rockstars! 
---