Ok. I am not going to focus on the negative too much more. All the gigs can't be 100%, 100% of the time, I do get that. But 2 in a row?!?!?!?
To begin our night with this, "Can you please start an hour later? We'll have the dinner crowd, but they should all be gone by then."
WHY IN THE ACTUAL CRAP DID YOU HIRE US THEN?!?!
It would have been something if the "dinner crowd" made way for the "we love live music and can't wait to sit and watch" crowd. But the "dinner crowd" was, in fact, the "ONLY CROWD". The place closed at 10. They asked us to start late, play 8-10. You guys…I kid you not, at 9:30, the overhead music was still on through our set and the waitresses were putting chairs on tables!!!! I'll say it one more time for those in the back who perhaps didn't hear me!
WHY DO YOU HIRE LIVE MUSICIANS TO PLAY LIVE MUSIC WHEN YOU CLEARLY DON'T WANT LIVE MUSIC!?!?!
—————
Rudy met a sweetheart of a lady who is known as "Grandma Deb" to all the kiddos in Monticello. She was Rudy's new best friend and she even sent us some pictures of her and "Grandpa Bill" and their dog "Ruby". She was lovely, and redeemed all of Illinois for us (briefly). We also spent the morning hiding from the oppressive heat at a sweet little chapel-turned-cafe called "Steeple Coffee House".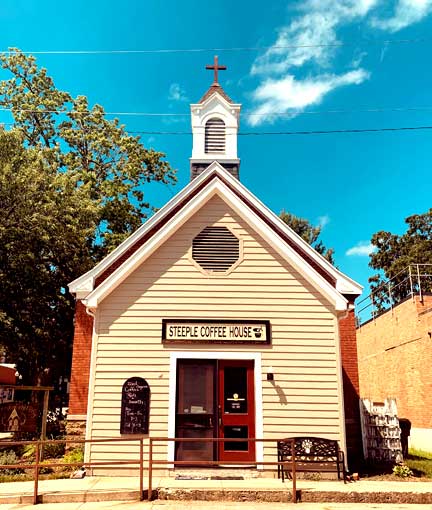 Turns out we got caught in the middle of an unprecedented heat wave here in the mid west. . . so that's been fun. Especially at the laundromat where literally the bottom of my FEET were sweating. Thermostat says 97, but the heat index says it feels like 115. WTF?! Wait. I'm trying to stay positive. Ok…
Gig done. Quick load out, (Rudy's become quite good at helping!) and on the road to get as far away from here as possible.
"All of these things will pass by, when I lay down and close my eyes. Tomorrow's sun is gonna rise, and my future is looking so mighty bright! But til then….What A Day This Has Been!!!"
---