Sundance Truckstop in WY. Waking up to this is 100% A. OK. Because we were in Sundance, WY, we began to chat with Rudy about the famous outlaw who chose the city's name as his own. Rudy said, "Who really was the Sundance Kid?" Well, just so happens there was a museum readily available about five minutes away where we could all find out! 
Ye ol' jail cell. Not the original, but still old-timey!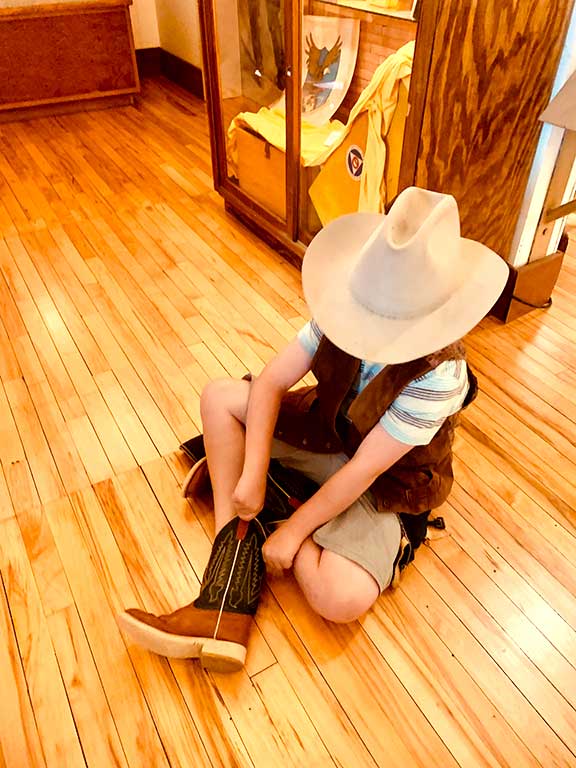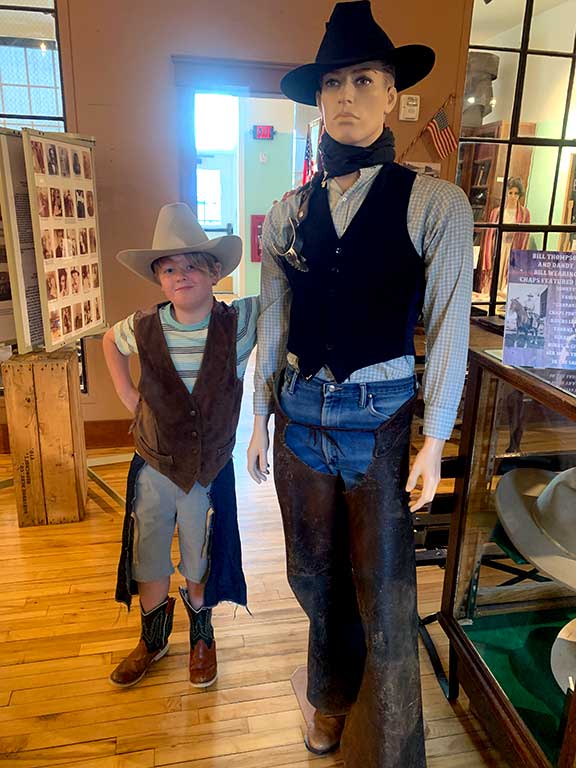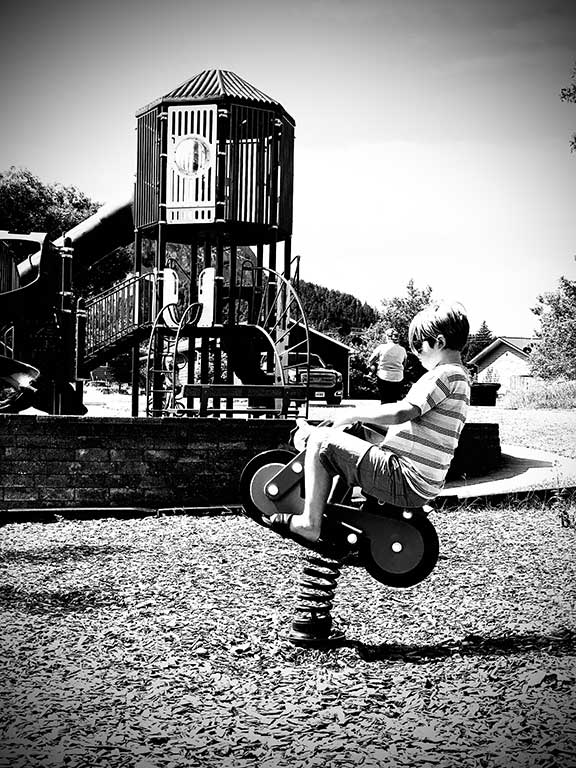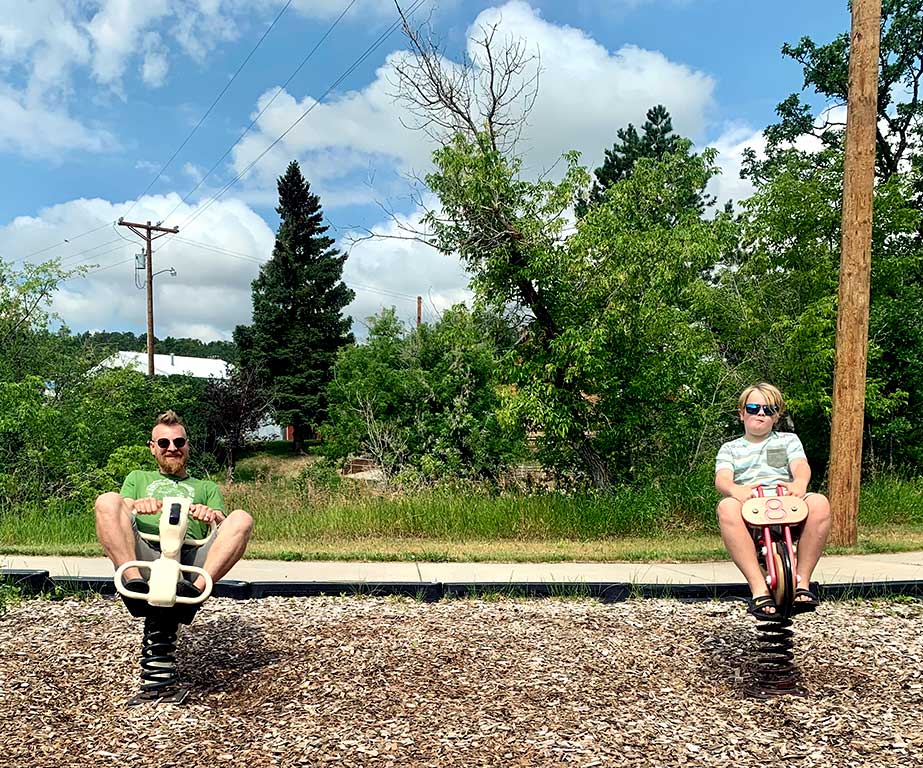 Once the fun at the park had run it's course, we made some PBnJ sandos in the car for lunch, and drove a couple hours on the 90!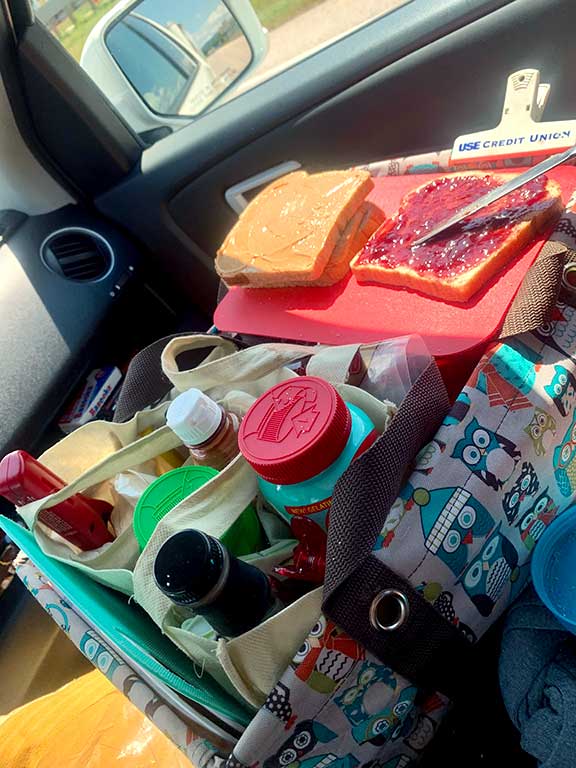 Of course, no trip across the 90 would be complete without a visit to the world famous, Wall Drug. Wall Drug used to provide "free ice" to hot and weary travelers who didn't even know what car AC was. Now, nothing is "free", but they do boast a five-cent cup of coffee (which we did not try) and a whole lot of fun and quirky corners to explore, shops to spend money in, and plenty of photo opportunities. So, naturally, we exploited our beautiful child for said photos!😂
Concluding our beautiful day, we landed at a Best Western in Murdo, South Dakota. I will take directly from a text I sent a friend to sun up the end…
"We just swam in a dirty pool, got pizza from a grumpy girl, had a beer in a bar that let kids in, and are now sipping whiskey in a motel that smells like an old lady from Florida. Other than that, it's fucking great!! 😂 Actually been a really fun day." 
And it honestly has. The pool was full of laughter. The beer was cold and delicious. The pizza was actually wonderful*. The room was safe…and we were all together, gearing up for the next three gigs in Yankton. Another pretty great day on the road. 
Today's favorite quote,
"Hey mom and dad. Tour feels like Zelda: Breath of the Wild. A lot of really exciting stuff happens but it all feels like the same and also kind of boring." **
Yes, son. That is also called a job. 
* They stuffed the edge of the crust with cinnamon and sugar and included a ramekin of frosting to dip it in. That way dessert was included. Clever AND delicious!
** Jared here. For the record, Zelda: Breath of the Wild happens to be one of my all-time favorite video games, and I will not stand idly by and allow it to be slandered. It's amazing and wonderful; however, much like our profession, [apparently] it's not for everyone (though I can't fathom how). 
---