You just can't be in Kentucky and NOT do a bourbon tasting. Caanan and Kris both had to work today, so we looked up bourbon distilleries and tours within 30-45 min away. Jared is a huge Maker's Mark fan, so that was the first one we looked up. Almost 2 hours away. . . let's try another. Ooooh! Evan Williams. A good staple bourbon for a great price. It's what we usually drink with mom and dad. But I still wanted something a little fancier (you know my super high class taste!😂) Would you look at that?? There's a Bulleit Bourbon Distillery in Louisville, only about 30 min away!!! Success!!! Bulleit, here we come!!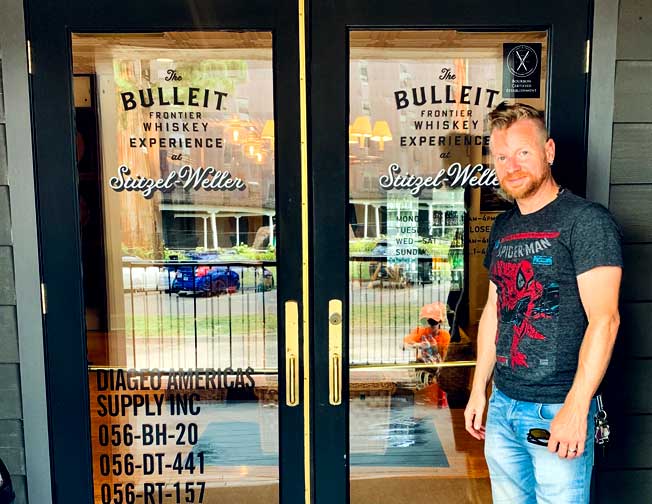 You know, I had my doubts about bringing Rudy along on a bourbon distillery tour, but, no surprise here, he was charming and well behaved and made the whole thing even better. When our tour guide, Justin, was giving the history of the place, Rudy interjected "Hey! I like your hat!". When we were in the barrel room, Rudy backed into me and farted on my leg, just letting me know he was still there, I guess. When we went in to see how the barrels were charred and assembled, Rudes and I got charcoal on our noses from trying to smell the char. And, at the end, when the adults were doing the bourbon tasting, Justin gave Rudy a huge bowl of Dum Dum suckers (telling him to take as many as he wanted…amazingly he only chose about 13; one of each flavor), and Rudy did a lollipop tasting. Perfect for the occasion, Rudyard decided the "barrel" flavor was the best! (Root beer)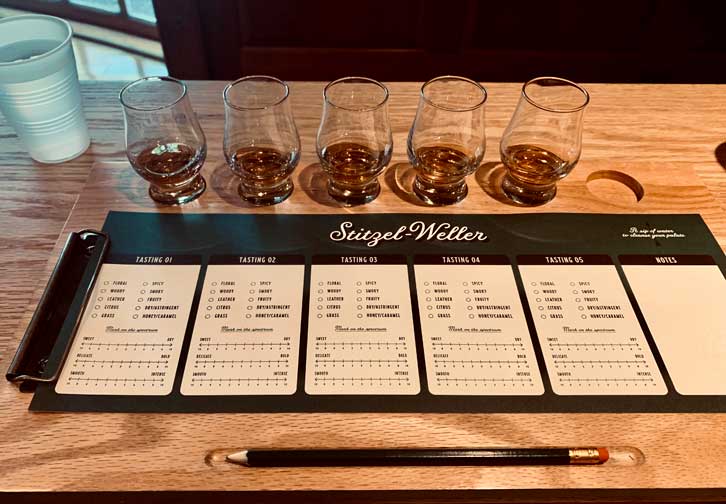 We chatted with Justin in the gift shop afterwards, bought a bottle of the 10+year Bulleit (sooooooo damn good), some stickers for our trailer, and headed out. A really cool experience!! Learned some really interesting things about bourbon, barrels, and Kentucky! 
Rudy napped for the drive home, and when he woke up, we were back at Caanan's and it was perfect swimmin' weather! And, whistle whetted from the tasting, and nowhere else to go for the evening, a little bourbon on ice to round it out.
The storm:
There are times in life when, as a parent, you need to really act like an adult. Some that come to mind are when disciplining, when getting you little ones out the door, when explaining about danger, and generally when keeping your kids alive. There are other times when you get to choose to throw caution to the wind (so to speak) and opt for a grand adventure, a memory for the books, a moment to be exaggerated in the retelling as the years pass, but, mostly, an intimate admission to your child that you truly CAN have fun and, MORE IMPORTANTLY, you want to have fun WITH THEM. While Rudy and I were swimming, one such moment presented itself one small drop at a time.
I had told Rudes that I was not going to get my hair wet today in the pool, cuz I didn't want to go through the hassle of re-styling and such (I know—-do I sound like our parents, or what?) Plus, I had a bourbon in my hand and I was enjoying just relaxing and chillin'. (Now I really sound like our parents!) Rudy was compliant, because I still was engaging with him and we were having fun. About 40 min in, we felt it. One. Single. Drop. We both looked at each other. Maybe it was just a quick drizzle. We waited, looked at the heavy, dark grey clouds, and lost hope. Another drop. Another. Well, here's where my "adult" was knocking at the door. I could hear her on the other side, "Hey…you should probably get out now. You're going to get wet. Well, MORE wet. The storm could last awhile. There may be lightning." By now it was really starting to rain.
"Rudes! I'm all wet. And it's so cold. What should we do?"
"Mom, we're already wet!"
"You're right! Come here. Let's hide!"
And with that, the kid inside won!
We got inside the raft donut I was sitting in and pulled the head rest part over our heads to provide some shelter from the buckets of water now starting to fall. But, it still wasn't enough. I grabbed the flamingo floatie and placed her on top of the first one to aid in wind blockage and pool splash up. It was a really intense storm. There was no thunder or lightning, (or I really would have gotten us out) but the sky was dark and low, and the raindrops hard and angry. It didn't matter. As a matter of fact, nothing else mattered. Just me and my boy, neck deep in the warm water, arms wrapped around each other, heads protected in our makeshift shelter, giggling and kissing and eyes wide with each new level of rainfall. The whole thing lasted maybe 20 min, but when he told his uncle Caanan, you'd have thought we were alongside Captain Ahab on the Pequod, battling the elements in search of the white whale. (I mean…I put that in for Jared's sake. I actually felt more like Lieutenant Dan, yelling at an angry sea god for my lost legs.) (Jared's note: Jared appreciated that, thanks!) Either way, it was grand and I'm so glad I didn't adult for just a bit. 
Kristine spoiled us with a delicious spaghetti dinner and we finished the evening with some "Spider-Man: Into The Spider-verse" and Oreo cookies. I love how easy it has and will always be to spend time with my brother. He is kind and comfortable and is one of my favorite people. Rudy's too. I'm so proud of the man he is and continues to strive to be, and, although he and Kris are doing so well and are so happy…I hate how far away he is. I guess Rudy and I just have many more pool storms in our future. Thank you for everything, Uncle Caanan and Aunt Kris! We love you so much. 
---