Since we wanted to get out of Nashville ASAP, Jared drove us to a rest stop in Whitehaven, Kentucky (right on the KY / IL border). We all slept amazingly and were blissfully woken by the sound of birds and the golden sunshine. The promise of a new day has always been one of my favorite redemptions. No matter how bad something is, "tomorrow's sun is gonna rise, and my future's looking mighty bright!" That was the exact set of feels this morning. We all got out of the truck to use the bathroom and set eyes on the most beautiful "rest stop" ever. The only rest stop that used to be someone's residence, Whitehaven, KY had porch rockers for relaxing, towering white pillars (a la "Gone With The Wind") and beautiful flower gardens. The maintenance workers were all too happy to lead us to brochures, share stories, try and give us a tour, and send us on our way with a coloring book for Rudy and a leather-like pod that the trees produced, that had big coffee-type beans in it and smelled a bit like chocolate. They were proud of their pods. All in all, really enjoyable!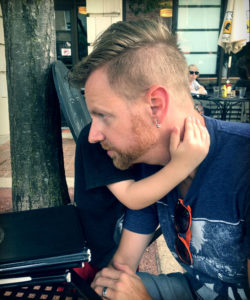 Back on the road and headed to Urbana, Illinois, Rudy, although as smart and clever as his Momma "knows" he is, still hasn't mastered the concept of the Knock-Knock joke. It's a constant pursuit and source of entertainment for us. This particular morning my favorite went as follows.
"Knock knock"
"Who's there?"
"Ice cream."
"Ice cream who?"
"Well, when you eat ice cream, you don't always eat ice cream. When it's brown ice cream, you're eating poop. And it smells."
The "Corn Desert":
The southern Illinois topography is beautiful, but consists mainly of corn and bean fields (there's a riveting game we found to accompany these fields that I'll tell you about later…). The weather was perfect and we were looking forward to playing a full show the Champagne Sunday way. We pulled into town early and checked out the venue. At a brewery on a Thursday around 1:30 in Urbana Illinois is exactly what you'd expect it to be. (See pic) So, we went in search of lunch and a freshen up.
Urbana is a college town, so we found the "hip" section and planted ourselves at a joint called Crane Ally, ordered a couple Bloody Marys and salads (basically bloody Mary's on a plate, so twice as healthy!) and let Rudy find "hats" for all the fallen acorns. Lunch was delightful, so, stuffed and happy we headed for a park to let Rudes play. A stop for coffee and a potty and we were off to the show.
The German Beer Garden:
The owners of Riggs Brewery, Caroline and Matt, had a concept; build a beer garden akin to a true German beer garden and brew German beer in the traditional way. Caroline is German and sent Matt and his brother to Germany to learn, first hand, the art of German beer brewing. They set up the garden with a playground for kids, lawns for dogs, frisbees, corn hole stations, benches, trees, shade coverings, string lights, and absolutely no tv's, forcing people to actually talk to one another, all to create an environment that says, "This is a place for your whole family to enjoy!" And, like a ghost town reanimated in the middle of a corn field, the whole place came to life at night! A local named Bill spent some time with us after the show while we were enjoying the delicious Maibock. He told us the place was referred to as the "corn desert".
Another gentleman shared the game "Corn/Beans" with us…probably initializing the beginning of the end for Jared and I as partners. The game is simple. He said that for almost every corn field, adjacent to it you'll find a bean field. So, when you see a corn or bean field, you say, "Corn" or "Beans" and then the other person/people in the car say the corresponding "Beans" or "Corn" to accompany. This, my friends, is the WORST CAR GAME IN THE HISTORY OF CAR GAMES!!! And we played through the WHOLE RURAL AREA OF ILLINOIS!!! It started as a joke. It crept in like an ant at a picnic, then it stayed around like the bubonic plague and KILLED OUR SOULS. I begged Jared to drive faster so we could stop calling out "Corn", "Beans", "Corn"! "Beans", "Beans"- "Oh wait, Corn!" Hahahahahahahahahahahahahahahahahahahahahahah! We laughed maddeningly because it's NOT FUNNY.
"Corn".
The Show:
The gig was great and we were loved by everyone. They let us stay in their lot and left their bathroom unlocked for us too. We stayed up, finishing our beers long after they had all gone home. With Rudy passed out and a nice buzz on, Jared and I took advantage of the warm summer night lightning storm, and a very accommodating tractor, for some much needed (like 2 and 1/2 weeks, you guys….) mommy and daddy time. Thank you Riggs Brewing for that.
"Beans".

---