Two years ago when we were in Missoula, I saw a beautiful tattoo on my friend Brooke and asked her for her tattoo artist's contact info. We connected and he did one of my favorite tattoos ever!
So, naturally, this year I HAD to get more work done. Once again, Trevor Parr delivered, creating my Labyrinth-inspired, beautiful barn owl!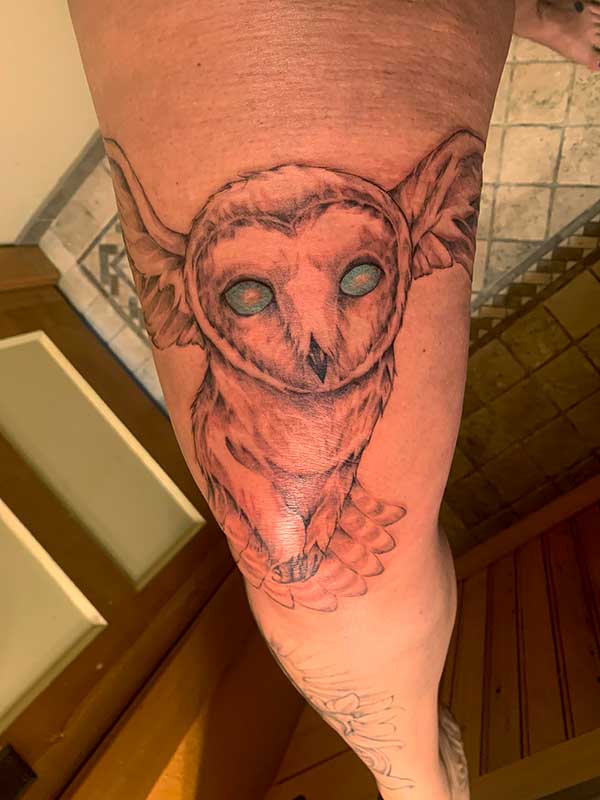 Let me tell you about knee-cap tattoo pain. It is real. But soooo worth it for my new ghostlike friend!
While I was doing that, Jared was hanging with the boys, playing video games and probably just glad to be in an AC house. (Jared adds his bits here)
We met up eventually (when Brooke took the boys to a splash park), and grabbed a sandwich at Tagliare Delicatessen and then took our lunch to Imagine Nation for a beer. They gave it to us for free since we didn't drink all our comped beers the night of our gig! It was nice to have a little afternoon date while Rudy played with his friends. We did a bit of crosswording, held hands and ignored the oppressive heat, and for a few moments, it was just Jared and me . . .
When we returned "home" (everywhere we stay on tour, we call home) the kids were all worked up with excitement about the splash park and we exchanged stories of our day, and settled in for the night. We were definitely tired and knew we'd need our energy to keep up with 4 boys for the next few days!!😂
---