Day 10: That's a wrap! (continued)
We rolled into Gretchen's driveway late. We thought she and her daughter, Lily, would be asleep, so we crept into the house to use the bathroom and were greeted with friendly tail wags and familiar "Hellos"! We were back in comfortable company and couldn't be happier. The big and beautiful Nina lazily greeted us and proudly shared her skunk smell, as she has become a pro at chasing and getting sprayed by the black n white demons!
I also got to hold a naked-neck creature called a "Turken". It's real. This is what the babies look like.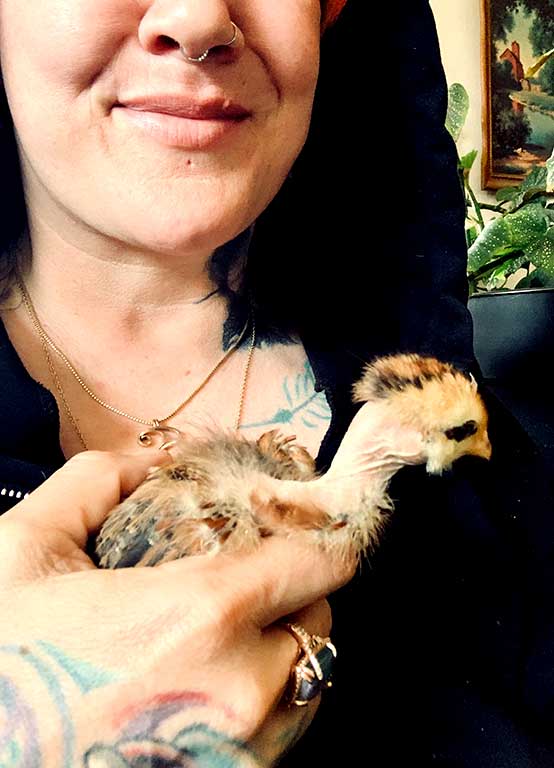 As per usual, we've come to find out that arriving at Gretchen and Lily's place will never be dull or boring. However, we were beat and passed out pretty quickly! Tomorrow, we gig!!
Day 11: Betty White Night at The Grange
The Grange is an organization that has been slowly fading away because it is based in the gatherings of farmers to potluck and commune. With Covid stopping all that, and the world changing dramatically with each year, these meetings have grown fewer and fewer. 
Last summer, our friend Gretchen offered us a place to stay and we became fast friends. Not only is she an amazing hostess, she's an AVID music fan and appreciator. When we said we were looking for a place to play during the spring, she quickly became our Montana booking agent! Every couple weeks she would let us know her progress on venues and possible stages. She was so excited to have us, she joined the committee for The Grange in Hamilton, MT, and got to work creating a monthly event that would feature a non-profit to support, showcase a band or musician (local or touring), and bring the community together for potluck style communing and local brewery provided beverages. It was a win/win for everyone involved, AND, now we had a gig! The Grange association big-wigs even saw what Gretchen was starting in the little town of Hamilton, and proposed that become a model across the nation for the other Granges to follow!!! I see a National "Grange Tour" in our future!
Our night was the best. We were paired with the Humane Society, which we loved because we support their efforts so very much. My only disappointment was that there weren't any animals there to show off. Although, for Jared's sake, it was probably better… I may have picked up a tour partner to bring home.😂 One of the biggest advocates for the Humane Society was the ever loved, Betty White. So, along with a raffle for fresh eggs, there was a Betty White Look-Alike competition! 
Oh my gosh. Like I said at the show, "When there are several Bettys in a room at once, everyone wins!" It was the most darling and pure contest I've ever seen. Jared pushed play on the Golden Girls theme song and 4 lovely ladies "competed", brightening all of our days with their antics and dancing and continued smiles. What a legacy this woman left, when even a competition to be her is friendly, loved, and full of support from the participants! By round of applause, our winner was Beauty Betty #4, surviving a 6 week hospital stay and crushing the Covid virus, only to bring her air supply and dance her way into #1 with as much gusto, sassing as and joy as anyone 1/3 her age! The real Betty White would have been so pleased! 
My husband could barely contain himself too, as Golden Girls remains one of his most endeared shows of all time, and his heart will always be split between me and Betty. If I had to share with anyone, I'd gladly scooch aside for her!😘
Our Winner!! (Note Jared in the background!)
Handful of Bettys!
The night went on from there and culminated with dancing, drinking, and a demand for "one more song"!! We absolutely obliged and thanked The Grange for a truly memorable night!! 
As we were cleaning up, we got approached by local-artist-and-science-professor couple, Amanda and Zach. They asked us to play the next night at their house! This whole tour has been so full of connections and networking. We booked it, finished loading, then headed to a local bar, where Gretchen was waiting, to maybe book something else for the future! 
Another successful night in the bag and we were tired! Curled up in the truck in Gretchen's driveway, we held hands and quietly recounted our day, wrapped up tightly in our sleeping bags and snuggled down into sleep. Tomorrow promises more adventure and we want to be ready!!
---