Thus far, this whole tour has felt like a family reunion. Seeing old friends, kids growing up, having people who saw us last year bring new people out to shows. Friends have offered meals, places to stay, advice on things we should do, and everyone has been so excited for our return. Even places where the staff has changed, the new employees have been so happy to meet us, just based on stories from last year. It's been so welcoming and familiar. Even though we've only played these places once or twice a year ago, you'd think we were just there yesterday the way people remember us. 
Last night's crowd was mainly older folks who seemed really chill and just happy to be sitting, not in 100°, and ready for some music. It's was such a lovey night with people sipping wine, kids playing on the playground, dads throwing beanbags, showing their cornhole skills, gelato being sampled, and everyone finding their happy. A lady wearing all purple bought one of our new purple t-shirts with the watercolor Mohawk splash on it and was so thrilled about the color. One woman bought a SHiNE compact mirror to remind herself to shine everyday! It was a listening crowd, so we got to do songs like "Tiny Girl" and "In Your Pocket", and they just loved them. We drank sweet, cool red wine and several times, while looking up into the mountains where some of our great leaders are forever immortalized, we were reminded how lucky we truly are that anyone wants to come spend time listening to us.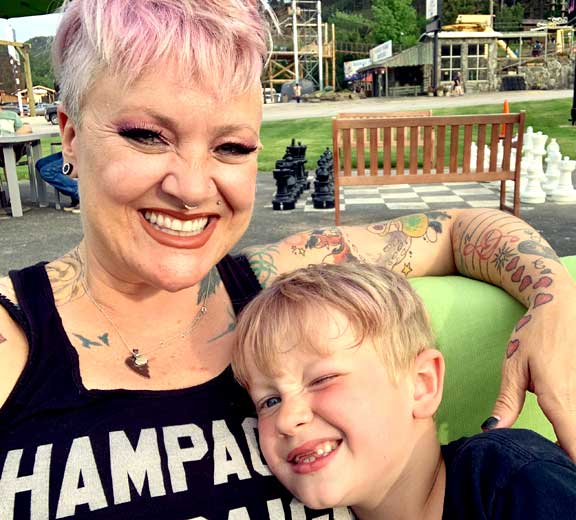 Something else that was really special to me last night had nothing to do with the show, but it is another testament to who we try to be. The owner of Grapes and Grinds, and the Presidential Wax Museum next door and several KOA's across the states, Clay King is an absolute stand up guy. He and his wife have a little girl with such a rad name (Wilder) and are some of the best people you'll ever meet. Clay recently lost his mom in a pretty sudden way. He shared with us about how it brought the family closer together and, other than mentioning how the year had changed course for his business plans because of her passing, he didn't seem to be focused on the negative parts about it. We let him share and offered our condolences. The air got still and we felt the sadness briefly interject into the conversation. He stopped for a moment, looked around and said, "The flowers. Every year she did my flowers here for me. Things like that will be the hardest, you know?" Then he flashed his giant smile, and said, "It's good to talk about. Thanks."
The music is just part of why we do this. The "human" is the other part.
---