"You stole my 'Oregon' sky, and I can't hear nothin', cuz all that I'm hearin' is you."
Having no gig this evening, we decided to take our time getting out of Cottage Grove. We began our morning at Buster's Breakfast house (the one place open!) and then found an amazing park to let Rudyard run, jump, climb, and be a real little boy! After a quick stop to Walgreens for medicine for Kim's newly-developing cold, and a must-have Spiderman cup for Rudy, we headed to the park. Kim got in a nap as we got Rudyard ready for his!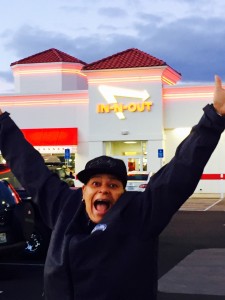 A couple hours later, we headed to Medford, OR. Pulling off the freeway, the first thing to welcome us was a beacon from heaven, the In-n-Out Burger. 
There wasn't even a debate. We immediately pulled in, gorged ourselves, and regrouped. Some minor repairs and cleaning needed to be done, so we utilized the Target parking lot and tackled a few things. 
Then, like responsible adults, we found a level parking lot, made some drinks and played Uno. Sandi won 3 times . . . turd. 
---